India v England: Tourists batting hopes rely on Trott and Kp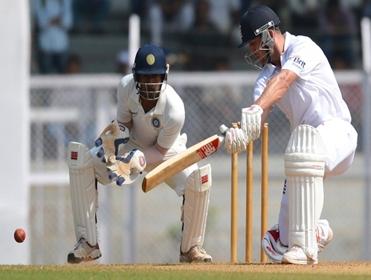 Trott is England's Mr Reliable
After a terrible year in which they've lost two series, their number one ranking and their captain, England have to start their recovery the hard way - with a trip to India. Andrew Hughes assesses the squad they've chosen for that task.   
"England's most obvious batting weakness this year has been their failure to deal with high class spin bowling."
Current Form
England's spell at the top of the Test tree lasted less than a year. Defeats against Pakistan and South Africa have revealed weaknesses that were disguised as they disposed of inferior opposition on their way to the top. They are now exposed as a good, but not a great Test side and with a new captain, must renew their challenge at the same time as addressing those glaring weaknesses. 
Who's in and who's out
Since the retirement of Paul Collingwood, no batsman has been able to hold down the number six spot and now that Andrew Strauss has left the scene, England need a new opener as well. Nick Compton looks like getting first shot at partnering Alastair Cook at the top of the order; whilst Jonny Bairstow deserves a chance to make the number six slot his own. England's other option is to move Matt Prior up to six and play five bowlers, but that's something they have so far resisted. 
Strengths
While England have racked up some good totals in the last couple of years, their real strength is with the ball. James Anderson is arguably the best new ball bowler around and his mastery of reverse swing makes him dangerous in any conditions. His incisive swing bowling is complemented by Stuart Broad's aggression and Steven Finn's awkward lengths. Graeme Swann may have been eclipsed by Saeed Ajmal, but he's still a dangerous spinner. There may not be too much strength in depth, but England's first choice bowling attack is bettered only by South Africa's.  
Weaknesses
England's most obvious batting weakness this year has been their failure to deal with high-class spin bowling. Their problems are as much psychological as they are technical and too many batsmen have lacked the determination and patience to thrive against spin. Jonathan Trott has been a notable exception. His appetite for crease occupation and ability to dig in make him an attractive bet in the Top England Series Batsman market at 4.57/2 or so.
Key Player
Graeme Swann will be under a certain amount of pressure to exploit the expected spin-friendly conditions, but England's bowlers work as a unit and he will have plenty of help. The key man for England is Kevin Pietersen. Though India will respect Cook and Trott, they will fear Pietersen, the only man in the England team who can, like Virender Sehwag and Sachin Tendulkar, take the opposition apart. If he is back to his best and can survive the inevitable trial by left-arm spinr, he can be the difference between England fighting three rearguard actions or taking the fight to India.  

Discover the latest articles