Ed Hawkins: England are good but it might be time to take them on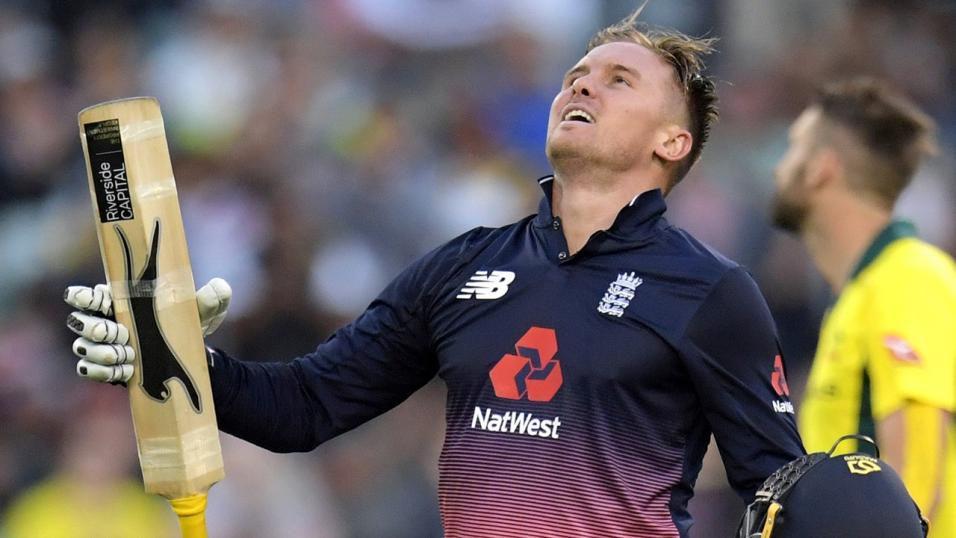 Roy helped fire England to 2-0
They're 2-0 up and cruising but Ed Hawkins wonders whether England are vulnerable with the rain set to make the 50-over series a T20 contest - starting on Saturday in Kandy...
"It is hard to disagree with their dominance. But there comes a time in every team's development that the myth starts to outstrip the reality"
England's strong start
So far, so predictable. England have cruised into a 2-0 lead in their five-match one-day series against Sri Lanka with barely a bead of sweat to be mopped from their brow.
It was supposed to be like this. England are the No 1 team in the world. Sri Lanka are not. Indeed, the gulf between the two teams seems much bigger than the seven ranking spots which separate them in the official ICC charts. The 50 ratings points don't seem to cut it either.
England are good. And we've been saying that for some time. Their summer defeat of India was a significant moment not just because Virat Kohli's men were the No 2 team in the world. India have, consistently down the years, schooled English teams in the ODI format. They were also the last team to beat England in a two-team contest - eight series ago.
Sri Lanka, by contrast, have won one of their last ten series. They have collected captains like tokens on the back of cereal boxes in that time - Upul Tharanga, Thisara Perera, Angelo Mathews and Dinesh Chandimal. They are, frankly, chaotic.
On form, professionalism and ability it is not really a fair fight. And England have steadily got shorter and shorter with each passing match. For game four on Saturday they are not better than [1.33] with Sri Lanka fast approaching [4.0].
Given the way the completed matches have gone so far, this is not wholly surprising. After the washout in game one, England razed Sri Lanka's top order in muggy and moist conditions in Dambulla. After setting them a rain-reduced target of 172 in 29 overs, England took four quick wickets to knock the challenge out of Sri Lanka.
In Pallekele on Wedesday, rain intervened again reducing the match to 21 overs per side. Sri Lanka posted a competitive 150. Well, a total that looked competitive until Eoin Morgan and Jason Roy set about matters. England won by seven wickets.
In the aftermath, Cricinfo said England were "frightening right now". It is hard to disagree with their dominance. But there comes a time in every team's development that the myth starts to outstrip the reality. England are darn good, but they are nothing like as strong as the brilliant Australia teams which won World Cups. Now, they were "frighteningly good" yet, for the most part, relatively easy to take on at skinny odds. There was always a way.
England could well have reached that point. No-one, surely, can attest that England are value at prices in the region of [1.30]. They have to prove, for example, that they can successfully preserve the run rate against the spinners in the middle overs instead of getting bogged down. They also have to prove that their bowlers can take wickets in batting-friendly conditions. They remain vulnerable defending targets. As do most teams.
Let's not forget that it is, after all, only four months since they showed Sri Lankan-esque form in losing to Scotland on a belter of a wicket. Having conceded a record 371 they were bowled out six runs shy of the target.
It is true that in Sri Lanka so far they have not had the opportunity to be tested by the home team's arm of spinners on flat, dry and dusty surfaces. The monsoon has put paid to that. And people wonder why the ECB scheduled the series for the rainy season. It is a home from home for their batters and bowlers.
It's a T20 series now
And there's the rub. The rain is not expected to go away any time soon. As much as it has helped England in the first two results, it could hurt them. The weather forecast for game three at Kandy is bad enough to suggest that another 20-over thrash and bash is likely.
What does that mean? Well, England are not playing 50-over cricket any more. It has become a Twenty20 series. And England are not the No 1 team in the world in T20. In fact, they are nowhere near as, somewhat strangely, they have struggled to assert their dominance in the same way.
Over the last three years, the same period England transformed themselves from ODI no-hopers to the best in the world, their T20 side has stood still. They are in the red in terms of wins and losses, losing 14 from 28 with one tie. Since their World Cup final defeat by West Indies in March 2016, it is arguable that they have gone backwards in the T20 format, losing to India (twice), Australia and Pakistan.
There is no way, then, that England's T20 team - the personnel difference is negligible - would be in the region of [1.30] to win a match. Let alone one away from home. In Asia. True, Sri Lanka are no great shakes, either in T20 and we shouldn't kid ourselves that they are.
But they are much closer together. After all, the ICC rank England and Sri Lanka in fourth and ninth respectively, 29 rating points apart. It could well be time to take on England.
Ed Hawkins P-L
2018: +9.83pts
2017: +12pts
2016: +18.1pts
2015: +38pts
2014: +31.5pts
2013: +25pts
Based only on available prices. Does not include back-to-lay in-running match advice or commission rate. Figures 2013-2016 on 1pt level stakes. New points system (0.5pt-5) introduced for 2017. Includes Hawk-Eye stats column p-l