Pakistan v England Third ODI Betting: Tourists poor pre-toss jollies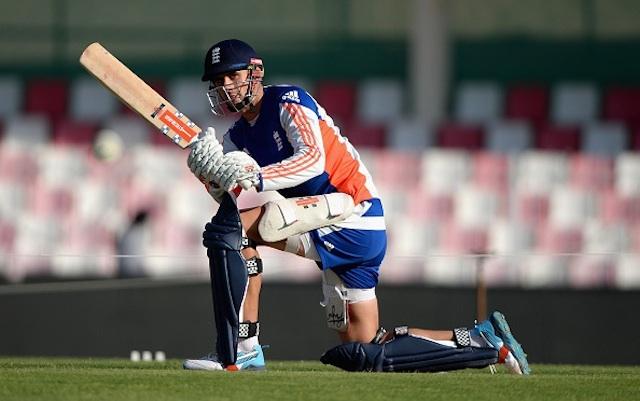 Alex Hales hit some much needed runs in the second ODI
Ed Hawkins cannot explain why England's odds have suddenly crashed but says it is the toss which will be most significant in Sharjah on Tuesday...
"Eight from the last 12 day-night games have been won by the side batting first. In that time scores of 200, 183, 268 and 255 have been defended."

Recommended Bet
Back side batting first
Pakistan v England
Start time: 11:00
TV: Live on Sky Sports 2
UPDATE: Pakistan have won the toss and will bat first
Pakistan
Pakistan were perhaps guilty of taking England lightly in game two in Abu Dhabi, which they lost by 95 runs. Their six-wicket stroll in the first match had given them an inflated sense of their power.
Waqar Younis, the coach, admitted there was a hint of complacency. "England bounced back and bounced back well," he said. "We probably were not thinking that they are going to play that well so we have to play out of our skins to make it 2-1."
There is a strong chance Pakistan will shuffle their pack. Ahmed Shehzad, a fine player, remains unused and he would strengthen the batting, particularly in light of the retirement of Younis Khan.
Babar Azam, who impressed in the middle order in game one, had been moved up to open at the expense of Bilal Asif whose place in the side went to Mohammad Rizwan who slotted in at No. 6. A clever ploy would be to play Shehzad and Babar in their original roles.

England
A huge sigh of relief for England for two reasons. Firstly, and most obviously, they levelled the series. But long-term the more significant boost was a century from Alex Hales.
Hales is the Great White Hope for England across all formats so it was about time he delivered an innings that was deserving of such lofty talk. His 109 off 117 balls came just as doubts were beginning to surface. He averaged just 20 in ODI before then.
As impressive was England's ability to build a big total on a sluggish surface. Jason Roy, in tandem with Hales, also scored much-needed runs.
With the ball, David Willey took three wickets and Chris Woakes four. There was another fine effort from Reece Topley.

First-innings runs
The Sharjah wicket is good to bat on and the side batting first should really push to breach 300. The last ten first-innings scores (most recent first) are: 364-252-255-326-322-268-183-93-89-259. That is an average of 241. That would be higher were it not for the two scores sub-100, both by Kenya against Afghanistan. We can probably discount them.

Match odds
As much as England would like to believe they were superior in all departments in the second ODI, the truth was they were assisted by the toss bias in Abu Dhabi.
Chasing at the Sheikh Zayed is hard. And the same can be said of Sharjah. There is a huge significance to the toss, which should not be ignored. Eight from the last 12 day-night games have been won by the side batting first. In that time scores of 200, 183, 268 and 255 have been defended.
Pre-toss that would make it a fifty-fifty game. Ordinarily, England could be considered value before a ball is bowled. But they're not. That is because, weirdly, they are short favourites. They are 1.865/6 with Pakistan 2.111/10.
In just two games, and one win, England's price has ditched a whopping 32 ticks. There is no sense to that.
It is hard to take skinny prices about England in Asia but we'll have to if they bat first. These are two well-matched side so we must respect that it is the toss that will split them.

Top Pakistan runscorer
Mohammad Hafeez averages 58 at Sharjah in the last five years and boasts two centuries and two fifties. Shehzad has a record good enough to suggest he should be included - 269 runs in seven innings with one century. The pair are 3.814/5 and 4.57/2 respectively.

Top England runscorer
Hales is 4.57/2, Roy 5.04/1, Eoin Morgan 4.57/2 and Joe Root 3.613/5. The latter is a very poor price indeed. James Taylor, who is 5.04/1, hit a half-century on the ground in the Test series.

Recommended Bet
Back side batting first
Ed Hawkins P/L
2015: +£368.80
2014: +315.10
2013: +250.80
To £10 level stakes (unless otherwise stated), based only on available prices. Does not include back-to-lay in-running match advice or commission rate.
Follow Ed on Twitter @cricketbetting
Discover the latest articles