Ed Hawkins on Pakistan v England: Time for tourists to respect Moeen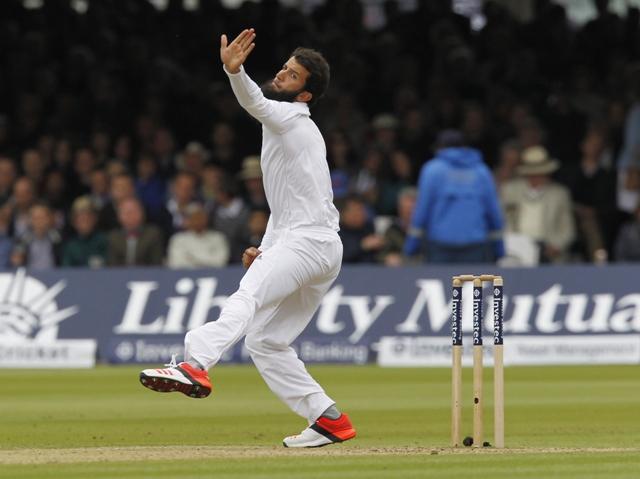 Moeen has been poorly treated by England
Our cricket correspondent argues that the batsman, all-rounder and No 1 spinner is being harshly treated and that he deserves the chance to forge a career in his own right rather than being used to assist others
"Moeen should be opening the batting in ODI at the expense of Hales, who remains the golden boy of English cricket despite there being precious little evidence of anything glittering."
England begin preparation for their three-Test series against Pakistan with a warm-up match against Pakistan A in Sharjah on Monday and it could be pivotal for the careers of two players, Moeen Ali and Alex Hales.
The two are in competition for the opening berth and this contest, followed by another at the same venue two days later, is likely to have a major bearing on the make-up of England's XI for the next two tours at least.
One of them will be Alastair Cook's eighth opening partner in three years, providing a chance to stake a claim for the role when England go to South Africa.
"We might have to do a short-term option," Cook said. "It might be that Mo opens the batting in this series and doesn't open in South Africa, or Alex takes his chance in the warm-up game and we go with that balance of the side."
The notion that Moeen will open against Pakistan and then be replaced, regardless of how many runs he scores, in South Africa is harsh.
Particularly as in recent times, once England have decided upon an opener he tends to get a decent run. Witness Adam Lyth's ever-presence in the Ashes. If only he had been as limpet-like at the crease.
Lyth was afforded seven chances over two series. Before him Nick Compton and Sam Robson played nine and seven Tests respectively over two series.

Anything goes
So if Moeen does well against Pakistan, it would be unfair in the extreme, let alone out of character on the selectors' behalf in the context of the opening berth, to shunt him down the order again. Sadly, where Moeen is concerned anything goes.
Given England's habit of going through opening batsmen like Imelda Marcos does shoes, Moeen could be forgiven for preferring to remain at No 8. He says he is "happy" there. He also says he is "happy" to play anywhere. That's because he's used to it. He generally does play anywhere.
A good series against Pakistan followed by a poor one against South Africa could, unfortunately, be terminal for the Worcestershire man's career. This would be a dark denouement for a player who has been treated poorly since his debut for England in 2014.
Moeen has been mucked about since before a ball was bowled. Touted as an all-rounder, who could bowl a doosra, Mo was immediately under pressure. That was because he wasn't an all-rounder. He was a batsman who could bowl a bit.
And so soon as he didn't start spinning out sides - he made his debut against Sri Lanka, those masters of spin - the criticism began. It is to his eternal credit that he has actually become an all-rounder, developing clever variations in flight and pace with his spin and, unsurprisingly, becoming the best No 8 in the world.
But now he has to change again. If he opens against Pakistan he will be a specialist batsman. And the role of No 1 spinner will either go to Adil Rashid or Samit Patel.
One can see why he might be a little nervous. Both those players fit the mould perfectly that England selectors have forced Moeen into. He could be squeezed out.
The treatment of Moeen is strange and it has made me uncomfortable for some time. He has now batted at four different position in 16 Tests while he has been similarly shunted around in limited-overs cricket. He was doing a good job as opener in ODIs only to be dropped and returned to lower-order irrelevance. And when he was at No 3 in a T20 this summer - smashing Australia all over the park - back again he went to nursing the tail in the ODI.

Golden Boy

Moeen should be opening the batting in ODI at the expense of Hales, who remains the golden boy of English cricket despite there being precious little evidence of anything glittering
Hales, then, could be on to a very good thing. Moeen will keep his seat warm on the dustbowls of the UAE and vacate for South Africa where the quicker pitches and more 'English' conditions could be to his liking.
It remains to be seen whether Hales has the back-foot game to cope but if he is in possession for South Africa then recent history suggests he will retain his slot ahead of the summer.
It is this column's opinion that Nick Compton should have returned to open the batting with Cook. The Somerset batsman was discarded too early and on something of a whim by the previous regime due to a misunderstanding surrounding an injury. They thought he was a shirker when, in fact, he was genuinely wounded.
Compton's statictics do not make a resounding case. But he did manage two Test centuries and he would be the perfect foil for England's new attacking style.
That England want to go hell for leather does not mean that there is no place for the more studious-styled willowmen like Compton, or indeed Cook. They are perfect openers for a team who want to attack.

Solidity
Solid technique and sound temperament are necessities in Test cricket at the best of times and it is the job of Nos 1 and 2 to see of the seam and swing and soften the ball.
There is nothing revolutionary in picking two solid batsmen to do this. But when you pair it with the attacking flair of the likes of Joe Root and Ben Stokes then you do have something fresh and exciting.
And how about Moeen benefiting from this approach, too? It would be a reward for all his hard work, talent and easy manner in the face of such tinkering that he was given the No 5 slot for good. He has deserved that and it must surely have rankled that Jonny Bairstow was parachuted in ahead of him for the Ashes.
It makes it seem as if Moeen is dispensable. Just read Cook's comments again. Why the hell should Moeen have to be classed as a "short-term option" and why is Hales being talked about as being given a chance to stake his claim in a warm-up and not Moeen?
Instead of England desperately trying to find someone who can do a better job than Moeen - in the many he is capable of - or moving him up and down to accommodate others, it might pay to focus on what he brings to the team and what he can do. If he is settled, assured and knows his role then England might, just might, discover that they have a darn good player on their hands.

Cook's seven opening partners in three years
Joe Root 37.66, one century
Nick Compton 31.93, two centuries
Sam Robson 30.54, one century
Michael Carberry 28.75
Adam Lyth 20.38, one century
Jonathan Trott 19.37
Ed Hawkins P/L
2015: +£315.60
2014: +315.10
2013: +250.80
To £10 level stakes (unless otherwise stated), based only on available prices. Does not include back-to-lay in-running match advice or commission rate.
Follow Ed on Twitter @cricketbetting