Ed Hawkins: England's giant leap forward unsettles the status quo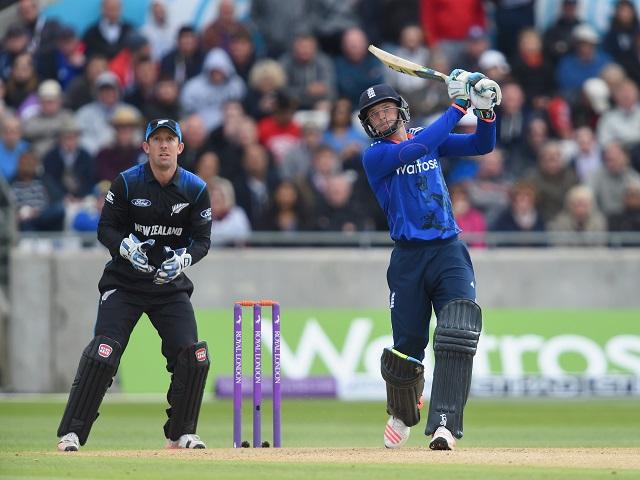 Jos Buttler on his way to a 66-ball century in the first ODI
In his latest weekly column, our cricket correspondent argues that England's win in the first match at Edgbaston was one of the biggest shocks of all time in terms of odds and they now deserve respect as one-day side
"England are a bit like a 17-year-old who has just passed his driving test and been gifted a souped-up Vauxhall Nova. They have power and pace for the first time and will need to drive it regularly to control it."
Just occasionally in this maddening, thrilling and intoxicating game of cricket betting something happens to shake the status quo and force you to wonder whether what you thought previously to be true was all just a mirage.
England's 210-run victory over New Zealand in the first one-day international was one of those moments. It wasn't that England won - they have been known to do that from time to time - but the manner in which they did it. It was extraordinary.
No fewer than seven batting records were busted as England posted a whopping 408 at more than eight an over. It was, of course, England's highest ODI score. But it is worth understanding that statistic in another way: It was only the eighth time that a top eight side had scored as quickly against another top eight side. In history.
I cannot remember a 1.645/8 shot - New Zealand's price before a ball was bowled - being humiliated in such a fashion before. In that regard it was also a unique result. The closest (in terms of runs for margin of victory) was Sri Lanka's 245-run win over India in Sharjah in 2000. Forgive me, I don't know what price India were but they probably weren't as skinny as the Kiwis. So we're talking about one of the biggest, scariest, amazing (add any other word in you like) shock results ever.
Before Edgbaston, Eoin Morgan had categorically stated England were years behind the top performers in the limited overs format. The transition within 24 hours suggested that the ECB have been secretly investing in a time machine. England had, suddenly, caught up. The same England that had been playing as if it was 1986 and Bill Athey was opening the batting. Bill, it should be said, was an absolute hero of mine and I only take his name in vain to make such a point.
Joe Root, another Yorkie who plays the game in a slightly different way to dear Bill, had led the charge with a brilliant century (spare a thought for those who backed him for top-bat honours by the way as Jos Buttler blazed away their profits). He said they would prove it was no fluke at The Oval.
Root has a little bit of form for making bold statements after he claimed England could chase the whopper of a target set by the Kiwis on the last day of the second Test at Headingley. It remains to be seen whether they can repeat the trick over the course of a five-match series and in this corner of media land we are naturally more cynical.
That is a normal, sensible reaction to an event which has upset what we believed to be preordained. For example, if Manchester City lost 5-0 to Crystal Palace it would be folly to expect both sides to perform in exactly the same manner next week. How both sides performed over the previous, say, ten games is still important.
A change that is significant, however, is mindset. We absolutely have to respect that England will now try to play an entirely different brand of 50-over cricket that what we have been used to. That does force us to consider them, over time, in a different way.
It is a bit of a shame because when dull, old England turned up to play an ODI series at home you were almost guaranteed a hefty payout backing a more energetic, daring opposition. That route to the rich house may now be closed off in the future.
There were clues that England were going to try to be more attacking. The discarding of the old guard in the shape of James Anderson, Stuart Broad and Ian Bell for pretty much untried and untested players like Adil Rashid, Sam Billings and Jason Roy was, on paper, refreshing.
There have been plenty of 'new eras' down the years in English cricket. Adam Hollioake was given carte blanche to try a similar tactic in 1997 - replacing Mike Atheron as ODI skipper - and an England team playing the sort of cricket relative to today earned a win in the Akai Singer Champions Trophy in Sharjah. It all fell flat, though, when they suffered successive series defeats by West Indies and South Africa at home.
That is not to say that the England revolution will spin out of control. Far from it. If the ECB had continued putting faith in the sort of style Hollioake had encouraged, England might not have been the laughing stock at every World Cup since.
The point is that, despite the invention of a time machine, England will need, well, time to adjust. They may well be brilliant one day in Birmingham but dreadful the next. It should take a good couple of series before England can be relied upon.
At the moment they're a bit like a 17-year-old who has just passed his driving test and been gifted a souped-up Vauxhall Nova (that was the car of choice in my day anyway). They have power and pace for the first time and will need to drive it regularly to understand it and control it.
Indeed, it is one thing relying on Buttler and Root to smash the cover off the ball but they will need contributions, regularly, from the likes of Alex Hales, Roy, Billings and Rashid. The learning curve with the ball is probably the steepest of all.
It is easier to bat brilliantly than it is to bowl brilliantly in the format. The likes of Chris Jordan, Liam Plunkett and Rashid will have to learn plenty of new tricks, not to mention the faults and foibles of each batsman in the world. That takes a while. England may post plenty of 300-plus scores but don't be surprised if they struggle to defend them.
For now, though, England are to be enjoyed. Hell, at this rate we may even consider them value. Certainly we would shift uncomfortably in our seats for several hours before considering backing the opposition at anything under 1.705/7. In other words, for the first time in a generation they deserve a bit of respect. And that is a giant leap forward.
Discover the latest articles