New Zealand v England Test Series Betting: Home pace aces pose major danger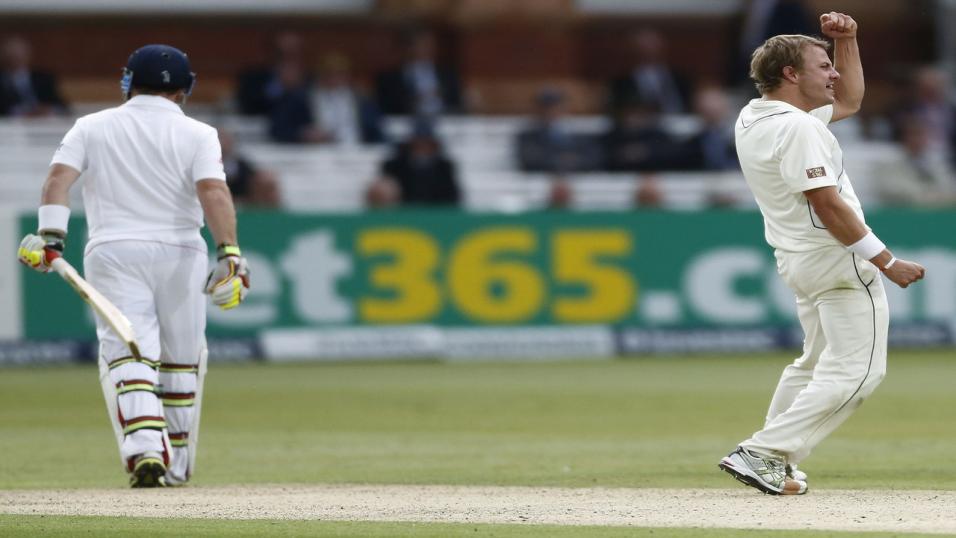 Wagner is a dangerman
Ed Hawkins previews the two-Test series which starts on Thursday and says the tourists may find life tougher than they expect...
"Get this. Southee, Boult and Wagner have a better combined strike rate than some of the most feared pace trios of the last 30 years"
After the horrors of the Ashes series, England will reckon that they could not have picked a better place to rest, recuperate and reinvigorate than New Zealand. It is a home from home for them - they have lost only fours Tests there out of 47.
It's not that surprising. The similarity in conditions to good old Blighty are well-known. It should seam. It should swing. They won't have to worry about rock-hard wickets blunting their bowlers potency or their batsmen's courage.
And it's not that surprising to see them favourites to come out on top in the two-Test series. They are 2.226/5 for victory with the hosts 2.8615/8 and the stalemate 2.3411/8. England have lost only once in 18 series there.
We fully expect them to look a completely different team to the one that was humiliated in Australia. Indeed, you may not recognise some of their players from that encounter. James Anderson and Stuart Broad, for example, could well terrorise the hosts. Alastair Cook, Joe Root and Moeen Ali could return to pre-Australia form as reliable run-getters. There's also the not-insignificant inclusion of all-rounder Ben Stokes. Remember him?
As cosy and confident as England will surely be, we cannot consider backing them. That is because it would be folly to dismiss the threat that New Zealand pose. Particularly a pace attack which will probably be remembered as the greatest they have produced.
Tim Southee, Trent Boult and Neil Wagner are hardly unknows. But they are unheralded, cursed by New Zealand's unfashionable reputation as one of the Test game's also-rans. Only when you delve into the numbers that they produce do you realise that England could be in for a terrible fright.
Testing trio
Get this. Southee, Boult and Wagner have a better combined strike rate than some of the most feared pace trios of the last 30 years. They average a wicket every 53.19 balls. That's better than Walsh-Ambrose-Bishop (54.23), McGrath-Gillespie-Lee (55.5) and Flintoff-Hoggard-Harmison (53.9).
Impressive. Southee will swing the ball both ways with craft and Boult will do it at pace. Wagner, who is the most dangerous of all of them, is New Zealand's version of Mitchell Johnson. He drops left-arm bombs into batsmen's ribcages.
England will probably be able to counter this style with Anderson and Broad doing their thing and the return of Mark Wood. Wood was sorely missed in Australia because he possessed the pace and bounce which England so badly need.
The problem for the tourists is that the historic record in New Zealand starts to look irrelevant because they have never faced an attack of such varied danger as this one. More worryingly, it could once again expose their foibles on the road (even if conditions suit), which stands at one win in their last 12 and four wins in their last 19.
Throw in the uncertainty that a day-night Test brings - the opener at Auckland from early Thursday - and it is hard to argue that England are a smart call. We don't even need to warble on about their unconvincing batting. Messrs Stoneman and Vince have not nailed down places yet.
With this such a short series the smart call could well be on laying England to keep the vagaries of pitches and weather forecasts on side. At the moment 2.982/1 is available but we expect to get shorter as the first Test approaches. Look for 2.47/5.
There are, of course, concerns about the home team which we would be negligent not to point out. Their batting is hugely reliant on Kane Williamson and a resurgent Ross Taylor. They are a man down from the holy trinity of their one-day team as Martin Guptill cannot be trusted in this format, even if he has been called up as cover for Taylor who is progressing well from the niggle that kept him out of the final ODI.
Williamson is one spot behind Joy Root in No 4 on the ICC rankings list. And although Taylor, class act though he is lies in No 3 on the Kiwi all-time run lists, Williamson will probably trump Stephen Fleming as No 1 before his career out. He has consistently outscored his team-mates over the last few years.
Home fans will hope that Tom Latham, who shows promise with a Test average of 38, solid opener Jeet Raval and the redoubtable BJ Watling muck in. Both Raval and Watling had solid first-class seasons. New Zealand also have Mark Chapman waiting in the wings after topping the run lists at home.
The correct score market holds little appeal but England 1-0 at 3.02/1 will probably take a hit. The same scoreline for New Zealand is 4.03/1. The 0-0 draw is jolly at 1.9310/11 but that's an immature price.
Ed Hawkins P-L
2018: +12.59
2017: +12pts
2016: +18.1pts
2015: +38pts
2014: +31.5pts
2013: +25pts
Based only on available prices. Does not include back-to-lay in-running match advice or commission rate. Figures 2013-2016 on 1pt level stakes. New points system (0.5pt-5) introduced for 2017. Includes Hawk-Eye stats column p-l
Recommended bets
Lay England at 2.47/5 to win series (1pt)
Discover the latest articles
Read past articles