Is Monty Panesar really the man to save England?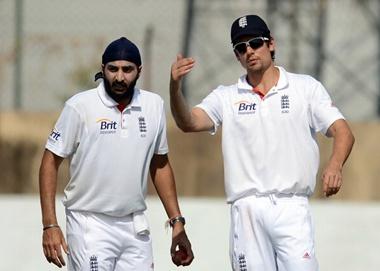 Will Monty get the call in Mumbai?
England's bowlers were toothless during the first Test defeat in Ahmedabad, and the answer to the tourists' problem appears to be Monty Panesar. But is the mercurial spinner really the man to save England? Richard O'Hagan looks as the difference Monty might make to their side.
"In every respect Panesar is something of an enigma, a spin bowler who can't bowl on dry and dusty sub-continental pitches."
Another Test match, another defeat. England's dismal 2012 continued with a nine wicket thrashing against India and, as ever, the calls to change the team began even before the final run was struck. The main topic of debate? The continuing omission of Monty Panesar.
On the face of it, the argument is compelling. Panesar is a left arm spinner, and India's left arm spinner Pragyan Ojha took nine wickets in Ahmedabad. He has limitations with the bat and in the field, but these are surely worthy of being overlooked. After all, Messrs Trott, Bell and Pietersen barely contributed in either of England's innings, whilst Samit Patel looked an all-rounder in only the most literal sense.
Looking more closely at Panesar's record, though, the case against selecting him is actually stronger. He has played 18 overseas Tests, and his average rockets from 33.33 to 44.72 away from the green grass of Blighty. Only 47 of his 142 wickets have come on foreign soil and only twice has he taken five wickets in an innings, compared to eight times at home.
Moreover, he saves his worst stuff for India where five Tests have brought just 11 wickets at a shade under 56 runs each. He has never taken more than three wickets in an innings, or more than three in a match. His record in Australia in the 2006/7 series that England lost 5-0 is actually better than his record in either India or Sri Lanka.
Arguably, one point in his favour could be that all of those 11 wickets in India have been those of men batting 1 to 8. On the other hand, five of them have been numbers 7 or 8. Although against India this means MS Dhoni, Harbhajan Singh and Anil Kumble, all of them with Test hundreds to their names, also indicates limited success against the top order and (as has long been suspected of him) an inability to bowl successfully at the tail.
In every respect Panesar is an enigma, a spin bowler who can't bowl on dry and dusty sub-continental pitches. England have won only three of his 18 away games and two of those were against New Zealand. While it is hard to argue that he would make England a worse side if he played in Mumbai, it is difficult to see him making them a better one, either.
Changing the bowling lineup isn't really where England should be starting anyway. It wasn't the bowling that lost them the game, it was that only two of their top seven batsmen made any runs. With Indian pitches still full of runs and England likely to show more backbone second time around, the draw still looks the best bet at 2.6613/8
Recommended Bet
Back India and England to draw at 2.6613/8

Discover the latest articles