India v England analysis: Time for Tendulkar to go?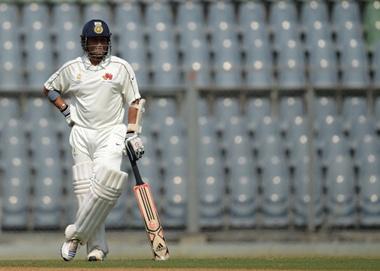 Is Sachin Tendulkar now India's problem rather than the solution?
England stormed back into the series in Mumbai, but were India blind to a couple of flaws in their game plan? Or were they just outdone by a genius? Richard O'Hagan reports
"India is a country where respect and reputation count for much, and that seems to be the basis upon which Tendulkar is clinging to the number four slot in India's batting line-up. He has not scored a Test hundred since January 2011."
From the joyous crushing of England in the first Test to the joyless gloom of the defeat in Mohali, India's rise back up the cricket rankings has been jolted backwards as if attached to a particularly vicious bungee. Within the space of four days celebration has given way to introspection, and few do introspection like the world's biggest cricketing nation does it.
The Tendulkar effect
Sachin Tendulkar has carried India's hopes and dreams for so many years that it is hard to imagine that there will one day be an Indian Test side without him in it. As Tendulkar approaches 40, though, that day is getting ever closer. Indeed, there's an argument that it should already be here because, on current form alone, he simply doesn't deserve a place in the side.
India is a country where respect and reputation count for much, and that seems to be the basis upon which Tendulkar is clinging to the number four slot in India's batting line-up. He has not scored a Test hundred since January 2011. That was his 99th in all international cricket and for months his every failure was airily waived aside as being due to the pressure of seeking that hundredth. But he finally passed that particular milestone in March this year and, if anything, his form has been worse ever since. It is as if the appetite is (although understandably) no longer there any more.
In this instance, the figures don't lie. Since his last Test ton Tendulkar has scored just 870 runs at an average of 31.07. In 2012 that figure is 274 runs at 22.83. And in this series he averages just 10.0. He's passed fifty just once in the current year, down from five in 2011. Those are just not the sort of figures any international batsman can turn in and still justify their place.
Look around the cricketing world. All of the leading nations have players batting at four with averages significantly higher than Tendulkar's over the same period. Australia have Michael Clarke, South Africa Jacques Kallis and England, of course, have Kevin Pietersen. Even the lesser thought-of nations have players with a decent average in that slot - Ross Taylor of New Zealand, for example. Can India really carry on hoping that the old Tendulkar will return, especially when the evidence of the past 23 months is that he isn't coming back?
Being careful what you wish for
India have been absolutely convinced that English batsmen cannot play spin. They arranged for England's warm-up games to be played upon pitches which turned as little as possible, with as little spin as possible being bowled by the host sides. Then they prepared pitches which turned and bounced as much as any spinner could dream of. They even dared to be the first Test side to open their bowling with two spinners since 1910. What then went wrong?
In one respect, nothing did. Of the 30 wickets to fall in the game, only two fell to non-spinners and one of those was a run-out. Pragyan Ohja, like Monty Panesar, took five wickets in the first innings.
The problem was, though, that they were nowhere near as economical. Panesar's 11 wickets cost him 19.09 each, but that was positively profligate compared to Graeme Swann's eight at 14.13. India simply seemed to forget to bowl in pairs and were never able to exert the same kind of pressure that England's spinners did. Which shows the policy of preparing pitches to suit your own strengths only works if the specialists on the other side aren't equally good.
KP Genius
There has already been too much talk of Kevin Pietersen's return to the England side. KP isn't actually having his best year with the bat - only in 2005 and 2010 has he had a lower average in a calendar year - but in his last 10 innings - which stretch back to the start of May, remember - he averages 59.5. The hope for India is that this was the one big innings he tends to play per series and that now he has tied Wally Hammond's record for most hundreds in an England shirt it will be a while before he breaks it. He has a way to go before he overtakes his captain in the race to be leading English batsman, but at 4.57/2 he is the best alternative bet.
Evenly poised
The series is now evenly poised at 1-1 but the omens do not look that good for England. They have only won one of the nine games they have played in Kolkata, in 1977. They lost three of the others. A drawn series is probably the best that they can hope for, but a 2-1 India victory at 3.3512/5 looks the better bet.
Back India at 3.3512/5 to win the series 2-1

Discover the latest articles