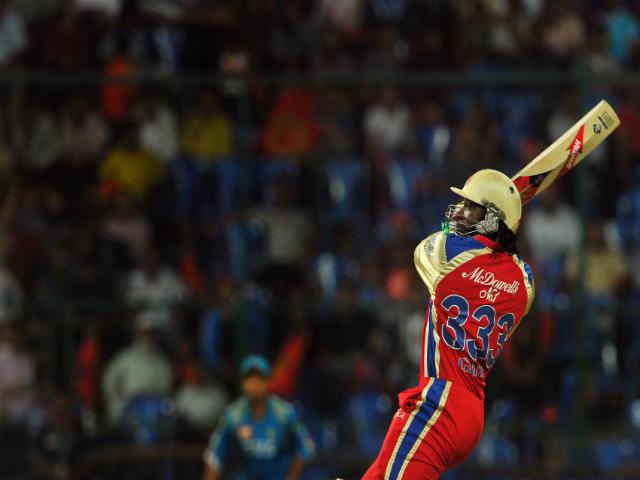 Gayle is back but he is he at his best?
With the Universe Boss back in the ODI fold, Ed Hawkins analyses the likely impact of the opening batsman in the T20 match and subsequent 50-over series...

"Those betting them might feel more comfortable if they knew which Gayle was going to turn up"
Here's a number which might surprise you. It is 18 years since Chris Gayle made his one-day international debut for West Indies. On Wednesday against Ireland, he was supposed to make a comeback of sorts - his first ODI since March 2015 - but wet weather put paid to that. So next week he will make his awaited return in the ODI series against England.

It would be fair to say that West Indies have missed him. Since his very first game, which was against India, West Indies have a win percentage of 43% with him in the team. Without him in the last two years they have won just 24% of matches.

Of course Gayle is not really interested in those type of numbers. He is a sixes and strike rates man. He has taken the game higher, further and faster than before. For him, it's not really about the winning, it's entertaining. And being cast into the international wilderness following the ludicrous ruckus with West Indies Cricket Board and their star men, has actually enhanced his reputation and bank balance. After all, he promoted himself from World Boss to Universe Boss, no?

Given the numbers above, it is hard to argue that West Indies are a better team with him in it. Yet T20 is different. West Indies have won 47% of the time with Gayle. Without him, though, the win rate stands at 50. That's an even-money chance.

This stat is particularly significant given that England and West Indies 'warm-up' for the ODI series with a T20 international on Saturday at Chester-le-Street. England are [1.61] with West Indies [2.58]. Clearly on the pure numbers West Indies, with or without Gayle, could be considered the bet. But those betting them might feel more comfortable if they knew which Galye was going to turn up.

There have been murmurs for some time about whether Gayle, now 37, is the force of old. The sort that has stormed to the top of the all-time run charts in T20 with a strike rate of 147. No-one has hit more centuries and sixes as well. Or the sort that has he been downgraded in category from the type of storm he can whip up?
All blown out?

Previous to this season's Caribbean Premier League it looked as though he was all blown out. He had recorded 378 runs in 19 innings for various garish-coloured franchise units. He blamed this dip in form on fitness worries and, instead of spending time working on his form, working hard in the gym to get back into shape.

It seems to have paid off. In the CPL for his new team, St Kitts and Nevis Patriots, he had a good season. Gayle finished third on the runscorer lists, striking at 127 with an average of 62. The Patriots made the final, only to be beaten by the Trinbago Knight Riders.

That was why it was not particularly relevant we didn't get to see him versus Ireland. The quality of bowling he will face, and a sticky wicket (par would have been about 230), was very CPL fare. Against England, however, the bowling will be of superior quality.

Not that Gayle was ever a particularly standout value wager for top-bat in T20 internationals. He was always appeared overrated at short odds hovering around the [3.2] mark.

Ironically, it is his likely opening partner and Patriots team-mate, Evin Lewis, who appears to be the more dangerous - and better value. Gayle was outsixed by 25-year-old Lewis in the CPL hitting ten fewer maximums. "I hit a lot of sixes, big sixes like him," Lewis said when asked to explain why Gayle was his hero.

In the ODI series on flat tracks like Trent Bridge and the Rose Bowl - these venues have the highest runs per over figures in the last five years in ODIs in England - Gayle and Lewis will be confident of clearing that front leg and swinging through the arc into the stands. They won't mind The Oval, either.

And although there will not be a rush from this corner to get with Gayle on the top-bat markets, England are less of an attractive betting proposition when faced with such destructive opponents.

Punters have not forgotten their implosion against Pakistan in the Champions Trophy, particularly as the third match will be played at Bristol. This wicket can have similar qualities to the Cardiff slow turner which Eoin Morgan blamed for his side's defeat.

And is the jury still out on England's ability to defend targets? Tricky to say because in that tournament they seemed to have silenced the doubters who said they had little control having posted a target.

If Gayle and Lewis get going in a chase in the 50-over stuff, let alone T20, the critics could be out again.
Ed Hawkins P-L
2017: +21.19pts
2016: +18.1pts
2015: +38pts
2014: +31.5pts
2013: +25pts
Based only on available prices. Does not include back-to-lay in-running match advice or commission rate. Figures 2013-2016 on 1pt level stakes. New points system (0.5pt-5) introduced for 2017.
*Follow Ed on Twitter @cricketbetting