England v Pakistan Second Test Betting: Hosts have the wrong tools for the job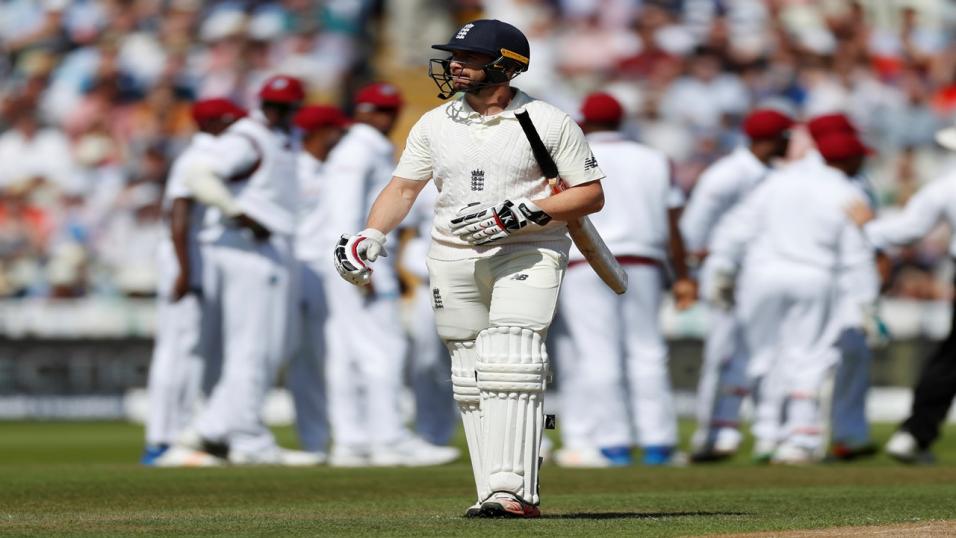 Stoneman's England career is over
Ed Hawkins analyses what went wrong for the hosts at Lord's. His answer suggests there's a long-term problem which won't be solved any time soon
"It is not unusual for the English to be furiously self-flagellating at the start of their summer. It happens a lot after a defeat"
Over the weekend I tried to put up a bookshelf in my daughter's room. It had been up before but had fallen down, so I moved it to a new section of wall. It was an ungratifying slog. My screwdriver had lost its edge, the rawl plugs were wonky and the wall itself gave me little purchase. By Sunday lunchtime, under the sort of pressure that only youthful exuberance can apply, it came crashing down.
At about the same time England also hit the deck with a thud, floored by similar levels of youthful exuberance. Pakistan's joyful seamers and swingers roared in - and then delivered a masterclass.
When all was done, Trevor Bayliss, the England coach, said he was at a loss as to how to transform an England team which had lost eight of its last 15 to one that could show the requisite technique with bat and ball, in different conditions, consistently.
Given my experience with the blasted bookshelf, I kind of know how he feels. He probably knows how I feel, too. Blunt edges, crumbling rawl plugs and an inability to get a hold of the situation. Bayliss has all the wrong tools.
Tough on Trevor
It is difficult not to feel sorry for him. Winning Test teams are more complicated than cheap bookshelves. But they collapse just as easily under the merest hint of force. England, at the moment, just don't have the players who are strong enough technically or psychologically to win consistently.
This applies far more to the batting line-up than it does to the bowlers. Look, James Anderson and Stuart Broad know what they're doing. But the insecurity of a brittle top six bears a heavy weight on their shoulders. They will be running in tighter and tenser than ever before knowing they've got to be on the money from ball one or the game is lost.
Raging against a beleaguered batting line-up seems pretty pointless. It is not the fault of Mark Stoneman that, after 20 Test innings he has been found wanting. He's just not good enough. Stoneman is a solid and reliable county pro but the step up has been too great. In the past he wouldn't have got a sniff of the Test team.
The same may well prove to be true of Dawid Malan. Like many before him, his fast start has been razed to a crawl. Once international attacks get a good look at a player, they tend to work out his frailties pretty quickly.
There's no point in raging against the selectors, either. They have returned to Keaton Jennings, the Lancashire player who on his last England appearance looked as if he was wearing moon boots considering his non-existent foot movement. He hasn't solved that issue by all accounts. But who else is there?
I had to get a new bookshelf on Monday. The only one available was the same one which had fallen down. I absolutely have to buy a new bookshelf. So what other option do I have?
The 'new' stock room is empty. Alastair Cook has now had 14 different opening partners since Andrew Strauss retired in 2013. That number makes England's problem pretty clear: they are going through a particularly barren spell for producing international-class batsmen.
That is the bottom line. The pundits and analysts can bemoan a lack of a world-class spinner. Or a lack of genuine alternatives to the swing kings Anderson and Broad. Or why more fast bowlers are not produced. None of that really matters when they don't have some blokes who can score runs.
Barren era
It is not unusual for the English to be furiously self-flagellating at the start of their summer. It happens a lot after a defeat. It can usually be dismissed. England have lost at home in the past when they have been on the wrong end of a toss bias or particularly devilish batting conditions.
We know that because it is, usually, a heaven-sent betting opportunity. England get it right in the end. That's why England have not lost any of their last seven home series.
This time it is different. The toss bias was with England at Lord's. Joe Root did absolutely the right thing by batting first. In years gone by only two sides had won fielding first because after the obligatory tricky first hour the batters, usually English, go big.
England don't have the talent at the moment. They will do again. It could just take a while. The really bad news for them is they have to play Pakistan from Friday at Headingley - their least successful home venue. Not surprisingly the 1.635/8 about a home win is a terrible price. Pakistan and the draw are both around 5.04/1.
If you're an England fan it might be best not to tune in. Get some DIY done. But, for God's sake, make sure you've got the right tools for the job.
Ed Hawkins P-L
2018: +16.62
2017: +12pts
2016: +18.1pts
2015: +38pts
2014: +31.5pts
2013: +25pts
Based only on available prices. Does not include back-to-lay in-running match advice or commission rate. Figures 2013-2016 on 1pt level stakes. New points system (0.5pt-5) introduced for 2017. Includes Hawk-Eye stats column p-l
Discover the latest articles
Read past articles