England v Pakistan Test Series Betting: Home side no value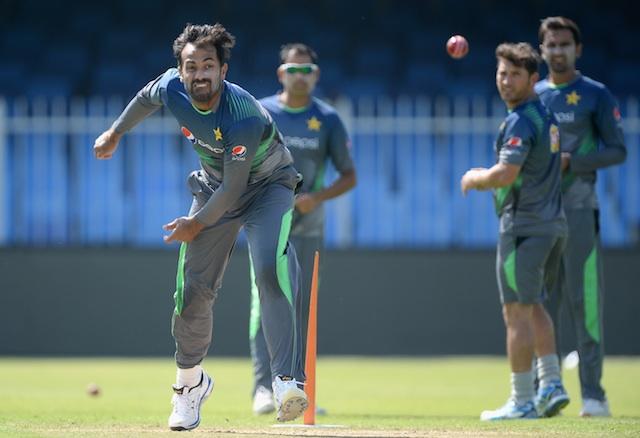 Wahab Riaz is part of a strong Pakistan attack
Ed Hawkins previews the four-Test series which starts on Thursday and says that if Pakistan can just knuckle down with the bat then they can shock the hosts...

"The problem is Pakistan's batting. Teams from the Indian sub-continent do not fare well in England. And boy are we bored of saying it"
It hasn't been much of a summer for the cricket punter. The Test series and subsequent ODI and Twenty20 between England and a toothless, gummy tiger in Sri Lanka were all mismatches and value hunters were left to feed of scraps.

It is hard to make decent money when England are going off sub [1.40]. Sure, you could shove your mortgage on them but where is the fun, or sense, in that? Anyone can steam into such skinny odds-on.

The prospect of a four-Test series against Pakistan threatens more of the same. England are [1.43] to win the series with Pakistan [5.5] and the draw [5.0].

An immediate reaction may be that the hosts have to be taken on. Even a cursory study of the respective strengths of the two teams suggest that they are closely matched with the ball.

But is that wishful thinking? Are we trying too hard to find value in a season which has offered so little?

The problem is that we are still none the wiser about England. Sri Lanka's batting was so pathetic - they were bowled out for 91, 119 and 101 in their first three innings - that England find themselves in mid-July without being seriously tested.

We know that Stuart Broad and Steven Finn are stellar performers but in the absence of James Anderson for the first Test, what have England got in reserve? Jake Ball and Toby Roland-Jones are untested. Chris Woakes has been steady so far and could be on the brink of a breakthrough series.

Similarly we - like the England management - are starting again with their batting conundrum. Before a ball was bowled this summer everyone had doubts about the No 3. Nick Compton failed to answer them and although Joe Root will bat there instead, they still need to find another batter.

Gary Ballance, a doubt for Lord's with a groin niggle, has been asked to fill the void. Many observers have expressed surprise that England have returned to a man whose leaden-footed approach to the elite level could leave him vulnerable to Pakistan's express pace.

And what of the opening slot? Are we really convinced by Alex Hales biffing a reserve Sri Lanka attack around for three fifties?

It is not Hales's fault. It is not England's fault, either. They can only beat the XI that is put in front of them. It is not our fault, either, that we question the validity of their odds when they have beaten precisely nothing.

Of course, it may all count for squat. By the time of the third Test Hales could have recorded a first Test century and worries over an average of 32 will be forgotten. Ballance, too, could provide exactly that in the middle order.

Still, we're not discussing the odds in three games' time. We're talking about them now. And England rate pretty dreadful value.

This is chiefly because Pakistan's bowling attack looks so tantalising. Mohammad Amir and Wahab Riaz provide left-arm zip of the highest quality. Imran Khan, Pakistan's Woakes (sort of) is not too shabby while Rahat Ali, another leftie, and Sohail Khan are slippery.

The ace in the pack is Yasir Shah. He could well prove to be the difference between the two sides, as discussed here. He really exposes England's lack of balance when you match him up against England's chief spinner, Moeen Ali. It's another question mark about the hosts leftover from May.

Ali averaged 90 against Sri Lanka and took two wickets. Yasir's record against England is superb and on dry, slow surfaces towards the end of the summer - and indeed Lord's if Stuart Broad is to be believed - he could spin the tourists to an unlikely series win.

The problem is their batting. Teams from the Indian sub-continent do not fare well in England. And boy are we bored of saying it. Just look at Sri Lanka. Even Misbah-ul-Haq, the wizened skipper, has pointed out that it is their greatest challenge.

At 42 he is expected to lead from the front. And one would expect him to knuckle down and play the ball late with the old, soft hands of a master. But get this, he's never played a Test in England. So how are we expected to trust him.

Younis Khan, who averages 79 away from home in the last three years and on his third tour of England, must again be the main man. Asad Shafiq, a redoubtable little chap, has good figures on the road, too.

Mohammad Hafeez, Azhar Ali and Sarfraz Ahmed, the wicketkeeper, should be experienced enough these days to lend a hand. Unfortunately Hafeez has played one Test in England, Azhar four and Sarfraz none.

So that naivety against a moving ball - or Anderson roaring in at his best - could well be costly. There is just no evidence that they are going to be capable of posting big enough scores over 20 days of cricket to come out on top.

But that's why they're [5.50]. Some will bite the bullet and take it. Others will reckon a 2-1 England win at [5.5] or a 3-1 at [6.6] are the standout. After all, in their last seven series in England they have only once failed to win a Test. It should mean Pakistan will be competitive. And after Sri Lanka, we are very grateful.
Ed Hawkins P-L
2016: +66.02
2015: +£380.50
2014: +315.10
2013: +250.80
To £10 level stakes (unless otherwise stated), based only on available prices. Does not include back-to-lay in-running match advice or commission rate.
*Follow Ed on Twitter @cricketbetting