England v Pakistan Test Series Betting: Strike it rich with Yasir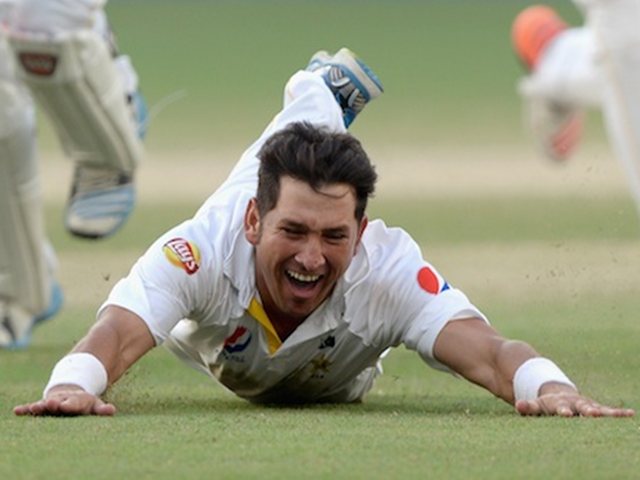 Yasir threatens England
Ed Hawkins unearths some statistics which suggest Pakistan have the edge with the ball and why spinner Yasir Shah is a value bet for top bowler
"For punters, bowling strike rates should be considered one of the crucial statistics to decipher a team's chance of taking 20 wickets in a Test match"
In the modern game most are obsessed with strike rates. Thirty years ago and before, no-one really gave a hoot about how quickly batsmen scored their runs. Now it's all the rage with playing careers defined by how quickly they score.
And we're not just talking about Twenty20. The bleed into the Test arena seemed more pronounced when Nick Compton lost his place in the England team. Sure, Compton's return was paltry but had his inability to score fluently - he left the stage with a career strike rate of just 36 - ratcheted up the pressure? This was a guy who strikes at 114 in T20.
Yet for the preoccupation with runs per 100 balls, less focus appears to be given to bowling strike rates - defined as the average number of balls bowled per wicket taken. Everyone knows the fastest scoring batsmen in the world, but what about those who need fewer deliveries to take a wicket?
Currently the best in the business in Test matches is...Dale Steyn. No one has a better strike rate than his 41.7 and he stands fifth on the all-time list. The next best is Steven Finn with a mark of 47.6. This puts him 22nd on the all-time ranking. It is not that surprising that Steyn is no. 1 but Finn? I would wager most students of the game would be surprised.
For punters, bowling strike rates should be considered one of the crucial statistics to decipher a team's chance of taking 20 wickets in a Test match. And they are incredibly valuable when trying to find a winner on a top bowler market.
It is fair to reckon that if a team can only boast of three pacers with strike rates in the late 60s, that they are going to struggle to do enough damage quickly enough. By gauging the collective strengths of an attack and pitting it against another, an edge can be found.
England's Test series with Pakistan - which starts on Thursday at Lord's - is potentially a fascinating clash of two potent bowling attacks. Pakistan are not so hot with the bat, of course, but more of that in the next few days.
England's line-up has been shorn of its leader in James Anderson so Stuart Broad and Finn must carry the burden of responsibility. Chris Woakes looks a certain starter with one debutant expected from Toby Roland-Jones and Jake Ball.
Broad, Finn and Woakes have a collective strike rate of 181 giving them an average of a wicket every 61 balls. If Pakistan go with Mohammad Amir, Wahab Riaz and Imran Khan they should be more dangerous with an average of a wicket every 53 balls.
Throw into the mix Yasir Shah, the best spinner in the world, and suddenly Pakistan begin to look value for a surprise series win at 5.85/1. England make very little appeal at 1.4640/85. The draw is 4.1.
Yasir could prove to be the difference between the sides and one has to feel a little sorry for Moeen Ali, who will be compared to the wizard. Such is the gulf that no bookie would offer a match bet between the pair.
A more tantalising head-to-head is Yasir versus Amir, whose career was cut short by his ban and jail term for corruption. Amir is the 2.68/5 favourite to finish as his team's top bowler. Yasir is 3.55/2. Is that fair according to the strike rates? After all, this is a market which will be decided by the bowler who can take the most wickets most often.
Yasir's career strike is 48.4 compared to Amir's 56.2. Against England last time while Amir was rusting Yasir took 15 wickets at 49. The numbers suggest he is value.
The real value could be Imran Khan, however. His career strike rate is 52.3. Against England he took six wickets but he bowled only 56 overs. If he can up his workload (although he'll never bowl as many as Yasir) he could be a pick at 12.011/1.
Opposition bowlers wickets/strike rates in last five England home series
Sri Lanka
N Pradeep 16/64
R Herath 15/93
R Eranga 16/71
S Lakmal 5/51
Mathews 5/91
Australia
M Starc 18/47
J Hazlewood 16/42
N Lyon 16/51
M Johnson 15/56
M Marsh 8/33
New Zealand
T Boult 13/53
M Henry 8/64
M Craig 7/89
India
B Kumar 19/54
I Sharma 14/49
R Jadeja 9/104
V Aaron 5/66
R Ashwin 3/71
M Shami 5/115
Sri Lanka
R Eranga 11/57
N Pradeep 6/77
R Herath 8/95
Prasad 6/42
Ed Hawkins P-L
2016: +66.02
2015: +£380.50
2014: +315.10
2013: +250.80
To £10 level stakes (unless otherwise stated), based only on available prices. Does not include back-to-lay in-running match advice or commission rate.
*Follow Ed on Twitter @cricketbetting
Discover the latest articles