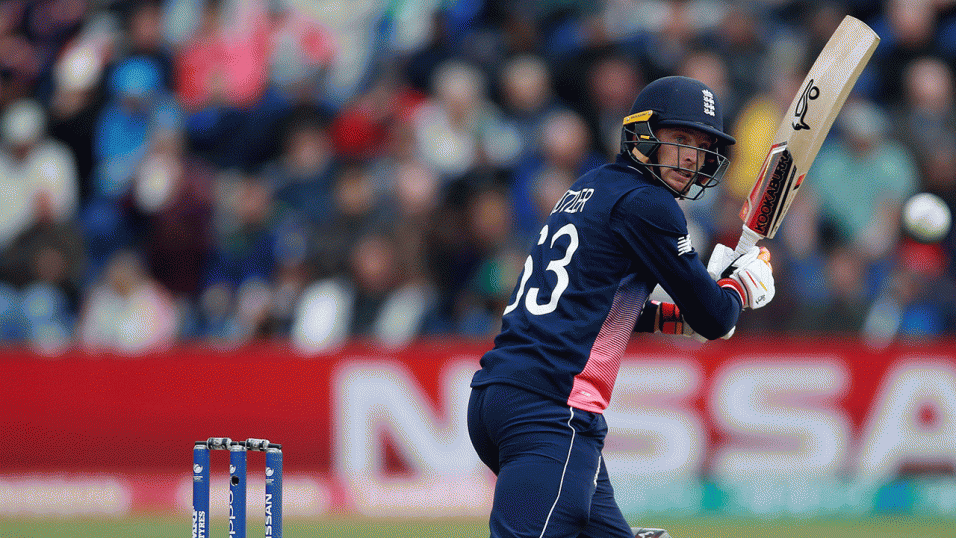 Buttler can serve it up
Ed Hawkins says the hosts have got their selection right, but that doesn't mean they are going to have an easy time against the tourists
"Before England can win away – one in their last 15 – they are probably going to have to learn to lose at home. That means not relying on Anderson or Broad to swing it round corners on a wet, overcast morning in Leeds"
England back in a familiar place
Like cupping one's ear to hear the first cuckoo of spring or the first breathy warmth of the new season's breeze, there are tummy-tingling signals that the cricket season is about to begin for real. Another is the familiar refrains about England's selection for the first Test of the summer.
What does that sound like? Well, for the past few years it has been a grumbling about a lack of tried and trusted opening partner for Alastair Cook. Plus the absence of genuine contenders to assist James Anderson and Stuart Broad. Oh, and the discovery of an international-class spinner. Most English cricket fans could bang on about those issues for some time because, frankly, they do that every year at about this time.
Despite those holes, England still managed to beat both South Africa and West Indies last summer. The problem has been when they come to leave English wickets, which are considered green and pleasant lands for the skill sets of Anderson and Broad, for harder and dustier terrain. At home England are good. When they're not at home, they're awful. Twas ever thus.
So it is not in the least bit surprising that, by and large, England have retained faith with the crop of players which were trounced in Australia and deservedly beaten by a superior New Zealand bowling unit.
Mark Stoneman continues as Cook's opening partner almost by default. There is just no-one else left for England to try. Stoneman lives up to his name. He is solid. Unspectacular. Throw a ball at it and it will bounce back. That can get pretty dull after a while.
Mark Wood, made of glass it seems, is once again being transported to a Test venue in bubble wrap and red sticky take with 'FRAGILE!' on it holding him together. If he stays fit, his pace and bounce gives England something to use on the road.
The picks which have grabbed the attention were the return of Jos Buttler and, in classic English style, a spin bowler who found out about his call while in Ikea. Dom Bess has played just 16 first-class games and is not even past University age. He is 20. You are entirely forgiven if you've not heard of him. Some Somerset diehards haven't.
England must learn to lose first
But let's not be critical. England couldn't really gamble on Stoneman and Woods's positions. But they have been bold with Buttler and Bess. And they entirely fair if you subscribe to some pretty controversial views for each man respectively.
Buttler is going to be charged with blitzing at No 7. He will not die wondering. He will either try to turn a game on its head with something brutal in quick time. Or he will try to finish off an opponent with something brutal in quick time. In years gone by such a selection would have been tantamount to heresy for God's favourite version of cricket. But in this fast food T20 era Buttler makes sense.
He won't come off all of the time, though. One would have thought England - and new head honcho selector Ed Smith - have presumably made their peace with that.
Likewise the notion of Bess needing time. If England are prepared to give the youngster series to develop and learn his trade in Test cricket - Moeen Ali did the same, rightly or wrongly - then it's a fair call. What will not be fair is if he's chucked out after a couple of bad games. He will surely struggle this summer given his age, experience and the expertise of his opponents
If Smith and his cohorts have courage in their conviction Bess should play against Pakistan. And then he should play against India. And then he should go on tour.
This leads us to where England are as a team at the moment. They are one in transition following a chastening winter when, one suspects, that the penny has finally dropped that they can't keep duffing up teams in their own backyard with the same tactics and then expect to do the same in someone else's.
Before England can win away - one in their last 15 - they are probably going to have to learn to lose at home. That means not relying on Anderson or Broad to swing it round corners on a wet, overcast morning in Leeds. Instead, Wood, or someone like him, must be given the confidence to tear in and try to knock a few blocks off.
Bess is the same. England are never going to be able to consistently compete in the sub-continent or Australia if they don't have spin bowlers who can exploit favourable conditions. They won't be capable of that unless they have the trust in their game that has been built by selectors continually picking them despite a zero for 120 at Lord's in the first Test of the summer.
This will be a bitter pill for England to swallow. And our money is on them spitting it out at some stage. Certainly Pakistan, mercurial, magical but more often mediocre, will fancy their chances. They got a draw in a four-Test series in 2016 playing the sort of cricket that England are going to have to aspire to. If they want to win away. Maybe they don't, although selection suggests otherwise.
The hosts are no better than [1.5] for victory from Thursday at Lord's in the first Test of two. Given the argument above it is not a particularly special price. Pakistan, who had some local trouble in Ireland, are [5.2]. The draw is about the same.
Ed Hawkins P-L
2018: +15.86
2017: +12pts
2016: +18.1pts
2015: +38pts
2014: +31.5pts
2013: +25pts
Based only on available prices. Does not include back-to-lay in-running match advice or commission rate. Figures 2013-2016 on 1pt level stakes. New points system (0.5pt-5) introduced for 2017. Includes Hawk-Eye stats column p-l