England v India Tri-Series Betting: History against India on Waca strip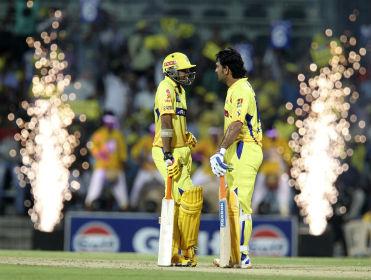 Jadeja and Dhoni are top bat value
Ed Hawkins says MS Dhoni's team could not have picked a worse venue than Perth for their 'semi-final' against England, which starts in the early hours of Friday...
England v India
Start time: 03.20
TV: live on Sky Sports
England
England, who have used only 12 players in the series, are expected to be unchanged. That means Stuart Broad, who has been wicketless, James Anderson and Steven Finn will continue in their Test-style attack. Finn has seven wickets in three games.
Ian Bell is the leading runscorer in the series with 229. Moeen Ali could do with a score to boost his confidence ahead of the World Cup. His strike rate is an impressive 92, though.
India
India will not risk Rohit Sharma, who is still suffering from a hamstring injury. That means the walking wicket Shikhar Dhawan, retains his place. Dhawan has 11 runs in three innings. 
There has been talk that India will pick the same XI which had their game washed out against Australia in Sydney. That would be a surprise as the pitches are totally different. Stuart Binny and Ravi Jadeja, a sight for sore eyes, should stick at Nos 7 and 8 respectively but whether Axar Patel keeps his place remains to be seen.
They might prefer the raw pace of Umesh Yadav while there is a chance that Bhuv Kumar could come back into the frame for a must-win encounter.
The first-innings average in the last five years at the Waca (ten ODI) is 234. In that time there have been four scores of 275 or more. England made 316 for eight there in 2014 and beat Australia. In the four matches at the Waca in the domestic one-day competition in 2012-13 the first-innings scores were: 307-219-248-281. Add those to the mix and we have an average of 242.
The match odds market is struggling to split these two sides in what is effectively a semi-final. England are 2.01/1 and India 1.991/1. Keen students of the world game will be incredulous. England should be at least 1.855/6 for this one and that they are not goes against everything that we know to be true about how international teams can shine or slump in conditions akin or alien to home.
India are in trouble in Perth and they will know it. The pitch was once renowned as the quickest, bounciest in the world, attributes Indians are just not used to. By contrast, England's giant fast bowlers, Broad and Finn, will be licking their lips at the prospect.
It is there in black and white for all to see. Only Pakistan of the Asian sub-continent sides have managed to score more than 250 (three times) batting first in Perth in ODI history. India have batted first six times in their ten encounters in Perth and they have averaged a first-innings score of 173.
They have never scored more than 226. When batting second they have been bowled out for 227 and 157. They managed to scrape home chasing 135 by four wickets against Zimbabwe in 2004 and beat Sri Lanka by the same margin chasing 234 three years ago.
It is fair to say they are up against it. Ordinarily, Perth ODI are shootouts between the two pace units. In that regard India come up short against England, who are only ever really a force in this format if the pitch favours bowlers. India have statistically one of the weakest pace attacks in the game.
Jos Buttler hit 71 from 43 balls at the Waca in 2014 so he could attract support at 11.521/2. Bell is 4.03/1, Moeen 5.14/1 and Eoin Morgan 6.611/2.
There is the possibility that India's top order could be blown away so we should consider looking lower down the order. Suresh Raina at 6.611/2, MS Dhoni at 10.09/1 and Jadeja at 21.020/1 all appeal. Virat Kohli top scored there with 77 against Sri Lanka in 2012. He is 3.814/5.
Recommended Bets
Back England at 2.01/1
Lay India for 275 runs or more if they bat first at 2.01/1
Discover the latest articles