Ed Hawkins: Spent England could have nothing left to give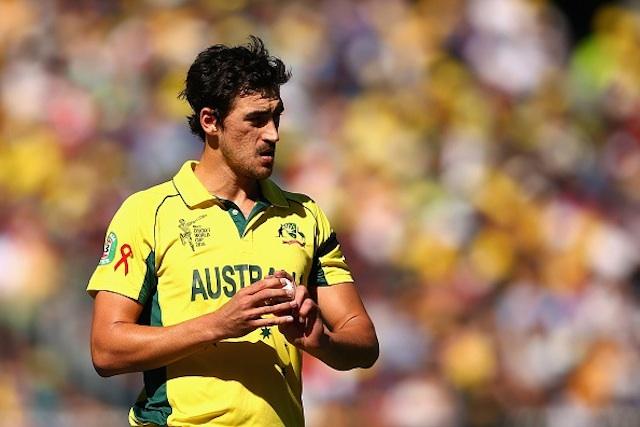 Mitchell Starc is the best one-day bowler in the world
Our cricket correspondent looks ahead to the one-day series between the old rivals and reveals a surprising statistic...
"In the last ten years whoever has won the Ashes has tended to lose the following one-day affair. That has happened in four of the last five."
The switch from Test matches to a one-day series is supposed to represent a significant gear change in a summer. The pace should be about to be picked up. But the coloured clothing aside, we could be forgiven for failing to spot the difference.
Following an Ashes series which was characterised by fast scoring rates, ill-disciplined, nay reckless, batting and contests which, a lot like one-dayers, were won by the side who got on top early, a five-match series promises more of the same.
Australia begin their preparation on Thursday with a warm-up against Ireland in Belfast. It is the sort of game which is likely to see a gulf in desire. The Irish will come out fighting, still wounded by the ICC's decision to cut World Cup numbers.
Australia might see it as a bit of a jolly-up. After cracks appeared in their games in the Ashes, the craic will offer welcome respite. Ireland are 6.86/1 and Australia 1.11/10. There are considerably worse bets to be had than Ireland.
Australia will enjoy favouritism in the one-day series against England. Not that it means much. They were sub 1.42/5 to win the Ashes and there were some who will swear not to trust them again when odds on.
They are likely to be around 1.558/15 for victory. It is not a bad price about, lest we forget, the world champions. For all their faults as a Test team in English conditions, they do not suffer in the same way in the shorter format.
Australia have won only four of their last 20 Tests against England away from home but in the same period they have won ten from 23 one-dayers.
Indeed, this could be a mismatch given the respective strengths of the two squads. Australia appear to have far more power than England, who have rested talisman Joe Root.
Mitchell Starc, disappointing in the Tests, is lethal with the white ball. He is the top wicket-taker in the world in the last 12 months. Steve Smith and David Warner are both far more dangerous with the red cherry locked away while Glenn Maxwell is one of the best all-rounders in the world.
Had Root been available, England could have been considered stonking value. But they will surely miss his runs - 274 of them (including two centuries) in the extraordinary victory over New Zealand.
Eoin Morgan, the captain, has been in such disastrous touch for Middlesex that he has had to take a break from the game while the form and temperament of Jos Buttler is a major concern. Both these were pivotal in that resurgence against the Kiwis.
England will point out that Steven Finn and Chris Woakes, Nos 8 and 11 respectively on the top wicket-takers list, will give them traction but it is a worry that they may not have much to bowl at. Much depends on Alex Hales, Jason Roy and Sam Billings, the new generation.
History is on Australia's side, too thanks to a remarkable trend involving these old foes. In the last ten years whoever has won the Ashes has tended to lose the following one-day affair. That has happened in four of the last five, with the exception being England last year when they were humiliated 5-0 and 4-1 respectively.
If we prefer to focus on the previous four, however, the rationale for such a flip makes sense. The resources required - physical and mental - to win an Ashes are so great that no matter the changes in personnel it all just feels a series too far. The drive is missing.
It is not surprising. English and Australian cricket exists, some might say, purely to win Ashes series so when that is achieved there is a collective sigh of relief and loosening of limbs.
For the vanquished, the opposite is also true. Curiously the release from the pressure cooker allows them a new start. They feel emboldened by the change in format and see it as an opportunity to forget the misery of the Tests.
There was perhaps no better case of this than in 2007. England had been walloped 50 and their one-day squad, who were extremely average, somehow contrived to win the Commonwealth Bank Series.
If one wanted another example, look no further than the final Test at The Oval. Despite protestations that they would not be in party mode, England played as if they'd already been supping the celebratory champagne.
There can't be any other reason why Alastair Cook chose to bowl first...
Recommended Bet
Back Ireland to beat Australia (half stakes) at 6.86/1
Ed Hawkins P/L
2015: +£307.30
2014: +315.10
2013: +250.80
To £10 level stakes (unless otherwise stated), based only on available prices. Does not include back-to-lay in-running match advice or commission rate.
Follow Ed on Twitter @cricketbetting
Discover the latest articles