Ed Hawkins: England now need to evolve as an ODI side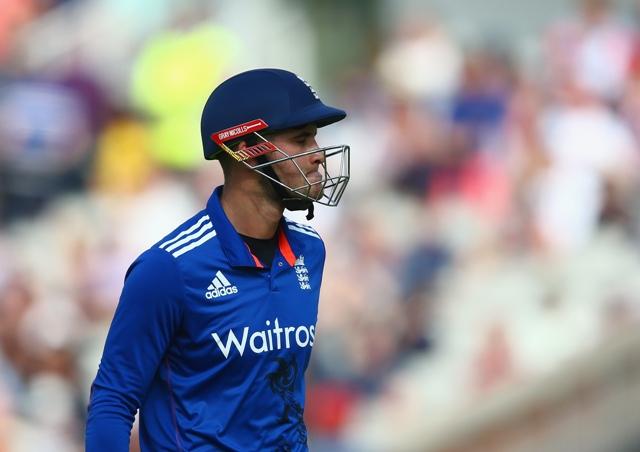 Could the revolutionary Hales be a victim of England's evolution?
Our cricket correspondent argues that England need to be smart in their selection for the last two matches against Australia to ensure they continue their development...
"The best one-day batsmen, are able to attack or consolidate depending on the pitch conditions. And therefore the best one-day sides are born. It was notable that Alex Hales and Ben Stokes, both considered fast scorers, tried to go hard at the ball. Or in other words, smash the cover of it. They failed."
Following an extraordinary victory over New Zealand earlier in the summer when the brand of cricket they played was unlike any previously seen on these shores, England were classed as revolutionaries. They were gung-ho no matter the game situation and downed the World Cup runners-up.
So how is that revolution going? Is it still spinning thrillingly fast or has it slowed? It may be a little premature to ask considering there are still two matches to be played in the five-game series against Australia but there are signs that this England team need to evolve. And quickly.
Evolution must always follow revolution otherwise no actual progress is made. England took a whopping leap of faith by signing up to play reckless cricket but without a sensible approach to how best to harness that skill, they become predictable and, most damningly of all, one-dimensional.
So that was why their 93-run win over Australia at Old Trafford was so fascinating. In the past, such a victory would have been heralded by all knee-jerk followers of those in the royal blue as evidence that an unprecedented English era of one-day dominance had been born.
Australia, after all, were the world champions. It was only the second time England had beaten the old enemy in 13 attempts. And perhaps most importantly they kept the series alive at 2-1 with intriguing contests to come at Headingley and Old Trafford.
A series which had looked all but over after Australia handed out hammerings in the first two matches has evolved itself. England are back in the hunt at 4.216/5 - Australia are 1.374/11 - and they could yet hit back to ensure the extraordinary recent sequence of home-dominated series continues.
There has been precious little excitement at England's victory, however. No giddy declarations of impending glory or high-nosed hubris that the tide has turned. England's win was instead met with disappointment. They got lucky with the toss on a turning pitch. They batted like England in the old days.
Right on both counts. Had England been forced to field first no doubt Australia's spinners would have choked the life out of them and the series. But more importantly, had England batted like the 'new England' that we saw against New Zealand, they would surely have lost. Evolution.
It was all down to James Taylor, who struck his maiden one-day century. By merely glancing at the scorecard one could be forgiven for blaming Taylor for slowing England's rollicking start. At 205 for two in the 34th over, England looked poised for a monster total.
They didn't get it. Eoin Morgan fell immediately. So Taylor should have taken up the fast-scoring mantle, right? Wrong. What Taylor did beautifully was analyse the pitch and what would be a good score. He worked the ball into the gaps.
His 101 runs came at a strike rate of 88. That is considered pretty slow these days. It was almost Jonathan Trott-esque. Trott was largely responsible for a pretty decent period in England's one-day cricket because he was able to pace an innings, something most Englishmen have been hopeless at.
Like Trott before him, Taylor proved that there is room for the nudger and nurdler in a modern game dominated by the big, booming hitters.
The best one-day batsmen, are able to attack or consolidate depending on the pitch conditions. And therefore the best one-day sides are born. It was notable that Alex Hales and Ben Stokes, both considered fast scorers, tried to go hard at the ball. Or in other words, smash the cover of it. They failed.
Without Taylor's nous, England could have continued to throw the bat at the ball and got rolled for a series-losing score. His intelligence is clearly valued by England as he was promoted to vice-captain.
What happens to Taylor when Joe Root returns to the side will be another key stage of England's development. Without a major reshuffle there is no room for them both because they play similar roles.
The most sensible option would be to move Moeen Ali back to opener, replacing Hales. The latter is the personification of the revolutionary England. He is considered a destructive, dangerous force in ODIs and a 'must-pick'. This is largely because of England's gloomy past when they were staid and slow at the top of the order. Hales was the answer and the next big thing.
That view remains entrenched despite the fact that he has never actually delivered. In days of yore Hales would have been dropped by now. He averages 23 in 17 innings with only two fifties. And a strike rate of 89 is ponderous for an opener with such a fast and loose reputation.
So do England stick with him or do they evolve? Moeen averages 32 as an opener with two centuries and a strike rate of 100 in 20 innings. If he was paired with Jason Roy, whose intelligent knock in Manchester was proof that he was no one trick pony, would England not be better served?
It is surely advanced thinking to recognise that a batsman who can only pinch hit is inferior to openers who can do both, playing the conditions instead of the crowd? Roy and Moeen can do the lot it would seem.
For this series the Roy-Hales axis looks likely to remain unless Moeen was returned to a batting position he deserves and Sam Billings came back in. On a potentially bowler-friendly pitch at Headingley and then another slow, dry surface at Old Trafford such a move could win England the series.
Likewise they might want to consider resting Ben Stokes, who is horribly out of form and will continue to try to thrash the ball when it's just not on. Like Hales, he is also a pick which sticks two fingers up to the past.
The future could be David Willey. He should hit important lower-order runs and his left-arm pace is probably more potent than Stokes' medium-pacers.
If England make bold, but correct, calls in the next two games for the second consecutive series they can make another great leap forward.

Ed Hawkins P/L
2015: +£335.60
2014: +315.10
2013: +250.80
To £10 level stakes (unless otherwise stated), based only on available prices. Does not include back-to-lay in-running match advice or commission rate.
Follow Ed on Twitter @cricketbetting
Discover the latest articles