Ed Hawkins: You wait for the bet of the year and then two...three...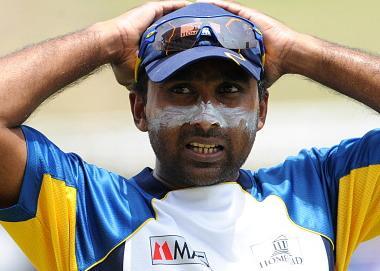 Jayawardene is a class act for Sri Lanka
Our cricket correspondent, fresh from reminding punters of the value of Sri Lanka in the T20, remains astonished at England's favouritism in the ODI series, which starts on Thursday...
"It is also worth remembering the form of this England team. Since September last year they have been beaten in 20 of 26 matches, and one of their rare successes was against the Scots."

Recommended Bet
Sri Lanka to win ODI series at 2.186/5
Sri Lanka to win the first Twenty20 at The Oval was one of the bets of the year. We wait with anticipation for such wagers, stalking the markets ready to sink teeth into juicy morsels. Well, get the floss out, because bet of the year No 2 has just revealed itself.
In fact, No 3 may not be far way either. Spoilt for choice, we can't quite work out which is better: Sri Lanka at a ludicrous 2.1411/10 to win the five-match one-day series which starts in south London on Thursday, or the 2.0811/10 to take a 1-0 lead (they have now won won six of their last seven in all competitions at The Oval).
The nine-run margin in the Twenty20 match was considered 'close' by observers with an English bias. They clutched at straws that they ran close the world champions. That would have been fair if Sri Lanka were the favourites. They weren't.
The undervaluing of the tourists is bizarre and the assumption must be that they are as big as they are because of some deep-seated fear that they will not cope on English pitches. The greenery, the seam, the swing.
Those worries are all genuine in Test cricket but not the limited-overs format. Sri Lanka have won eight of the last 11 meetings between the sides in this country.
It is also worth remembering the form of this England team. Since September last year they have been beaten in 20 of 26 matches, and one of their rare successes was against the Scots. It is difficult to find a worse team in international sport at the moment, let alone cricket. 
Under a new coach, Peter Moores, there has been much talk of a brave, bright era. Youth will be given its head and there are buzz phrases being bandied around like 'a chance to create a new culture'.
That is all super. Yet muddled thinking remains. Alex Hales, slayer of this Sri Lanka bowling attack in the World Cup and again, to a certain extent, at The Oval on Tuesday night is not in the ODI squad.
Why? Because England, inflexible as ever, have to make room for Alastair Cook, the captain, in his opening slot. He has a strike rate of 78 in ODI, a number which is far too low for a team which should be desperate to make use of the fielding restrictions at the beginning of an innings. 
England need someone who can hit over the top, Hales can do that. We are still waiting for the Nottinghamshire man to make his 50-over bow. A strike rate of 99.38 in List A matches and 137 for England in T20 suggests a trick has been missed.
The return of James Anderson is a positive for England. And he has the opportunity to lead an exciting bowling attack. Chris Jordan, despite the late assault, and Harry Gurney were impressive at The Oval.
The problem is they face a Sri Lanka team which just got stronger. Mahela Jayawardene and Kumar Sangakkara are back, creating a gulf between the teams which threatens to swallow international careers before they have started.
Jayawardene and Sangakkara are worth at least one win each and England, despite the pleasant strokeplay of Ian Bell and chutzpah of Eoin Morgan, cannot hope to match such quality with the bat. The Sri Lanka pair are absolute masters of their art.
The same can be said of Lasith Malinga, whose death bowling is beyond compare. Ajantha Mendis, if he plays, threatens the hosts with variations they might not have seen before.
There is also the important factor of lower-order hitting. Angelo Mathews, the captain, Thisara Perrera (as witnessed on Tuesday) and Nuwan Kulasekara have muscle. England, by comparison, are the weedy kid who gets picked last for sports at school.
Perhaps we are getting overexcited. Perhaps there are some punters who know something we don't. Still, the series odds are horrifically wrong.
Just to be fair to all information-seekers though, in case it swings at Chester-le-Street, is terrifyingly quick at Old Trafford or the heavens open to wash out the rest of the games following a flukey equaliser for England, laying the hosts at 2.01/1 is not the dumbest thing to do.
Recommended bet
Sri Lanka to win ODI series at 2.186/5

Kolkata surge
The Knight Riders are on something of a roll. This is spiffing news for followers of this column, which got rather down in the dumps about Gautam Gambhir's side at the start. Not surprising, Gambhir himself looked pretty peeved at the whole thing and looked set to book himself in for counselling at any minute. 
But they have now won four in a row since the nadir of their incredible collapse against Rajasthan. 
Bangalore or Hyderabad will have to win both their remaining games to stand a chance of usurping KKR, who need only one win from their last two games against...Bangalore and Hyderabad.
We tipped them as absolute rags at 13.012/1 with the hope that they would qualify for the play-offs and be around 4.003/1. It appears they might not make it that short but they are now third-favourites at 7.4013/2.

Discover the latest articles