Ed Hawkins: Sri Lanka the losers, England the winners as World Cup looms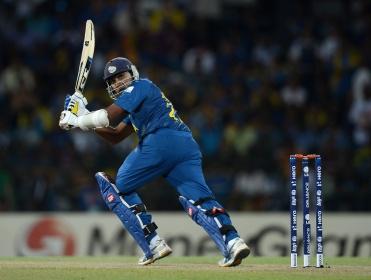 Jayawardene could open in the World Cup as Sri Lanka get desperate
Our cricket correspondent argues that the seven-match series between the two has hampered one team's chances of glory in the World Cup next year. And it's not who you might think...
"Had Sri Lanka tried to prepare green seamers and used just two spinners they may have lost but they would have grown as a side"
After six matches of the seven-game ODI series between Sri Lanka and England it is clear that World Cup aspirations have dipped. There are problems at the top of the batting order, the side are a batsman short, the balance is not right and they rely too heavily on traditional methods. It has not been a contest which has inspired confidence.
Indeed, Sri Lanka are not the side they used to be. You thought we were talking about England there didn't you? Ha. Well we're not. It has been a curious clash between these sides. More curious when you consider that, despite defeat, England have been the more impressive side to those with an eye on future challenges.
It is hardly a hare-brained summary. Ask yourself the following question: in which department has each team improved during the series? What have they learned? Unequivocally England have got more out of it than Sri Lanka. And although it is pushing it to bring this debate into the wider context of World Cup odds, the majority of punters agree. England have been steady at 11.521/2 and Sri Lanka have drifted to 11.010/1 from around the 9.08/1 mark a few weeks ago.
While there will be plenty of servings of doom and gloom in the English media over the next few days, to help us succeed when the World Cup begins in Australasia next year it is wise to take a step back, be rational and try to recognise that the result is not that important. What is key is the elements of each team's game we have seen that could impact on future results.
England actually did okay. If they manage to win the dead rubber seventh ODI, they will have probably overachieved. Few would have given them much chance of keeping the series alive until game six in Pallekele, a match labelled as tantalising by those who might have been previously expected a whitewash.
Where they did particularly well was unearthing two new players. And in doing so they solved two problem positions. The opening slot alongside Alastair Cook and the No 3 position, which they had failed to fill since the untimely illness suffered by Jonathan Trott. As for Cook, we've already pinned our colours to him so we won't have that row again.
 
Moeen Ali's promotion to open had the scribes in the press hut in hysteria. Their chosen one - Alex Hales - had been overlooked again. Yet Moeen has been superb, so long as you subscribe to the view that the pinch hitter is a beast who has to make do with feast or famine. His 236 runs, including that memorable ton in the first match in Colombo, have come at a superb strike rate of 124. That is a problem solved. 
James Taylor's emergence is refreshing, particularly as he was a player who was treated shabbily, bullied maybe, by Kevin Pietersen. Taylor has looked an assured batsman beyond his four previous international appearances. He is a busy player  - the ninth England have tried first down since Trott, by the way - who keeps the scoreboard ticking, a vital commodity on the big grounds of Australia where it will not always be possible to smote big boundaries.
Alongside Joe Root, England have a middle-order engine which is capable of purring in any situation. Well, not quite. The jury is out when twirlers are working their magic from both ends but the victory in the fifth ODI suggested there were definite signs of upward movement. 
Chris Woakes, it could be argued, has been another find. He has taken 14 wickets in the series. Unfortunately that might mean Steven Finn loses out in the World Cup (Stuart Broad and James Anderson will come back in) because Woakes offers far superior batting talent. Forgive us for not getting too excited, though, as we happen to think Finn is key.
Compare these leaps to Sri Lanka. What new players have they discovered? What elements of their game have they improved on? This is what is colloquially known as a tumbleweed moment.
In contrast to England, Sri Lanka are still searching for an opening partner for Tillakaratne Dilshan after Sanath Jayasuriya packed up almost four years ago. In that time they have tried seven different partners and they look set to hand back the role to Mahela Jayawardene.
That is a risky move. Jayawardene will be exposed to two new balls and given Sri Lanka's reliance on the old master, it could expose a weak middle order. We also have to admit to being a little worried about Jayawardene's form. At 37, this will be his last World Cup. He averages 29 in Oceania and in four of his last six seasons his average has been low, busting 30 once. 
Perhaps of more concern is Sri Lanka's reliance on spin. It is all well and good criticising England for failing to get to grips with totally alien conditions but it is more beneficial to ask: what have Sri Lanka garnered from that?
In terms of preparation for a World Cup... nothing. They will not be granted some of the dry and dusty surfaces seen here. More likely they will have to cope with the sort of track we saw in Hambantota. And they failed that test.
It is lazy and shortsighted from the home side. They should have at least attempted to replicate surfaces in New Zealand and Australia. Instead they chose to pick an army of spinners and take an easy series victory. Had they tried to prepare green seamers and used just two spinners they may have lost but they would have grown as a side.
It is a shame because in a World Cup market which is increasingly looking light on value, Sri Lanka were one of the great hopes. Our exhaustive statistical analysis of each team's chances showed that Sri Lanka were underrated. 
They have drifted in the betting since which should mean they are a smart call. However, it is hard to consider backing them after this series. Granted they will have Lasith Malinga back (by the way, did they bother to try out a few other pacers?) and Kumar Sangakkara and Angelo Mathews exude class but the bottom line is always the same.
Teams struggle when they have to play in conditions totally different to back home. We've just seen that. Sri Lanka have a win percentage of 31 in Oceania. They have done little to help boost that number over the last few weeks. That won't win them the World Cup.

2014: +334.80
2013: +250.80 (ROI 25%)
To £10 level stakes, based only on available prices
Follow Ed on Twitter @cricketbetting
Discover the latest articles