Ed Hawkins: The method behind England's misdiagnosed 'madness'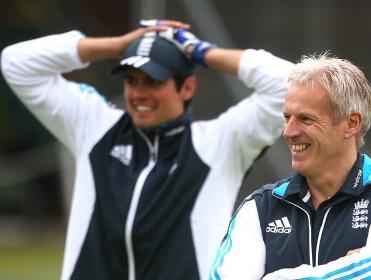 Cook and Moores are sticking to a plan
Alastair Cook is under pressure again after England went 2-0 down against Sri Lanka, but our cricket correspondent offers a reminder as to why this series should have no bearing on the World Cup and makes a compelling case for the skipper to stay in place...
"What happens to England in Sri Lanka is not at all relevant to the World Cup next year. And this is the most obvious, pertinent point willfully overlooked by those clamouring for change"
It's started. Two matches, and two defeats, into England's seven-game series against Sri Lanka and the critics want Alastair Cook sacked in the spurious belief that it will somehow morph them into World Cup winners.
The speed with which the tongue has lashed an England side bereft of confidence is not surprising but it is a little suspicious. In the first match they were competitive, in the second they were not. 
One suspects the detractors could not wait to have their say and were perhaps a little disappointed that they had to wait until after the first ODI. Yes, an eight-wicket defeat with 64 balls remaining  - that was much more like it. They will be licking their lips ahead of game three on Wednesday. 
Firestarter
It was fuel for the effigy of Cook that many are desperate to see lit. And Kevin Pietersen, the firestarter in chief, was quick to take his zippo from his pocket and attempt to ignite. "Dear Alastair," he wrote on Twitter, "if you care about England's chances this winter, pls resign and just concentrate on Test cricket...#getHalesin."
That it was Pietersen - such a bright spark - who has reopened the debate says something about the depth of intelligence behind the Cook-out campaign.
For a start, England are expected to lose in Sri Lanka. Their record in Asia is awful, and getting worse, and to rail against them for not overachieving, which is exactly what two or three wins would represent, let alone a series win, is to deliberately ignore deep-rooted flaws in a nation's make-up. Each world team has a characteristic which makes it hard for them to win in alien conditions. 
We all know that England struggle against spin in the Asian sub-continent. So why the wailing and gnashing of teeth when they slump to defeat? It's like a Championship mid-table side going to, say, Everton in the FA Cup, losing and then their supporters demanding the manager be sacked.
Relevant
As this column has argued previously, what happens to England in Sri Lanka is not at all relevant to the World Cup next year. And this is the most obvious, pertinent point wilfully overlooked by those clamouring for change. 
Colombo in the monsoon season throws up a unique and totally different challenge to Australia and New Zealand in February. The tacky wickets which England are currently struggling on are highly unlikely to be present in the World Cup. Instead they could be replaced by seaming and swinging surfaces.
It is worth wondering exactly what England are doing in Sri Lanka but they are at least likely to get more useful preparation when they compete in a tri-series with Australia and India in January.
Those are the surfaces to judge England. Not the spin-friendly ones of Sri Lanka, which, by the way, do the home side no favours, either. Just as England aren't learning, nor are Sri Lanka.
These sides will play each other in the World Cup and they will do so in Wellington, a venue which should expose Sri Lanka's traditional frailties against the moving ball. That is their deep-rooted flaw.
England will play twice in Wellington, once in Christchurch, Melbourne, Adelaide and Sydney in Pool A, a section which they must finish in the top four which includes Australia, New Zealand, Sri Lanka, Bangladesh, Afghanistan and Scotland. 
If they finish fourth then they are guaranteed a quarter-final in Wellington where a basic line and length bowling performance on a helpful wicket could propel them to the last four.  There you have England's method behind the 'madness'.
Simples, as they say. It's not sexy or thrilling. But it is a stone-cold fact that if they do finish fourth, England may not even need to over-achieve to make a World Cup semi-final. The snipers won't tell you that. 
Cook and Peter Moores, the coach, have worked out that their best chance of making a World Cup semi-final is not by attempting to be a team they are not. They have recognised the folly of trying to change the personality, or characteristic, of the national side. 
Strengths
For years, England have not been capable of blitzing bowling attacks. So why try now a few weeks before a major tournament? Instead, they believe that two new balls and helpful bowling conditions will hinder those teams who look to attack from ball one and a more circumspect approach is required.
It could play to England's strengths. That is why Cook must be retained at the top of the order. While every other side is going with two blitzers up top, England could have stolen a march on all of them by believing that an anchor is necessary. 
In bowling conditions, it could be a master stroke and just as a new strategy has taken us by surprise in most World Cups down the years, England's approach could be it. 
This is why Alex Hales is out of the side. England want one opener to stick and one two twist. Not two who could be left squirming to the extent England are in a hole at 15 for two. 
Phoney war
Hales is perhaps unfortunate to have lost out to Moeen Ali. It is also unfortunate, however, that instead of focusing on England discovering a wonderful talent in Moeen, some prefer to continue with the Cook versus Hales phoney war.
The latter has become one of those curious instances in sport of a player becoming better when out of the side. Suddenly, when he's not being given the chance, he is remembered for what he did to get into the side, rather than what he did when actually in it.
And as impressive as he was against Sri Lanka when he walloped England's only Twenty20 ton, he failed to against India in the summer in what was his chance to book his World Cup berth.
India, it should not be forgotten, are the worst bowling side in ODI of all the major eight teams. Hales managed only 92 runs at an average of 23 and strike rate of 68. It is an inconvenient truth for Pietersen et al that Cook scored more, at a better average and only a slightly inferior strike rate by 3.46. 
If Cook is so poor, then surely Hales should be capable of outshining him? The answer is that Cook isn't that bad a player and it is rather harsh on Hales to expect him to see off Cook in a head-to-head.
From June 2011 to February 2013, Cook was only outscored in the world by Virat Kohli, Kumar Sangakkara and Tillakaratne Dilshan. He has pedigree, Hales doesn't.  During that period Steve Finn was third highest-wicket-taker behind Saeed Ajmal and Lasith Malinga.
If England are getting something wrong, it is the apparent reluctance to give Finn a proper run. He is back in the side now and one would have thought he is crucial to England chances of that World Cup semi-final.
With Finn part of a new ball(s) attack of James Anderson and Stuart Broad, England will have as good a pace attack as anyone in the World Cup. It wouldn't be much use in Sri Lanka, but in three months on a different continent it could be a different story.
Ed Hawkins' 2014 P/L
2014: +351.60
2013: +250.80 (ROI 25%)
To £10 level stakes, based on prices at time of publication
Discover the latest articles