Ed Hawkins: Cook axing harms England's World Cup hopes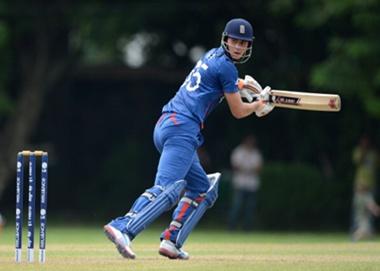 Hales should benefit from Cook's sacking
Our cricket correspondent argues that the sacking of the captain has reduced their chances of winning the tournament and the outright betting agrees...
"The numbers prove that Cook has been replaced by an worse batsman, in terms of weight of runs, speed at which they were scored and experience. The problem of a captain not scoring runs has just been shunted a few places down the order"
The sacking of Alastair Cook as England's one-day captain has been met with widespread glee. Michael Vaughan, who knows a thing or two about being a skipper under pressure in the format, expressed relief, that bore Kevin Pietersen was delighted and there was barely a dissenting voice at the selectors' decision.
It has not been so well received on the World Cup outright market. England drifted a whole point in the betting from 11.010/1 to 12.011/1.  It is not difficult to make a strong case that their aspirations of lifting the title have taken a dent.
Chiefly there has to be a concern that England are without a plan. With Cook at the helm, they did. There also have to be questions asked about the timing of his departure and, perhaps most importantly, what it actually achieves. Does it make them stronger?
This column has opined previously in favour of Cook and England's one-day tactics. There was something refreshing about how England were approaching the World Cup in Australasia next year. Admirable even. The sports team which recognises its limitations often overachieves. England knew that they could not be a side for all conditions or master every element of the game.
That was why they stuck with Cook. Peter Moores, and chief selector James Whitaker, appeared to realise that in the absence of a master blaster at the top of the order, the like of which English cricket has not seen since Marcus Trescothick, a different approach was needed.
And that approach was revolutionary, in a way. England reckoned that Down Under, with two new balls, it would be smart to have a bloke who could hold up an end and keep the scoreboard ticking. Someone who could add ballast if there was great bend or seam movement.
Cook was that bloke. It was a plan allied to making use of bowlers who could exploit potentially helpful conditions in the tournament, too. England were going to be the first side to try to win a World Cup playing Test-style cricket. It wasn't as bonkers as it sounded.
It was rooted in common sense and, to be frank, failure. England wasted the years following the last World Cup. They did not build a modern one-day unit. It was a mistake but one which it appeared they knew could not be rectified. So they formulated a plan which would give a limited side the best possible chance of success.
Even before the start of this summer, when they lost to India and Sri Lanka, there was no hope that England could suddenly rip it all up, start again and build a new team in the form of those two teams, something the critics craved. Certainly there is zero chance now. The World Cup starts on Valentine's Day and England do not have game.
At least with Cook in charge they had consistency. They had a strategy, like it or not. What do they have now? Uncertainty and inexperience. It is a toxic combination for a one-day side. Young, naive players must learn new roles under a new captain. A World Cup is no stage to ad lib.
When a player is dropped the only possible reason can be that it improves a team's chances of winning a match. There has to be doubts about whether the axing of Cook does this. For a start, Cook will be replaced by an inferior batsman at the top of the order in Alex Hales.
Hales has played seven one-day internationals and he averages just 18. Against India, officially the worst bowling attack in ODI (even Bangladesh do better), he averaged only 23. Of more importance is his strike rate. In that series it was just 68. Overall it is 70.
The point here is not to decry Hales - good luck to him - but to highlight an inconsistency. Cook should not play, said the catcallers, because he didn't score runs fast enough. His strike rate was used to strike him. He has a career strike rate of 77. In Australia it is 82.
But wait. Cook had to go because a captain has to be worth his place in the team and he's not scoring enough runs. Fair enough. One problem. Cook has been replaced by Eoin Morgan, whose record is worse in the last 12 months. Cook averages only 27.52 in his last 20 one-dayers,  Morgan averages 25.45 in his last 23.
In isolation, those two question marks against Cook were justified. If a change is made, the answers have to be superior. If England had two problems in that Cook did not score enough runs, and enough runs quickly enough, and that his role as captain was undermined by the former, then what progress has been made?
None. The numbers prove that Cook has been replaced by an worse batsman, in terms of weight of runs, speed at which they were scored and experience. The problem of a captain not scoring runs has just been shunted a few places down the order. England have not made themselves a stronger team. They are not more likely to win a match.
Throw in their abandonment of a considered plan less than two months before a World Cup and it is apparent the coach and selectors have lost their nerve. 
Without their leader of three years and the knowledge he has accrued over 92 games, England must form a new plan of attack with a top four (Hales, Moeen Ali, James Taylor, Joe Root) which has played just 68 games between them. They must learn it during the pressure of a World Cup. 
In time, those four could prove formidable. Maybe by the time the next tournament rolls around. Perhaps England have decided to use the world game's showpiece to plan for the future. Perhaps they will go out in the quarter-finals in a blaze of pinch-hitting glory. What is unequivocal is that they have never been further from winning a World Cup.
Ed Hawkins P/L
2014: +340.10
2013: +250.80 (ROI 25%)
To £10 level stakes, based only on available prices
Follow Ed on Twitter @cricketbetting
Discover the latest articles