Ed Hawkins: Cook and England fail to break unbackable mould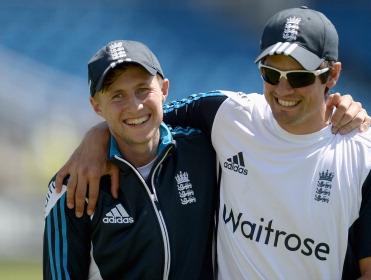 Could Root replace Cook?
Our cricket correspondent said in December England would suffer misery this summer and they could now face a fourth series defeat by India in all formats. He also takes a look at the T20 Blast market
"The defeat by Sri Lanka, as thrilling as it was, should not have happened to a side which was as skinny as 1.608/13 for victory"
When England meet India in the first of five Tests for the fourth time this summer they will be favourites to win a series.  The image that conjurs in the mind is one of a rodent time after time returning to nibble a piece of cheese with an electric current running through it.
Soon it will be a bite too far. The defeat by Sri Lanka, as thrilling as it was, should not have happened to a side which was as skinny as 1.608/13 for victory. It was proof that odds can sometimes, often, be horribly, wonderfully wrong.
And so they appear to be once more for the contest against India. England are 2.166/5 favourites, India are 2.6613/8 and the draw is 5.104/1. Not that we are complaining. A lay of Alastair Cook's side could well reap handsome dividends.
Still, it is worth banging the drum a little louder, a little longer in the hope that some don't get another nasty shock. Way back in December this column said England would be unbackable this summer and following Twenty20, one-day and Test defeats by Sri Lanka, there are some folk who won't listen.
England face two major problems as the India series, which begins at Trent Bridge on July 9, looms large. The first is that their senior players, their core, have failed to play with the skill, confidence and reliability one would expect.
At the head of sorry affairs is Cook, who appears to be on the cusp of the meltdown so often witnessed before with England captains. He is reminiscent of Michael Vaughan in his final few weeks as leader: out of form, confused and tactically inept.
Actually, that is unfair on Vaughan. He never set such ludicrous fields as Cook did either at Lord's or Headingley. Or Perth for that matter. But he didn't know where his next score was coming from and offered dazed, bewildered incoherent soundbites to the press to expose muddled thinking.
Cook is England's greatest worry. If he magically discovers the ability to bat and think straight then England could recover to enjoy an Indian summer. But if he doesn't, which seems far more likely considering the malaise is entrenched, then they are in an awful quandary.
If Cook were to continue, defeat would seem inevitable. If he doesn't, who the hell takes the job? And that leads us onto England's other senior men.
Stuart Broad, who has captained the Twenty20 side, and James Anderson were supposed to step up and take responsibility following the Ashes debacle. At Leeds, they were awful with the ball and Anderson's emotional reaction when last out was that of a man who knew he had let down his captain.
Neither could be considered captaincy material. Broad is inconsistent in terms of form and temperament. Anderson is too quiet. He is not a leader. Neither is Ian Bell, who after 100 Tests has only just found enough of a voice to be given the vice-captaincy.
Matt Prior is Cook's most likely replacement but it was not so long ago that he was dropped. His second-innings dismissal at Leeds did little to suggest that was the wrong call.
Had Cook's generals rallied round and shown more gumption, it is highly likely that England would be buoyant. After all, how often is it that a team brings in five 'new' players and they adapt to the rigours of the Test arena?
It was a flamboyant feather in the cap that has been whipped away on an ill wind. Liam Plunkett, okay, he's not new but rejuvenated, and Chris Jordan showed during the series they have what it takes. As for the batsman, it was surely unprecedented for England that all three would shine almost immediately.
Gary Ballance, Sam Robson and the magnificent Moeen Ali adapted superbly and one only needs to consider the crisis England would find themselves in had, as one would fairly expect, only one of those shown Test aptitude so soon. 
Joe Root's chutzpah is also noted. Could it be that he is Cook's replacement in waiting? He certainly has the confidence and mouth to do the job. He is always chirping in the field and is never overawed by situations. Against him is the fact he is 23 and looks half that, not to mention his meagre 17-Test experience.
The second problem England can do little about. India. Intent has been signalled by India in picking a whopping 18-man squad and committing to two war-up matches. In successive series they have been lazy and ill-prepared against England, leading to defeat. Will they, like the rodent, realise the error of their ways?

Don't believe everything you hear
For a change I spent the final day of the Headingley Test listening to Test Match Special. It is as good as ever with Vaughan's shrewd analysis and Graeme Swann proving to be as insightful as amusing. 
Still, it did rankle that, almost to a man, the TMS team propagated the myth that England always give the visitors a beating at Headingley. It was Jonathan Agnew who told listeners that normally sides go there and are sent packing because they can't cope with the seam and swing. It's nonsense. It is England's second least successful home ground in terms of win-loss ratio.  
The India series was mused upon and they were at it again, telling us that England swing it around corners at Trent Bridge. With the first Test there they should go 1-0 up, they said. Well, the Nottingham ground is their worst of all the home venues because, at times, England have been out-swung. India did it in 2007. Don't believe all you hear.

Worcestershire a blast
A quick word on the T20 Blast which is shaping up nicely into a belter for punters. Worcestershire, absolute rags on the tournament outright at the start, have won six in a row and qualification from the North group looks assured. They could also be boosted by the return of Ali for their game against Glamorgan on Sunday. At 15.014/1 they lack the respect they deserve and could be half that in time. 
Discover the latest articles