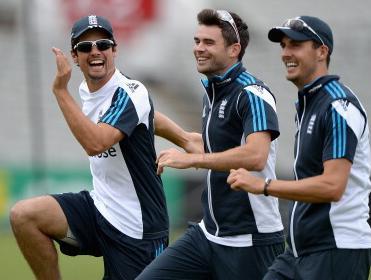 Cook, Anderson and Finn are good ODI players
Our cricket correspondent says England and Alastair Cook are being vilified unfairly and they could still recover to post a good World Cup showing
"From June 2011 to February 2013 England beat everyone, bar South Africa, with whom they drew. Australia, India, Pakistan, New Zealand, Sri Lanka and West Indies were all vanquished."
Alastair Cook is refusing to quit as England captain. There appear to be no credible alternatives. Meanwhile, English aficionados collectively wail that the sky is about to fall in. Haven't we been here before this summer?
It is the theme of modern sport that rational, clear thinking goes out the window. Far better to have a good moan and, amid much gnashing of teeth, argue that team a or team b are in crisis and that so-and-so should be sacked.
And so it has come to pass that for the second time in a few months, England are the worst cricket team on the planet. Their World Cup aspirations had been rubbished by Graeme Swann and Michael Vaughan with the series against India barely begun.
Swann said England had "not a cat in hell's chance of winning the World Cup" which was hardly groundbreaking because England have not had a cat in hell's chance since 1996. And, peculiarly, the tournament in Australia and New Zealand actually represents their best chance since.
Cook should step down as ODI captain, Swann said. Yet has he suggested who should take his place? Forgive me if I've missed it. Vaughan wants Cook gone, too. He also wanted him out as Test skipper and later apologised for "getting it wrong".
The intention here is not to ridicule Messrs Swann and Vaughan. We would not be so cocksure. Instead it is to luxuriate in the lucid, clear water of uncomplicated thought that only the punter can truly aspire to dive into.
It is difficult to demand the changes that so many wounded Englishmen want when you consider that England have been just been beaten by the world champions, Champions Trophy winners and a side with a recent win percentage so superior that it was never going to be a fair contest. India beat England because that was exactly what was supposed to happen.
'So we are just expected to sit here and take it?' a fan might argue. Well, take it in, yes, and try to understand the reasons behind it instead of calling for players to be summarily dismissed and replaced by the latest untested, fashionista on the county circuit - James Taylor, whose four international matches produced 74 runs and Jason Roy, who has made two domestic one-day cup appearances for Surrey this term.
Could it also be that the manner of England's heavy defeat has much to do with several players having to dig deep into the energy reserves to get through a busy, and ludicrously scheduled summer? Undoubtedly.
As for being an ODI team with no clue how to play the modern way, that doesn't quite ring true, either. It wasn't so long ago that England were rated the best ODI team in the world.
From June 2011 to February 2013 they beat everyone, bar South Africa, with whom they drew. Australia, India, Pakistan, New Zealand, Sri Lanka and West Indies were all vanquished. They did it with Cook as captain making pretty much the same tactical decisions he is now.
The personnel, of course, are different. Notably there is no Kevin Pietersen, Jonathan Trott (a savage loss), Craig Kieswetter, who was striking at 91, Stuart Broad and, of course, Swann himself.
But during that period Cook scored more runs than anyone else in the team at a strike rate of 82. Ian Bell averaged 43 at a strike rate of 80. Eoin Morgan, currently suffering a dip in form to the sounds of knives being sharpened, averaged 42 at a strike rate of 99.  With the ball Steven Finn and James Anderson took 49 and 39 wickets apiece at averages of 24 and 27 respectively. 
Cook, again during the study period, was only outscored in the world by Virat Kohli, Kumar Sangakkara and Tillakaratne Dilshan. Only Saeed Ajmal and Lasith Malinga took more wickets than Finn.
England were a good one-day side then. They can be again because patently they have good players who know how to play ODI cricket.
Are they going to win the World Cup? Probably not. They are [9.00]. But they may well be a decent bet to reach the semi-finals. An England with Cook opening the batting are a far better value option instead of some ingénue who has biffed around moderate attacks in the shires. That's the rational line.

Dead ringers for a lazy team?
One of the greatest fears of any punter getting with India to complete the whitewash at Headingley on Friday is whether they will be trying. It is a scandalous suggestion to most sportsmen that a side wouldn't be giving their all but then this is India we're talking about.
This is the Indian team who in the last two Test matches earlier this summer gave up the ghost. And this is the Indian team whose record in dead rubbers is, well, questionable.
In the last five years India have only played six ODI away from home which they did not have to win. They lost four of them. One of those was against England in Cardiff in 2011 when they were already beaten in the series.
More interestingly, they lost the last two against a poor West Indies side in a five-match series when 3-0 up and cruising. That was in 2011 and their go-slow against England followed immediately after that. 
India also lost a dead rubber against England at home in Dharamsala in January 2013 with the spoils safely trousered. Ian Bell, a doubt for Leeds with a foot injury, and one always accused of only scoring runs when the pressure was off, hit a ton.
Just to prove that this column is not biased, England's last six dead rubbers (home and away) have produced three wins and three defeats.

Australia upset
Barring an incredible - and hefty - victory for Zimbabwe over South Africa on Thursday, Australia will meet the Proteas in the final of the triangular series on Saturday. According to the World Cup outright, it will be a dress rehearsal for the global game's showpiece final.
Australia are thinner than the skinny minnies one can spot on Bondi beach at [3.80]. South Africa are [6.20]. 
It is probably a little early to decide the Aussies are dreadful favourites just because they suffered the indignity of defeat by Zimbabwe on the sort of slow turner that will be alien for the tournament, which starts next year, in Australia and New Zealand.
Of more relevance may be the falling out between captain Michael Clarke and coach Darren Lehmann. The former was rebuked by the latter for criticising team selection. It was very un-Australian.
Given that Lehmann revolutionised the spirit in the Australia squad, thus transforming their fortunes on the field, it is a potentially significant moment, not only for the World Cup but also the Ashes next summer.
South Africa, as always, will be well backed for glory. They look a unit which has every base covered, as they always do. But one point for the notebook: Dale Steyn has been batting at No 8. That just won't do.
As for that triangular final contest between Australia and South Africa, don't bet until you're confident of which strip they will be using in Harare. It is a square which seems to offer runs aplenty and, on another section, delight for spinners.