Ed Hawkins: Bangladesh tour has already lost its Fizz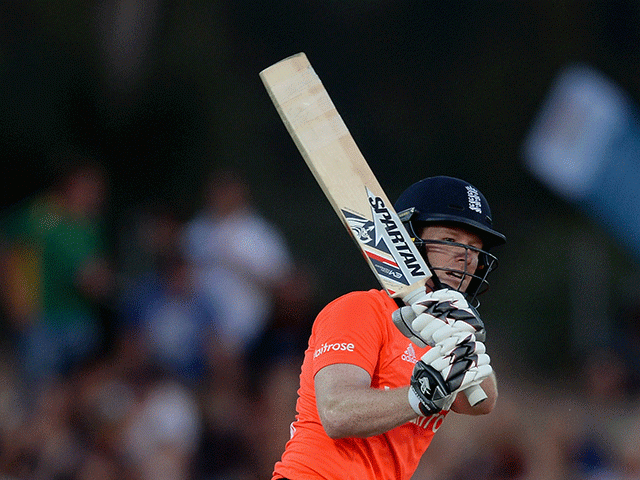 Morgan could miss Bangladesh
Ed Hawkins has his own concerns about England's tour of Bangladesh as Pakistan restore faith in the outsider pick...

"Whether Morgan goes or not will, of course, impact England's chances of winning. But it is a Bangladeshi's absence which will probably be the biggest factor."
So we had to wait until the death throes of the international summer for something extraordinary - or value-busting to put it another way - to happen. England's performance in the one-off Twenty20 against Pakistan was so puzzlingly out of character that it rather restored faith in the punting game.

Pakistan were a whopping old price. England were not. But it was the former who played as if they should have been chalked up at something minute, handing out a thrashing by nine wickets.

Where had this Pakistani chutzpah been all summer? Where had England's disorder and lethargy been? Jeez, we could have done with a bit of both earlier. We can get a little tired, too of being faced with price around 1.42/5 and south.

It could have been down to energy. Pakistan were buoyed by a surprise win in Cardiff in a dead rubber in the ODI series and felt an extra buzz from new players joining the squad. England, well, they were just a bit 'meh'. The tank was empty.

Another factor could have been the distraction of security concerns surrounding the tour of Bangladesh.

When in between games players are listening to security briefings from a bloke called Reg it must be surely hard to focus on a white ball. Indeed, it's life and death stuff. A white ball is not.
Captain to announce his decision
Eoin Morgan is tomorrow expected to announce yay or nay with regard to taking the trip, which begins with three ODI from October 7 followed by two Tests. Reg has said it's safe to go but Morgan, captain of that ODI team don't forget, made a vow to himself that he would never again allow himself to be distracted by "security concerns".

Morgan has a point. He was playing for Bangalore Royal Challengers when a bomb blast rocked the Chinnaswamy stadium. And he's seen first-hand violence caused by political unrest in Bangladesh during a stint in domestic cricket.

So he gets sympathy when it appears that pressure is being exerted on him to commit by Andrew Strauss, who said that a player's place cannot be guaranteed if he chooses not to travel.

Strauss has, of course, experience of this sort of conundrum which is why it's a little surprising he's being so outspoken. He was part of the England squad which had a wobble on the 2008 tour of India. The camp was divided about whether they should tour or not following the terrorist attacks.

Kevin Pietersen was captain at the time and memorably said: "My life means more to me than anything else." Do remind me why he never made leadership material?

The point is that the yayers or nayers lead to a divisive camp. And it could have effected performances. The very distraction that Morgan is talking about. England lost that Test series, by the way, with the lot of them just desperate to get the hell out of there.
Rahaman absence a big blow for hosts
Whether Morgan goes or not will, of course, impact England's chances of winning. But it is a Bangladeshi's absence which will probably be the biggest factor.

The hosts will be without The Fizz - Mustafizur Rahaman. The Fizz is a wonderfully elastic left-arm pacer who bowls cracking cutters and toe-crunching Yorkers. He is one of the finest bowlers in the world.

Mustafizur had shoulder surgery in London last month and has been ruled for at least three more. It denies those plotting a raid on Bangladesh's price for the ODI series and Tests their most potent protagonist.

Instead we will have to rely on England's batsmen being bamboozled by spin. It is not an unlikely scenario that they will be almost concerned as the tricks that Bangladesh's spinners have up their sleeve as those who seek to harm them off the pitch.
Trend spotting
It may or may not have escaped your attention but the Tamil Nadi Premier League - the brainchild of disgraced former ICC chief Narayan Srinivasan - is up and running. Big numbers are being wagered on the mini IPL.

And with liquidity good, it would be remiss not to point out an extraordinary toss bias. We love a good toss bias here, particularly when it helps sort out a selection between teams who, by and large, are as good as each other.

I mean, really, the Lyca Kovai Kings and Karaikudi Kaalai are a much of a muchness, no? Surely everyone knows that?

There have been 19 matches so far and only five have been won by the chasing team. Is this because Srinivasan, suddenly hard up after being hoiked from power, cannot afford the leccy bill for proper floodlights?

Nope. It's simply that the pitches are getting more and more worn as more and more matches are being played. The tournament, which will stage 31 games when all is said and won, has only three venues.

The totals being defended have not been especially low - 111 the smallest with ties after posts of 126 and 120 - but sluggish surfaces, armies of spinners and scoreboard pressure have taken their toll. And we could soon see a consistent trend for low numbers being enough.
Ed Hawkins P-L
2016: +233.82
2015: +£380.50
2014: +315.10
2013: +250.80
To £10 level stakes (unless otherwise stated), based only on available prices. Does not include back-to-lay in-running match advice or commission rate.
*Follow Ed on Twitter @cricketbetting
Discover the latest articles
Read past articles