Ed Hawkins: England still in the hunt in Bridgetown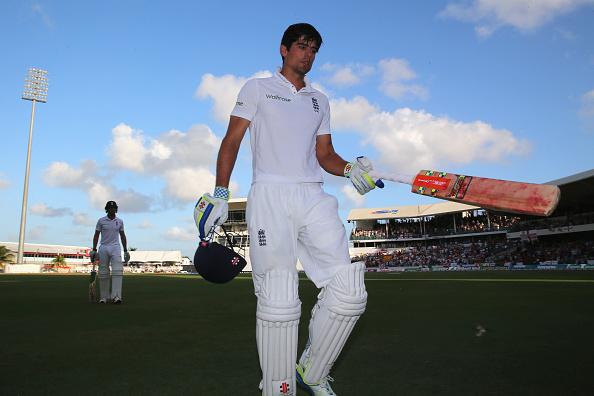 Cook's ton kept England in the hunt
Our cricket correspondent has some in-running advice for the third Test in Bridgetown and keeps you updated with the record of the jollies in the IPL...

"If England's batsman have struggled then surely the home side will also find life hard"
There is a whiff of trouble for England in Bridgetown after they succumbed to a vibrant West Indies pace attack and a more than helpful pitch. When they resume they will do well to post more than 300.
Not that the match odds market agrees. England were 1.784/5 before the match and despite closing day one on a disappointing 240 for seven, they have drifted to only 1.845/6. West Indies are 4.03/1 and the draw surely an irrelevant 4.77/2 given the pitch's history.
There has been only one draw in the last five Tests and even when the hosts amassed that whopping score against the Aussies three years ago they still lost. In the last 10 there have been two draws.
What about England historically in this situation? How do they fare when being bowled out for between 250 and 300 in first innings on tour?
Not so well. It has happened 38 times in their history and they have gone on to lose 19 and draw 10. It is true that the 1883 defeat by Australia in Sydney when Ivo Bligh's bunch folded like a cheap deckchair has little bearing on today so we need to be a little more modern in our analysis.
Since 2000 it has happened nine times, resulting in six defeats and two draws. The one victory came in Napier against New Zealand.
That record would be enough to reckon that West Indies would be considered value to level the series. Hold your horses. If England's batsman have struggled then surely the home side will also find life hard.
Indeed, that is backed up by West Indies' record when bowling first and restricting sides to 250-300. They should go on to win the majority, just like England lose the majority. They don't and it exposes just how far they have slipped.
Since 2000 West Indies have 12 times been in control at the innings break but only on four occasions have they converted a fine start into victory. Most telling is what happened when they last kept a side to 250-300.
It was last year and - red alert - was in Bridgetown against New Zealand, who were bowled out for just 293. The Windies even managed a first-innings lead, posting 317 in reply.
The game turned in the third dig, however, when Kane Williamson's 161 propelled the Kiwis to 331 to set the home side 308 to win. They were bowled out for 254. Alastair Cook's first century in two years could prove as vital.

*****

Rajasthan's ropey run
A decent week for the favourites in IPL with only Kings XI, at a ludicrous 1.75/7 to beat Delhi Daredevils, coming unstuck. Quite why the bottom side were so short is anyone's guess but hey ho.
It was also notable for Rajasthan's continued implosion. The match odds market, somewhat surprisingly, had made Mumbai jollies to win their encounter and it was proved right as the Indians inflicted an eight-run defeat.
That was Rajasthan's fifth game without a win (two wash outs) and their bubble has well and truly burst. It is reminiscent of their bizarre loss of form last year when they started well only to fade. Having led the pack and looking assured of a play-off spot, they are only three points off Kolkata in third who have two games in hand.
For the defeat by Mumbai they dropped James Faulkner, their supposed talisman and ace death bowler. He has been a major disappointment with the ball, taking only four wickets and the full tosses he sent down in the loss against Kings XI suggested a man severely out of nick.
Fate of the favourites: KKR 1.824/5 bt MI 2.26/5, CSK 1.454/9 bt DD 3.02/1, KP 1.538/15 lost to RR 2.8415/8, RCB 1.910/11 bt KKR 2.01/1, CSK 1.4640/85 bt SH 3.02/1, RR 1.845/6 bt DD 2.285/4, KP 1.84/5 bt MI 2.26/5, RCB 1.558/15 lost to SH 2.89/5, RR 1.9420/21 bt MI 2.01/1, KP 1.444/9 lost to DD 3.2011/5, RR 1.9210/11 bt SH 2.0621/20, KP 1.834/5 lost to KKR 2.166/5, CSK 1.511/2 bt MI 2.915/8, SRH 1.9110/11 lost to DD 2.0621/20, CSK 1.68/13 lost to RR 2.707/4, RCB 1.68/13 lost to MI 2.89/5, KKR 1.645/8 bt DD 2.35/4, RR 1.9720/21 TIED KP 2.021/1, KKR 1.695/7 lost to SRH 2.77/4, CSK 1.75/7 bt RCB 2.26/5, RCB 1.8910/11 bt RR 2.01/1, MI 1.75/7 lost to DD 2.35/4, MI 1.84/5 bt SRH 2.111/10, CSK 1.75/7 bt KXP 2.35/4, RCB 1.625/8 bt DD 2.568/5, KXP 1.75/7 lost to DD 2.47/5, MI 1.9420/21 bt RR 2.021/1.

*****

Pietersen running out of time
Daniel Lawrence got a handshake from Kevin Pietersen following the 161 he scored at the Oval for Essex in the County Championship against Surrey. There could be several England players queing to shake his hand soon, too. Maybe his Essex team-mate and England skip Alastair Cook.
Lawrence became the third youngest century maker with his epic knock. It also denied Pietersen time in the middle to press an increasingly looking hopeless case for an England return.
Pietersen has probably only one more chance of big runs before England name their squad for the first Test against the Kiwis, which starts on May 21. Surrey face Leicestershire at The Oval before the domestic Twenty20 season begins, bringing an abrupt halt to four-day action. No wonder there is little money to lay KP for a first Test Ashes appearance.
Ed Hawkins P/L
2015: +£194.10
2014: +315.10 (ROI 27%)
2013: +250.80 (ROI 25%)
To £10 level stakes, based only on available prices. Does not include back-to-lay in-running match advice
Follow Ed on Twitter @cricketbetting
Discover the latest articles