Ed Hawkins: All-action England may be brought back down to earth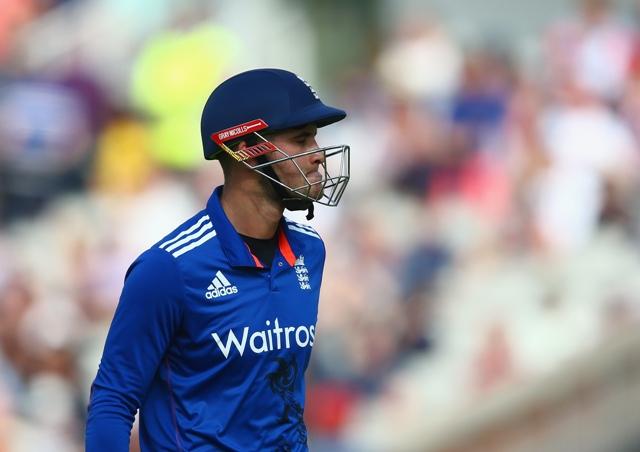 Hales is a strange choice to open against Pakistan
Our cricket correspondent can't fathom the selection of the opener and notes how Gloucestershire's one-day cup win was a reminder about substance over style...

"Hales's return of 53 runs in five ODI innings against Australia was low enough to raise doubts about his future in that side"
Early prices are available for England's three-Test series against Pakistan in the UAE next month. And the immediate reaction is to begin stockpiling cash for an almighty assault on odds in the region of 3.3512/5 about Alastair Cook's men.
But then something pings in the brain, like the warning light on a car dashboard. Don't Pakistan tend to bring post-Ashes euphoric England sides down to earth with a bump? Yes. Yes they do.
Pakistan are as short as 1.574/7, which seems fair given that they routinely give England a bloody nose. Following England's epoch-shaking Ashes win in 2005, they were promptly dismissed 2-0. In 2012 in England's next away series following a triumph over the Aussies, they were despatched 3-0.
Each time England - supposedly on the cusp of world domination - were reminded that they were nowhere near as good as they thought they were. They have now lost four of their last five series away to Pakistan.

All-action England?
A fifth could very much be on the cards. After all, they need swing and seam for their bowlers and there will be precious little of that in the dustbowls of Dubai and Abu Dhabi. There is also a nagging doubt that England are getting carried away with their image as an attacking, all-action side.
How else could the bizarre decision to pick Alex Hales as an opener be described? The Nottinghamshire man is a wonderful Twenty20 player and for that he is given due credit. But there is no evidence that he is even good enough to play ODIs, let alone the format of the game which offers the most severe examination.
Hales had a poor summer in the blue of England. He made two fifties in 12 appearances and his return of 53 runs in five ODI innings against Australia was low enough to raise doubts about his future in that side. It definitely wasn't proof that he could step up to Tests.
There is nothing wrong with plucking a player from ODIs to give him a whirl in Tests. It worked wonderfully with Marcus Trescothick and Kevin Pietersen. The difference between those two and Hales is that both displayed an aptitude for that level. Hales hasn't.
Could it be that England are, once again, believing their own hype and taking Pakistan lightly? They will relish pinning England, and Hales (who is a front-foot biffer) on the back foot.

Glorious Gloucester
Any bias or favouritism is to be avoided at all costs when it comes to wagering. It clouds the judgement and one can easily slip into the perilous state of betting on what one wants to happen - desperately so - rather than what will.
So Saturday's Royal London final was off limits for me. Gloucestershire, you see, are my team. They have been since I was wee. I was brought up watching the likes of Courtney Walsh, Syd Lawrence, Phil Bainbridge and, my hero, Bill Athey.
It was my dad who introduced me to 'the shire'. His support stemmed from his obsession with Tom Graveney's cover drive. Athey's was almost as good.
Gloucestershire weren't, though. And for years they were trophy-less, the nadir a horrible collapse from the summit of the Championship when it was one division. The mainstays of that side slipped away to be replaced by, well, what were considered no marks or also rans.
Wrong. The new collection were winners and from 1999 to 2006 they won an extraordinary nine titles which comfortably made them the most successful one-day side of the era.
Those heroes like Mark Alleyne, Ian Harvey and Jack Russell have all been replaced, of course. And it seems extraordinary to be comparing them with the new winning breed of 2015.
Alleyne's side were unfashionable and were constantly written off against sides with supposed superior players despite the fact that during that period, give or take, they fielded six or seven players of international experience.
If today's Gloucestershire played the one-day kings, they would be similarly besmirched because, bluntly, no-one has heard of any of them.
So it was delicious that they upset Surrey, a side who can curl a top lip at the mere whisper of their name. Their money, their braggadocio, their superstar players, their six internationals. They make the supporters of the smaller counties sick.
For that reason I could not possibly have countenanced a tip on the final. I love Gloucestershire and loathe much of what a county Surrey stand for, chiefly the belief that they can buy success and how their players are proposed as England candidates just because they play for a big club.
Anyway, Gloucester struck a blow for the outsiders to complete a remarkable summer of upsets. They were whopping rags to win the thing and their victory will go down as one of the great 'shocks' of recent times, not to mention in-running odds as Surrey were cruising to victory.
And in their victory is a salutary betting lesson. Don't be enticed by star names on a team sheet. Work ethic, discipline and camaraderie are more important. Gloucestershire, despite having few players you would recognise if they walked into your front room, are the richer.
Ed Hawkins P/L
2015: +£315.60
2014: +315.10
2013: +250.80
To £10 level stakes (unless otherwise stated), based only on available prices. Does not include back-to-lay in-running match advice or commission rate.
Follow Ed on Twitter @cricketbetting