Cricket Betting: Cosmopolitan England are doing nothing wrong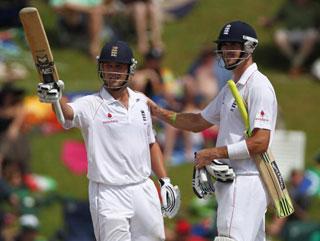 It's great to be a saffa. I mean...Englishman. Jonathan Trott and Kevin Pietersen were both born in South Africa but represent England.
There are a lot of players in England's team who weren't necessarily born on English soil but accusations of them being mercenaries are unfounded. In this day and age, the freedom to choose your employer applies in all walks of life and that does of course include cricket.
"There's always a little extra edge whenever the English meet South Africa given that Andrew Strauss, Kevin Pietersen, Matt Prior and Jonathan Trott are South African by birth."
Hello? Is there anybody there? It's not the opening line of a séance or a search for extra terrestrials, it's the cry of the English as they ask the rest of the cricketing world if there's anyone out there that can give them a game. The England team have enjoyed probably their easiest summer ever, bags of time off due to the grotty weather and when they have played, they've hardly had to get out of second gear as they contemptuously swept aside the opposition.

The West Indies barely performed to county standard and the Australians are not an Ashes touring side. They look disjointed, dispirited and disinterested. Given the false dawns that so often happen when tourists visit England it's tempting fate to surmise that South Africa will prove to be sterner opponents but the form and the record books suggest they will. They have not had the best of preparation, which is a little surprising, because English conditions take some adjusting to.

There's always a little extra edge whenever the English meet South Africa given that Andrew Strauss, Kevin Pietersen, Matt Prior and Jonathan Trott are South African by birth. It seems that the players are constantly asked to express their undying affection for their host nation in order to avoid the 'mercenary' tag. What employee isn't mercenary these days? It's the nature of free market global trade. Provided they meet the legal criteria demanded by the host nation, any individual has the right to work where they like.

The original mercenary of course is a soldier who fights for another country. Should he fight against his home country his action ceases being mercenary and becomes treason. That's a whole different ball game and even to suggest that there is any similarity between sport and war is nonsensical. That's why there's no room for such talk in cricket; it's a game and for whatever reason these players have elected to play for England rather than the country of their birth.
Previously the accusation was that overseas players would don the England shirt because their chances of international recognition with their own country were slim and England was a decent second choice. That argument has little merit these days as the English and it's adopted players head the world rankings in two of the formats. And they have just put together nine consecutive victories and recorded their seventh straight home series win in the third, the 50 over game. These players don't need to settle for second best, they'd get into any international side.

England have traditionally included players who were born elsewhere but the current South African bunch, which also includes Craig Kieswetter, are very close to numerically equalling the indigenous crop which is somewhat bizarre. It has to make this series a bit special and add an extra edge. It's also reasonable to assume that the situation favours England. There will probably be four very talented cricketers able to draw upon extra inspiration and motivation because of their relationship with their opponents.
England will want to hit the ground running and if the South Africans are undercooked, they'll be looking to take advantage of that and get off to a flyer. Andrew Strauss and his men are available to back at 2.915/8 with the South Africans 3.613/5 and the draw, fuelled by the grossly unseasonal weather, the favourite at 2.56/4.

There are those who argue that England are abusing the system and with the possible inclusion of Kieswetter and Irish born Eoin Morgan in the side, could eventually have more 'foreign' players than home-grown. Perhaps, but conversely it needs to be pointed out that the players made the choice of their own free-will and that English cricket is no longer dominated by the old chums that went to the same private school. England is now a multi-cultured cosmopolitan nation and it's cricket team reflects that.

Discover the latest articles