Betfair Big Interview: Paul Collingwood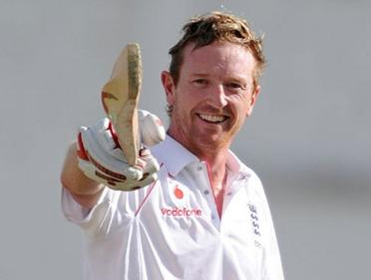 Former England captain Paul Collingwood was talking to Ralph Ellis
Paul Collingwood scored more Test runs in England's last two tours of India than anyone but Andrew Strauss - so who better to tell us about the challenges facing Alastair Cook's team before the latest series starts next week. Betfair caught up with him just before he flew to India to start a new career as a commentator...
"I think it is pretty simple now. He is back in the side, he has the opportunity, and it seems to have been quite a low key transition to get him back into it."

Paul Collingwood on Kevin Pietersen
Hi Paul, so you're packing your bags for the trip?
Yes, I'm doing commentary for the Indian cricket board. Sky aren't sending anybody - it will all be done from the studio - but if you press the red button you'll find me and eight Indian commentators out there. I've done punditry work before but never done commentary, so it will be a challenge and I'm looking forward to it. They've taken a bit of a gamble giving me the chance.

Our markets make India big favourites for the series. Is that right or wrong?
Probably about right, to be honest, especially with all that has been going on and losing Andrew Strauss from the batting line-up. India in Indian conditions, from a player's point of view, is probably the biggest challenge you can come across.

Ok, you've been there twice, explain why.
It's a different sort of cricket, very much like a game of chess. The game can start out very slowly for the first few days, but once the wickets start to deteriorate and turn, the pace of the game goes through the roof. Runs in the first innings are crucial, and the toss can be too. You always talk about how once you get in you have to stay in and make a big score, but in India it applies much more so.

You've good memories of doing that, your first Test century was in Nagpur in 2006?
Well it was a pretty flat wicket and I just managed to get into a rhythm. If you can do that, and don't try to do anything outside your own bubble, you tend to be able to accumulate runs pretty well. They are good pitches, they don't seam around, and if you can deal with the reverse swinging ball you have a good chance of scoring runs.

That sounds like good news for either Nick Compton or Joe Root.
Opening the batting is probably one of the best places to bat out there. I think Alastair Cook made his debut and got a century in Nagpur as well. If you are going to bring a young guy in it's a good place to do it. Compton looks as if he is favourite to get the job at the moment after scoring a couple of fifties, and it is a big opportunity for him. The first ten overs with a hard ball is probably the best time to bat.

What do you know about Compton?
I'll be honest I've not seen him a lot, but he obviously has a good temperament which is one of the big points. The conditions last season were very difficult, so for somebody to get nearly 1,000 runs before the end of May was an incredible effort. In fact given the weather this year to spend that much time at the crease was an achievement in itself!

But then big runs are vital. We saw that the hard way in 2009 when they had to chase 387 and Sachin Tendulkar played brilliantly, while Sehwag came out and exploded with some big shots. That is still India's strength, their batting line-up. They can make the best attacks in the world look mediocre on those wickets.

How do you see Alastair Cook as a captain?
Taking 20 wickets out there is a very difficult thing to do. You need to come out with plans. Obviously a lot of that will be done before the game, but you have to think on your feet, and react to changes in the pitch and that kind of stuff.
That will be a big challenge for him, but then Alastair Cook is a person who, no matter what challenge seems to come across, he rises to it. Everybody said he couldn't play one day cricket, so then he goes and does so well he ends up getting picked in the international one day team of the year . He's certainly not the finished product, but if anybody can take it on I think he can.

Will his experience as One Day captain have helped?
Of course, the guys will get used to his style. It is always helpful when you've done another form of the game. Hopefully the team is very close knit, because you need to be. It can be a difficult place to tour, not just when you are on the park but off it too.

We'd tried to avoid the Kevin Pietersen question but you've just led us there!
I think it is pretty simple now. He is back in the side, he has the opportunity, and it seems to have been quite a low key transition to get him back into it. I am sure there will have been some talking behind the scenes, but it does seem as if we're moving to get him into a situation where everybody is comfortable, and that is important because I am sure everybody wants just to get on and move him forward. A confident KP can win games for England

He couldn't have a bigger personal motivation to do well.
Yes and that does tend to be good for him. I just hope his confidence hasn't been dented too much by all that has happened, because he is the kind of guy who needs to be the best, if you understand what I mean. I was pleased to see him get a ton in the warm-up games and now I just hope he goes out there and does prove a point. He's an exceptional player, India will be a great challenge for him against spin and hopefully he can do the business.

Thanks for your time, and we've a free £50 bet with the winnings to a favourite charity.
It was a pleasure and thanks - the charity can be Josie's Dragonfly Trust , based near me in the North East and doing a great job. Check out their fundraising jewellery for Christmas presents! And I'll back England to win the series 2-1 at 11.010/1. We can dream!
Discover the latest articles