Bangladesh v England Second Test In-running Betting: England in grave peril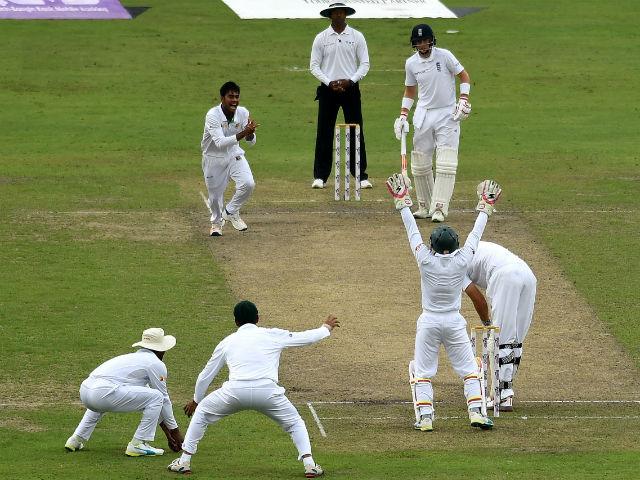 A lead of 200 on the Dhaka pitch is the equivalent of 400 everywhere else
Ed Hawkins analyses the pitch to advise punters as the second Test from Dhaka draws to a likely thrilling conclusion...
"If England don't know it already, they soon will: batting last on this wicket will probably be the most treacherous encounter of their entire careers."
If batsman dream of white, sun-kissed pitches flatter than a bowling alley and fast men of green-tinged tracks with more undulations than the valleys, what do spinners hold in their most glorious reverie?
It is a fair chance they would point to the image of the wicket on day one of the final Test in Dhaka and say "Yes! That's the one." It's dry, it's dusty, it has tufts of parched grass for grip and cracks which can open up and swallow batsmen with the most reliable of reputations.
Considering Moeen Ali took five wickets on the first day it will not be long before the contest becomes a paradise for the eight spinners on the two sides and hell for everybody else. Indeed, in no time at all it could even become a farce.
Mind you, only if England go on to lose. The moaning will be long and loud from pundits and ex-players of England persuasion that the 'doctoring' of wickets by a home team should not be allowed.
It doesn't matter that England's own home record has been, by and large, constructed on the very bowler-friendly surface described in the first sentence.
Bangladesh have produced a wicket which does two things. First, and most obviously, it suits spin bowlers. Or to be more precise, their spin bowlers. And second, they have produced a wicket which narrows the gulf in class between two sides. It could make for a thrilling, topsy-turvy encounter. A wonderful Test match. And if that transpires, bravo.
The home team are quite within their rights to help themselves (why, on earth, would they do anything else?) and at the close of play on day one their twirlymen were beginning to tweak and spin deep into the minds of the English batsmen. If England don't know it already, they soon will: batting last on this wicket will probably be the most treacherous encounter of their entire careers.
The market knows, too. Bangladesh are 2.942/1 for victory. In ordinary circumstances they would be treble the odds after posting 220. England are 1.654/6 and the draw, utterly irrelevant, is 17.016/1.
Before the match we believed that the toss would be key because we were sure that the wicket would break up like a digestive biscuit under a size 10. And that meant the toss would be key. We have seen nothing to change our mind.
And seeing, most of the time, is believing. Look with your own eyes at that Dhaka pitch and tell me that a lead of 200 in the final innings will not be worth the equivalent of 400 anywhere else.
That is a more reliable strategy than statistics on this occasion. There is not a huge file of evidence that backs up the assertion that it will turn square, bite and fizz. But that's because the only side to have batted last on it since England's visit in 2010 - save for Pakistan - is poor old Bangladesh.
The scores in the last innings are as follows: 221/107/250/269-3/167/107-3(Pakistan)/278. Those totals are a bit bigger for what you would expect for a last-innings wicket on the sub-continent. And although they are not big enough for absolute conviction that a team will not be rolled, run-making could hardly be described as serene.
Shakib-al-Hasan and Mehedi Hasan had already claimed three cheap wickets in England's reply and by the time you read this they are likely to have picked up more. England batsmen in the fourth will be wary that, sooner or later, Shakib or the teenage prodigy will send one down with their name on. And if Shakib or Mehedi don't get you, Shuvagata Hom, Taijul Islam or Mahmudullah will.
It is not Bangladesh's ability to take 20 wickets then which should concern punters. It is what they do in the third innings. Presuming England manage to scratch and scrap to parity it is where the game will be decided.
As much as England will be threatened by collapse, Bangladesh will too. It would not be fantasy to reckon they too could be knocked over for something paltry and 180 will be a minimum with both sides being equal.
In third-innings at Dhaka since 2010, Bangladesh's four scores read: 312/285/234/269-3/250. A repeat of any of those (again with the caveat that England are level), would surely mean victory was theirs.
But this is Bangladesh. We cannot rely on their batting. Nor can they. They should have won game one when in a position of strength. And as if we needed further reminders of their ability to implode, they lost their last nine wickets for 49.
It would be smart to expect the odds to spin as much as the ball. And we can reckon Bangladesh will trade as short - and shorter - as England are now.

Discover the latest articles