Tri-Series Betting: Unique India have it all to do against strong Aussies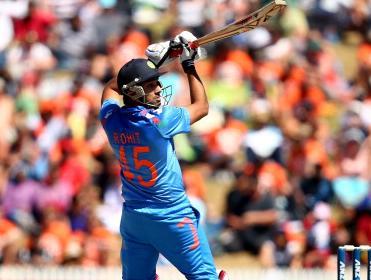 Rohit is part of a strong India batting line-up
Ed Hawkins previews the World Cup warm-up tournament and says it could be make or break for an Indian team short on bowling resources...
"David Warner, Aaron Finch, Shane Watson and Michael Clarke (fitness permitting) should relish taking on an India attack which has little going for it."


Recommended Bet
Australia to win tri-Series at 1.910/11
The triangular series between Australia, India and England, which starts on Friday, gives punters the perfect opportunity for research ahead of the World Cup in February.
Not only do we get to see close up how the favourites, the holders and a dark horse respectively are progressing but we get the opportunity to do so in the very conditions they will be tested in less than a month.
Australia are 1.910/11 favourites for the Carlton-Mid Tri-Series, to give its proper name, with India next best at 3.1511/5 and England out at 5.69/2. Naturally, their standing in this series is almost mirrored by their places in the betting in the World Cup.
The hosts are jollies for that one as well at 3.814/5. India are on the drift at 8.07/1 while England have steadied recently at 11.521/2 following price movements not in the direction you would have thought after the axing of Alastair Cook.
India probably have the most to win, or lose. And they will be scrutinised extra keenly. The current world champions could not have picked a worse territory than Oceania to defend their crown. Come the end of the seven-game series, we will have a very good idea of whether they are value to lift the title for a consecutive time.
It is easy to dismiss them before a ball has been bowled, either for this series or the World Cup. That is because of their record in Australia and New Zealand. Only West Indies have a worse win percentage there than India in the four years since the last tournament.
In 2008 India did manage to win the tri-series in Australia, Sri Lanka were the other side, and they will hark back to those days as evidence that they can cope. That, however, was an exception rather than the rule.
So why have they suffered? A simple dislike of conditions. There is nothing revelatory at all in the fact that India struggle against seam, swing and bounce. All are prevalent in New Zealand and Australia. So they have a mighty challenge to overcome.
It will be fascinating to see how they fare and it could shake ODI cricket to the core if they manage to go deep into the World Cup with a, shall we say, unique approach. They haven't got any bowlers. For now, though, the question they are asking themselves is this: can our star-studded batting line-up win games for us on their own, no matter the conditions?
They were good enough to do it in England, twice. First they blitzed the Champions Trophy when common sense dictated they would struggle. Then they made light of a seaming and swinging England attack in the summer, triumphing 3-1.
Ajinkya Rahane, Shikhar Dhawan and Virat Kohli all scored runs at some stage while in the latter series Rohit Sharma, who has since proved himself as one of the most formidable ODI players with a double ton versus Sri Lanka, was unavailable through injury. 
These are the men India rely on. Their batters. They sure as hell can't count on their bowlers. It was only October when India were ranked worse even than Bangladesh in terms of runs conceded per wicket. They also propped up the rest along with New Zealand for runs conceded per over.
And that is where Australia should win the battle for the tri-series. David Warner, Aaron Finch, Shane Watson and Michael Clarke (fitness permitting) should relish taking on an India attack which has little going for it.
Bhuv Kumar, Dhawal Kulkarni and Mohammad Shami do not have the express pace to really trouble the Aussies in this format while Ishant Sharma and Umesh Yadav are wild. They are supposed to be the game-changers, bowlers who can blow away a middle order in the blink of an eye.
But contrast those two with who Australia can call on. Pat Cummins, Mitchell Starc and Josh Hazlewood are the new breed of Aussie tearaways and already they are consistently more dangerous. They all have strike rates of 28 or under as opposed to the India duo's numbers in the 30s.
For good measure, Australia can utilise Mitchell Johnson and it will be a luxury to be able to rest him when the need arises with the World Cup a priority. 
Australia have lost only three of their last 12 tri-series at home (to India seven years ago, as mentioned and, fittingly, England in 2007) so it would be a major surprise if they didn't make the final in Perth on February 1. If you consider they are 1.910/11 to win the series now and what they will be in that one-off game - probably 1.68/13 - then the value is clear.
So who will they face? The decider should be at the Waca two days previously when England and India meet. One side will be happier than the other that it will be on a fast and bouncy strip. No prizes for guessing who. 
England, oddly, are causing some excitement ahead of the World Cup now they have dispensed with the tactic of using Cook as anchor to revert to all-out attack. Ian Bell and Moeen Ali look likely to be given the nod as opening pair and there is a lot to like about the duo.
Do not be surprised, however, if England need time to adjust. There is a danger that now they have been given licence they will lose their heads and be 30 for four in the first four overs of the bright, new era.
Warner and Kohli are joint-jollies for top-bat honours at 4.03/1. Both are dreadful prices. Finch, Warner's opening partner appeals at an inflated 6.05/1 but in truth that's not a fair price, either. Bell is interesting at 12.011/1. He has a moderate average of 36 in ODI but when you filter that to as an opener only, he suddenly becomes rather good. He averages 40. 
If he and Ali can cut the mustard with similar relish, then  excitement about England will grow and, whisper it, justifiably so.   

Recommended Bet
Ed Hawkins P/L
2015: -£20
2014: +325.10 (ROI 28.5%)
2013: +250.80 (ROI 25%)
To £10 level stakes, based only on available prices
Follow Ed on Twitter @cricketbetting
Discover the latest articles