3rd ODI Betting: Dominant England underrated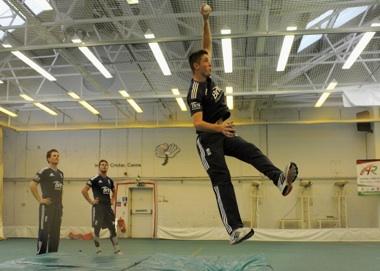 Chris Waokes has been called up
Ed Hawkins, the SJA Betting Writer of the Year, reckons the home side are value to win game three at Edgbaston on Wednesday
"Unquestionably England are the value and they will continue to be so until they go odds-on"

England at 2.0621/20
England
The home side, who have a 2-0 lead after a convincing win at The Oval on Sunday, have injury concerns. James Anderson, who missed that match, remains a doubt while Jade Dernbach, his replacement, is out for the series.
Dernbach was expensive on his home ground - but that is not unusual for a flat wicket - and the side strain he suffered may have been a result of the extra effort he put in. Chris Woakes, the Warwickshire all-rounder, has been added to the squad and will probably play. Stuart Meaker, another Surrey fast man, could also be in the frame.

Australia
Woe. Well-beaten and now bruised. Australia have lost the services of Pat Cummins, their impressive young quick. The 19-year-old is out of the series with a side strain.
Mitchell Johnson should retain his place in the XI - he replaced Cummins at The Oval - despite a scattergun performance. Johnson went for 43 off his seven overs. He has always been a rhythm bowler, however, and there were signs of form with the odd peachy delivery.
Steve Smith, dropped for game two for Peter Forrest, who came in at No 3, is not expected to be recalled and Australia will probably be unchanged.

Venue and conditions
The weather forecast is not great for this day-night contest at Edgbaston. Play is due to start at 14.00BST. The rain is due to start at 09.00. They are only showers, however, so we are hopeful of a reduced-over affair. Indeed, the forecast for the evening is much brighter.
Damp and overcast conditions will help the batsmen and unlike The Oval when we were confident of runs, in Birmingham we would expect the ball to dominate.
This despite a healthy first-innings average. In the last five - there has been only two ODI matches on this ground since 2008 would you believe? - the mark is 279, although that is skewed slightly because England added up 347 against Bangladesh.
There have been only two Pro40 matches at the venue this summer and they only confuse with first-dig totals of 209 and 122.
England have been dominant so far. They have won defending a total. They have won chasing a total. And yet they remain outsiders. There is not much in it but Australia at 1.9620/21 hold no appeal whatsoever from what we have seen. England are 2.0621/20.
Australia are hugely reliant on their stellar batsmen - Watson, Warner and Clarke - and no doubt one of them will come off spectacularly at some stage. It's just that such an event was far more likely on flat wickets in the first two games instead of a grey and nippy Edgbaston.
For an example of the depth and breadth of the two sides' batting look at the respective No 5 positions. England have Eoin Morgan, probably one of the top three in the world. Australia have George Bailey who crawled to a half-century at The Oval.
Unquestionably England are the value and they will continue to be so until they go odds-on.
Ian Bell and Jonathan Trott play on their home ground and will be confident of runs. Bell, in particular, looks in fantastic nick. Still, if the ball moves around it may be wise to look farther down the order with Ravi Bopara, top scorer at The Oval, and Morgan the value at 6.4011/2 and 6.6011/2 respectively.
Bailey top scored in game two with 66 and is 6.806/1. Watson, who also made a 50, is 4.607/2. Michael Clarke looks overpriced at 5.104/1 given that this will test the technique.

Recommended bet
England at 2.0621/20
Discover the latest articles