Ed Hawkins: Gayle might have to be blown out to ensure bright Windies start not wasted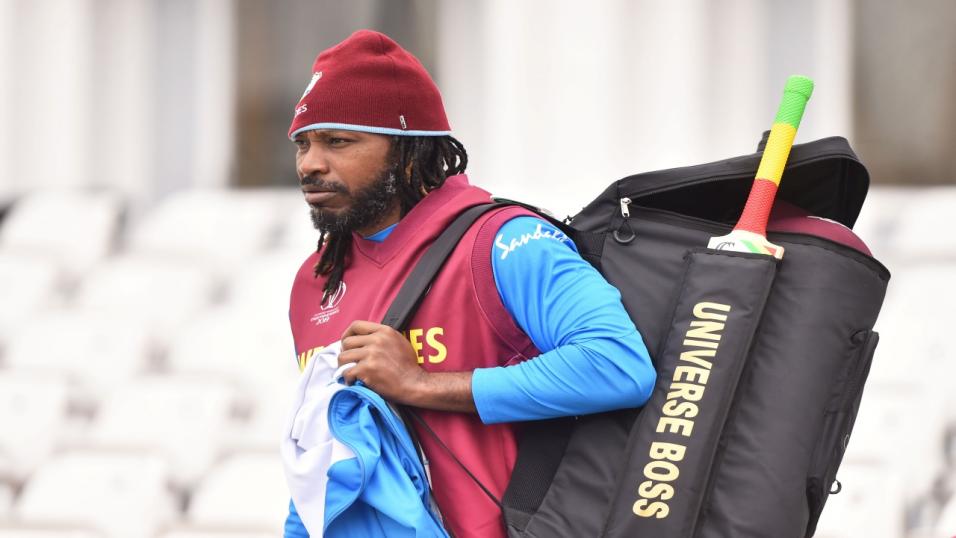 Pack your bags Chris: Is Gayle now too much of a liability for the West Indies?
The West Indies made an encouraging start to the World Cup, but they might have to be cruel to be kind to have a chance of beating England on Friday, says Ed Hawkins...
"There is a nagging belief that West Indies could be smarter if they are to be genuine contenders. That would require having the courage to drop their most iconic player - Chris Gayle."
Windies in danger
If there is a team that could come to personify this World Cup - bright start and then a washout - it could be West Indies. Hope doesn't so much spring eternal as far as the men from the Caribbean is concerned, it bounds energetically, chaotically, into the room like a blind puppy.
Most cricket fans are West Indies fans. Sure, they will cheer on their national team with pride and passion. But if their team was going to miss out on the glory, there is a suspicion that it would be the West Indies who most would choose as their champions to soften the blow.
That's because a huge chunk of watchers grew up on the great West Indies team. The pace battery of Messrs Holding, Garner, Marshall, Roberts. The Master Blaster himself, Sir Viv Richards. No team played the sport like them. Latterly we fondly remember the Walsh-Ambrose axis, Richie Richardson and his sunny, Brian Charles Lara.
Emotionally, many have invested in West Indies cricket. There can be few folks out there who wouldn't want the sport to once again thrive in the islands and a superpower to return.
Excitement, then, that this World Cup could be the catalyst to rejuvenate (hopeless administration notwithstanding) has been building because instead of the history weighing down West Indies, the current crop have tried to use it as an inspiration. They have harked back to the glory days by attacking teams with short, fast bowling. They have hit batsmen on the head. They have frightened them. And then they have given it an almighty crash with the bat.
After blitzing Pakistan, those who had taken chunky odds on the outright about West Indies were beginning to reckon they'd had the gamble of the tournament. Some may even have started counting the winnings when Australia, on a runmaker's paradise at Trent Bridge, were reduced to 79 for five as Oshane Thomas, Andre Russell and Sheldon Cottrell invoked the fire of Babylon.
It's all gone awry since. West Indies didn't win that game, then had a washout against winless South Africa. And after running into England on Friday, it's a 1.321/3 shot that they are one win from four. That would put tournament progression in grave peril.
Of course, it is hard to criticise West Indies. Their form over the last four years has been awful. Indeed, they had to qualify for this tournament and were perhaps fortunate to do so given the mess they found themselves in against Scotland. In effect, they are the new-fashioned 'minnows'.
Gayle becoming a liability
Against supposedly superior opposition they have struck on a method. And stuck to it. Playing to one's strengths - muscle with ball and bat - is smart. But there is a nagging belief that West Indies could be smarter if they are to be genuine contenders. That would require having the courage to drop their most iconic player - Chris Gayle.
Gayle is, pretty much, adored by the same bunch of fans who hold those Windies players of the past in such esteem. When he does finally call it a day he will be pedestalled with the rest of them. And that's great. Yet his position in the team could be hampering West Indies.
We all know why he is there, opening the batting. Because there is a small - increasingly small - chance that he could do something destructive and win the game within 20 overs. Who can forget, after all, his double against Zimbabwe in the last World Cup. Few of us. Which is sort of the point. The human mind always remembers the extraordinary and overstates the likelihood of something similar happening again. We don't, for example, remember his 65-ball 34 two games before in defeat by Ireland. Why would we?
There is always a place for players like Gayle in an ODI team. A team needs his threat, his chaos theory. Yet the issue with West Indies is that they are blessed with a destructive batting unit and, man for man, no team can claim to have more pure natural talent. The likes of Evin Lewis, Shimron Hetmyer, Nic Pooran and Andre Russell can do what Gayle can. Shai Hope, although not in the same fast-scoring bracket, is hardly a slouch.
The greatest issue is Gayle's fitness. The notion of a quick one or two when he is at the crease is exactly that, a notion. One which is dismissed as soon as his opposite number sees him feeling his back or stiff-leggedly turning down as easy two. Gayle can stand there and swipe it for four or six but the quick running between the wickets - most analysts will tell you make a huge difference in ODI - which put pressure on bowlers and rotate strike are just not available.
In the field, also, Gayle is something of a liability. West Indies have to hide him. At Trent Bridge, a Trinidadian friend was irked by the sight of Gayle clowning around when fielding, pretending to do step overs as he hobbled about the place. "Come on, mate, this is the World Cup!"
Would it not be shrewd for West Indies to open with Lewis and Hope and bring a busy, worker-bee type batsman into the middle order like Darren Bravo? They lose none of the power up front, in the middle order or at the death. And they're able to run between the wickets and be more energetic in the field. It won't happen, of course. But we can hope, although more in a forlorn way.
Ed Hawkins P-L
2019: +18.03pts
2018: +23.53pts
2017: +12pts
2016: +18.1pts
2015: +38pts
2014: +31.5pts
2013: +25pts
Based only on available prices. Does not include back-to-lay in-running match advice or commission rate. Figures 2013-2016 on 1pt level stakes. New points system (0.5pt-5) introduced for 2017. Includes Hawk-Eye stats column p-l
Discover the latest articles
Read past articles