Ed Hawkins: England need to understand pressure and embrace it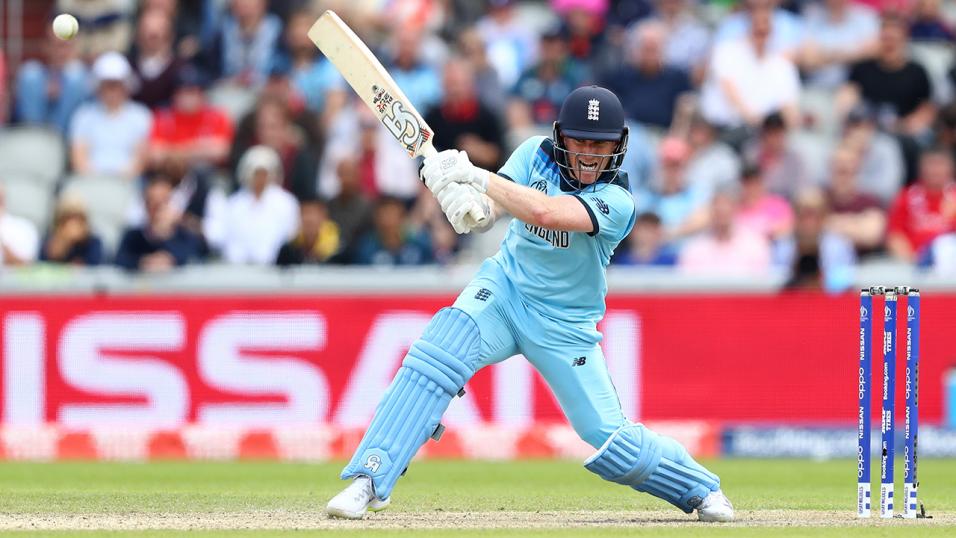 Morgan's test now is to accept pressure again
Ed Hawkins tries to understand what's gone wrong for the red-hot favourites after two surprise defeats...
"It is all very well 'throwing in the odd stinker' in a largely irrelevant long-haul series. Nothing happens, you see. There is no payback, no semi-final spot to miss, no step to trip on up to the hall of fame"
Tournament comes alive
Thank goodness for England. The 2019 World Cup, in no small part to the weather, had threatened to be a damp squib. Yet if rain wasn't washing out a record number of contests, we were wading through matches where long odds-against were disintegrating like sodden cardboard. The group section, before the halfway point, looked a procession with Australia, England, India and New Zealand seemingly guaranteed of progression.
Eoin Morgan's men, however, are doing all they can to keep interest high in their home World Cup. A stunning collapse at Headingley against a Sri Lanka team who decided to leave a clutch of their best players at home has given a soggy tournament a spruce up. By Jove it has needed it.
Just a few days ago these pages were musing how only a stunning implosion could prevent one of those top four making the semi-finals. But England didn't seem like candidates. Australia's issues with acceleration threatened to haunt them. New Zealand are four from four but untested by the best. India? Truth be told their weakness has yet to be exposed even with Shikhar Dhawan on the plane home. That may even give them the chance to iron away a possible flaw by picking Rish Pant in the lower-order.
England seemed too powerful, too in control. Their defeat by Pakistan had largely been forgotten about, dismissed as 'one of those performances' that they had a tendency to chuck in every now and again. And how it was a good thing they got it out of the way in the league section. Subsequently they blew away Bangladesh, West Indies and Afghanistan. The Three Lions were in roaring form.
Or were they? In the wake of the loss to Sri Lanka, which must rank as one of the great World Cup shocks, it is easy to start to pick apart scorecards in those games to find possible problems. The West Indies match was close to perfection but did England's bowlers doze off against Bangladesh and Afghanistan? Shakib-al-Hasan, in the form if his life, tucked in with relish. And Afghans Gulbadin Naib, Hasmatullah Zazai and Ashgar Afghan were unruffled.
Perhaps we are looking too hard. Despite Jofra Archer's emergence as a world class pacer, England have long had history of carelessness in the field. They came into the tournament with the worst economy rate of all contenders in the last two years. With Adil Rashid struggling with a sore shoulder and Chris Woakes proving profligate and powerless, England followers are well used to the opposition wielding batting influence.
Under pressure
They are also used to England's batters destroying everything in their path. At the break against Pakistan, few would have been worried about England having to chase a World Cup record. Chasing, after all, is England's thing. They came into the tournament with an 85% win rate batting second in the previous two years. Theirs was the batting line-up that had revolutionised ODI cricket. The format had seen nothing like it.
But they lost. And from skinny odds too when Jos Buttler had the game in his pocket. England should have chased Pakistan's 348 from 288 for five. Joe Root and Buttler both made centuries. When Buttler was out, however, England looked panicked. The faces on the balcony were pictures of anxiety.
Last three perfect recipe
The same was true when Buttler was fifth out against Sri Lanka. Buttler is England's greatest strength. He could be their greatest weakness. Buttler is human and, like everyone, prone to mistakes. Like the ill-judged swish against Pakistan just when he was supposed to take England home. Team-mates, coaches and the patriotic hordes rely on him. So many times he has done the job that everyone else has forgotten how to do it. The job, by the way, is dealing with pressure.
This could be England's most obvious issue. Against Pakistan, and now Sri Lanka, they have lost their nerve because the pressure is unlike the sort they have experienced. It is all very well 'throwing in the odd stinker' in a largely irrelevant long-haul series every now and then (see West Indies before this tournament and away in Sri Lanka before that). Nothing happens, you see. There is no payback, no semi-final spot to miss out on, no step to trip on up to the hall of fame.
There's a cruel irony if England were to fail to win their first World Cup because of a loss of nerve. They have risen to the No.1-ranking precisely because they put pressure and expectation in a bin four years ago and forgot about it - out they have gone to try and hit the leather off the ball. They were brilliantly gung-ho, swinging wild and free. And sure, against the likes of Afghanistan, when they are back to hit and giggle stuff because there is no threat, they look every inch the world's best because they just don't care.
But when Lasith Malinga is spearing Yorkers into your toes it's not so easy. Moeen Ali, big hitter extraordinaire with all the hard work done, contributed 19 against Pakistan (and an awful shot to boot) and 16 against Sri Lanka. Moeen perhaps personifies England's contradiction best.
England may learn to deal with pressure. They need to examine it, understand it. Accept it. And that's why it could be an enormously good thing for their prospects that in their final three games they face Australia, India and New Zealand. The pressure will be more intense, ratcheted up like never before after Sri Lanka. It will be a good dry run for a semi-final against one of those three.
As for that implosion, it still looks extremely unlikely. One win will suffice, something that will probably be forgotten in the coming days before Australia on Tuesday. The hand-wringers and the insecure will work themselves into a state. But Pakistan and Sri Lanka will be forgotten. Hell, Australia lost two in 1999 and India one in 2011. England are allowed another two mistakes in the groups. Then it's a semi shootout.
Ed Hawkins P-L
2019: +20.28pts
2018: +23.53pts
2017: +12pts
2016: +18.1pts
2015: +38pts
2014: +31.5pts
2013: +25pts
Based only on available prices. Does not include back-to-lay in-running match advice or commission rate. Figures 2013-2016 on 1pt level stakes. New points system (0.5pt-5) introduced for 2017. Includes Hawk-Eye stats column p-l
Discover the latest articles
Read past articles