World Cup Betting: Back England for World Cup glory charge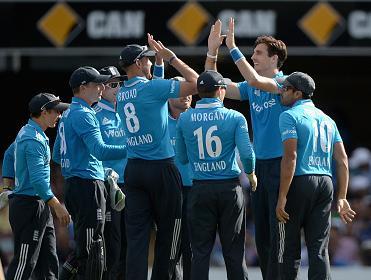 England have an attack to go deep into the World Cup
Yes, you read that right. Ed Hawkins is advising a bet on Eoin Morgan's side in the global tournament, which starts next month. But, he argues, they should stroll to the semi-finals by which time you can lay off
England are no doubt feeling smug. They look certain to qualify for the final of the Carlton Mid Tri-Series and have just thrashed the world champions, India. Suddenly the World Cup does not hold the fears that many thought it would.
But then England have always been quietly confident ahead of the global tournament. One could be forgiven for thinking this is odd. They are, as we are constantly told, underachieving in ODI. They can't play spin and they don't attack enough. 
Then they sacked their captain, Alastair Cook. It was a brave, some said stupid move. How does a team claim to have been planning carefully for four years for an event and then ditch their leader, their decision maker, just before the curtain goes up?
It could be that England, under coach Peter Moores, know exactly what they are doing. England? Know what they doing in ODI? Don't make me laugh. But wait. The nine-wicket thumping of MS Dhoni's holders in Brisbane was a glimpse of the masterplan.
You see England know they don't have to perform out of their skin at this World Cup. All that is required is the basics. Their pace bowlers need to run in and bowl line and length. And the wickets will do the rest.
That is what happened at The Gabba. The surface was alien to India. It had bounce, pace and lateral movement. It didn't just reduce the gulf between two teams (it would be folly to claim England are a better side than India in this format), it obliterated it.
In recognising that should happen again in the World Cup, England have been canny. We have said before that there is often an invention at these tournaments that take us by surprise - pinch-hitting way back when, the relay throw in South Africa - and this time around it could be something so staid and, well, dull it could be brilliant.
England are trying to win the World Cup playing Test-style one-day cricket when in the field. They will pick James Anderson, Stuart Broad and Steven Finn, safe in the knowledge that all three can bend it at pace. And it is all thanks to the rule change which allows a new ball at both ends. It could make England lethal.
Up until the sacking of Cook, they were trying to win it with Test-stytle one-day cricket with the bat as well. Cook would be the anchor. We thought this terribly bright, also, but concede now that his form was such that they may as well have a bloke - who could potentially blitz an attack- failing in half the time.
It gets cleverer. England have worked out that, to reach the semi-finals, something they have not achieved since 1992, all that is probably required is to win two games - against Sri Lanka in Wellington on March 1 and a quarter-final at the MCG. 
That first game against the Lankans is the most crucial. If they win, and they should given the poor form of Sri Lanka and, once again, the conditions will be heavily in their favour, then they should almost guarantee a finish higher than fourth in Pool A.
That means they will avoid South Africa, who should finish top of Pool B and therefore meet the bottom rung side from England's group. If England manage to finish third or higher, they could play one from India, Pakistan, West Indies or Ireland in the last eight.
In truth, it doesn't really matter what England do against Australia in their opener. They could get thumped, just as they did in Sydney in the tri-series. England are only interested in exploiting teams who find the seam and swing hard to handle.
And rather helpfully the ICC have ensured that England will definitely play in Melbourne in the quarter-final. They wanted to ensure Australia and New Zealand both had home ties so have fixed the draw before the action begins. The MCG offers that crucial seam and swing for England's pace trio. 
Would you fancy England against India, Pakistan, West Indies or Ireland at the 'G for a semi-final berth? That's the India they have just whooped in similar conditions, another sub-continent side in Pakistan who should also struggle with a moving ball (not to mention being without Saeed Ajmal), the basket case that is West Indies, who have left out Dwayne Bravo and Kieron Pollard or Ireland? Ireland may actually be England's toughest opponents.
It all means England have great potential for a back-to-lay. They are currently 11.010/1, a price which is unlikely to change dramatically unless they were to win the tri-series. By the time of a semi-final they could be half that.
No-one is expecting England to win the thing but it does highlight what bunkum it was from the mouths of Graeme Swann and Michael Vaughan in the summer that they had "no chance". On the contrary, they could only need to upset the formbook once to make the final. 
Ironically, a World Cup which offers England their best chance for years should highlight what is good and bad about them in ODI. They struggle without help for their bowlers. They struggle on slow, low, dusty surfaces. They shine against sides from the sub-continent on helpful wickets. It is why they have made two finals of the Champions Trophy when played at home.  
So this is no knee-jerk reaction to the Brisbane win. That reinforced their strength. Expectation is the issue. People expect England to continue that form. They won't unless they have the opportunity to play in similar conditions. 
New Zealand, likewise, represent a great trade. The draw has been kind to them as well and so long as they avoid finishing fourth and that probable slot with the Proteas, then there is nothing else in Pool B which should trouble them. 
The Kiwi set-up is similar to England. Tim Southee, Adam Milne and Mitchell McClenaghan are all capable of moving the new ball at pace as Sri Lanka are finding out at the moment in a seven-match series which the hosts lead 2-1. 
Brendon McCullum's side have been well-backed but the value is still there at 8.07/1, considering they have dipped below that mark in the past. Again, we expect them to reach the last four when it will be possible to trade out for at least half the points. 
Of course, both these strategies hinge on South Africa outshining everyone else in Pool B, a scenario which does not seem unlikely given their current series against West Indies. AB De Villiers smashed the world record for the fastest century (149 from 44 balls) in their most recent battering.
South Africa can usually be relied upon to be the big bully in the small playground and they will relish putting down a marker before the knockouts begin. We have written before how much we like them and backed them at 6.05/1 in October. They are now 4.77/2.
We expect to trade out that position at the semi-finals because we have spotted a chink in their armour. Vernon Philander is batting at No 8, a spot too high for a bowler who does not have the stats to bat there. What if South Africa were six down for 200 chasing 280-290? The 'choker' tag is a little tired these days but there might not be very many calling out to get with them in such a situation. 
Recommended Bets
Back-to-lay England at 11.010/1 to win World Cup
Back-to-lay New Zealand at 8.07/1 to win World Cup
Ed Hawkins P/L
2015: +£1.40
2014: +325.10 (ROI 28.5%)
2013: +250.80 (ROI 25%)
To £10 level stakes, based only on available prices
Follow Ed on Twitter @cricketbetting
Discover the latest articles