England Cricket Betting: Ravi just needs to relax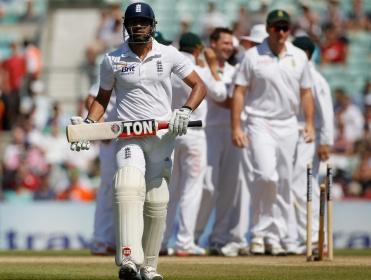 Bopara departs but England should stick with him
England's number six batsman failed again at the Oval but, rather than getting the knives out, perhaps the selectors should take the pressure off the Essex man and let him show what he can do. Frank Gregan explains...
"There will be cries to bring in Steve Finn or to ditch Bopara for the second Test - England are 2/13.05 to win - but sometimes it pays to give those who have been on the end of a hiding a chance to even the score."
Graeme Smith could have been forgiven for thinking that the first Test at the Oval was not going to be the best way to celebrate the imminent birth of his child as well as his 100th Test match. England were 271 for three on day two and a big total looked likely, declaration targets were discussed and it was a case of 'business as usual' as far as the number one Test team in the world was concerned. The South Africans were expected to be severely weakened by the loss of Mark Boucher. They looked in trouble but then everything changed...

Alastair Cook dragged a thick inside edge into his stumps which brought Ravi Bopara to the crease. 'Pressure' is a word used much too frequently in professional sport, but when it gets to you there's not much chance of performing to the best of your ability (just ask golfer Adam Scott!). It seems that whenever Bopara heads to the crease with three lions on his shirt the pressure is on and, once again, he succumbed. Indecision caused him to misjudge a bouncer from Dale Steyn and dangle his bat in mid-air which gifted a catch to AB de Villiers. Graeme Smith's day had just gotten a whole lot better.

Some things are just meant to be. The Proteas skipper then went on to become the seventh player to make a century during his 100th Test and witnessed Hashim Amla score a tremendous triple hundred to post the highest ever score by a South African as his team notched up an incredible 637 for two before declaring. Smith and Bopara were a tale of contrasting fortunes, an international skipper at the top of his game and a player desperately trying to establish himself in the side knowing that the trap door beckons if he doesn't produce.

Bopara's Test got worse when he decided to play at a ball that he should have left during the second innings. It was a poor decision and led to his demise as an inside edge crashed into his stumps. It was a ball he should have left alone, it was a poor percentage shot given the team's situation but ultimately it was another opportunity that the Essex man failed to take.

He keeps getting chances but they're sporadic and, as soon as he fails, the knives are out. That's fine, if he's not to be the man then ditch him and look elsewhere, but who else is there? Eoin Morgan has had his chance and only the most sadistic would like to see Jonny Bairstow thrown into the pit with the South Africans. Bopara is a class act and somewhere along the line the pressure has to be released, the simple solution being for the selectors to take their hands off the ejector button and say: "The number six berth is yours, not just for this series but for the next one and the one after that. Relax and show us what you can do."

England were walloped, absolutely trounced and, having only managed to take two wickets, there should be more aspersions cast at the bowling than batting. England have been formidable at home, unbeaten in two years and they haven't become a poor side in the last five days. There will be cries to bring in Steve Finn or to ditch Bopara for the second Test - England are 2/13.05 to win - but sometimes it pays to give those who have been on the end of a hiding a chance to even the score.

South Africa are 4/71.58 to win the series with a draw at 3/14. The Proteas know how to win here, they did so in 2008 but this series isn't over and despite South Africa's superiority in the first Test England are not out of it. They've shown in the past that they can respond to adversity and at a price of 13/27.4 to win the series it could prove profitable to keep the faith.

That's the buzz phrase, 'keep the faith', and if England are to solve their problem number six spot the selectors and the English supporters need to stick with Ravi Bopara.