Cricket Betting: England - Back, Lay or Okay?
Bat and ball

/ Andrew Hughes / 24 August 2009 / Leave a Comment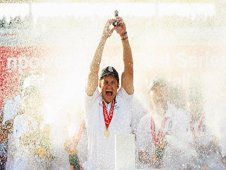 Zen Master Strauss and the little urn
"When Achilles gets his tendon fixed, he should be straight back into battle, preferably at number three, if he wouldn't mind."
As the Oval dust settles on a thrilling Ashes series, the intelligent punter is already looking to the future. Later in the week, we'll be examining the shattered Aussies and asking where they go from here. But let's start with the victors. With a tough tour of South Africa coming up this winter, which of the England players are pulling their weight and which are getting a free ride? Read on as we take a long hard look at each of the members of this Ashes winning squad and ask: Back, Lay or only Okay?
Alastair Cook
Lay. If you are not a believer in continuity of selection then Alastair Cook represents Exhibit A for the prosecution. When not caught fishing outside off, he was falling over straight balls. Time to wipe down the selectoral guillotine once again.
Andrew Strauss
Back. Calm under pressure and his rejuvenated batting kept the ship afloat all summer. Still has a Zen-like awareness of the location of his off-stump and has rediscovered his love of the cover drive. Deserving of an MBE, if he didn't already have one.
Kevin Pietersen
Back. Preposterous dismissals at Cardiff and Lord's had all the haters crowing. But only his inability to walk prevented the selectors scribbling his name down at the top of the sheet for Edgbaston. When Achilles gets his tendon fixed, he should be straight back into battle, preferably at number three, if he wouldn't mind.
Ian Bell
Lay. A one-man batting collapse, Tinker had been sent unto the wilderness in search of some cojones, but was summoned back before his quest was complete. A couple of delicate fifties should fool no one. Stamp him with an 'F' for fragile and return him to the shires forthwith.
Paul Collingwood
Okay. Superhero Colly emerges from his slumber in his nation's hour of need, does the business, and then disappears. A little Geordie Superman in Cardiff, he was a ginger Clark Kent thereafter. Has been hanging on for some time, but has very strong fingernails.
Ravi Bopara
Back. At first glance, an average of fifteen and a top score of thirty-five do not look impressive. At second glance, it looks even worse. His flashy technique was exposed against the new ball, but techniques can be fixed. Has the talent and the attitude and deserves another go.
Jonathan Trott
Back. Well done to Geoff Miller, Ashley Giles and the other one. Cocking a deaf ear to the Ramprakash-obsessed media, they stuck with little Trotter at the Oval and the plucky little South African Warwickshire batsman scored a soothing century. Has earned his place and as a bonus, will annoy the hell out of the South Africans.
Matt Prior
Back. Averaged thirty-two with the bat, but more importantly, seems to have exchanged his iron mittens for some catching gloves. Not sure he is the long-term answer at six, but there will be no more talk of James Foster for a while.
Andrew Flintoff
Back (if only). A fiery bowling spell at Lord's and some splendid biffing disguised an ordinary farewell series, statistically. But who cares about stats. Big Freddie was the heart of the England team, the colossus with wonky ankles. Pity the first young player to be labelled 'the new Flintoff'.
Stuart Broad
Back. Struggling for rhythm and identity, Bambi settled on bowling a McGrath-style length and at the Oval, got McGrath-style results. Eighteen wickets and averaging a shade under thirty with the bat. Could he be the new Flintoff?
Graeme Swann
Back. Fourteen expensive wickets but finished fourth in the batting averages and bowled the ball of the series at Edgbaston to castle the Aussie captain. Exuberant and aggressive, his international adventure continues.
James Anderson
Okay. Daisy has his supporters in the media but aside from one burst at Lord's in helpful conditions, was very expensive. A one-trick pony, he may get some atmospheric help in Durban so should probably go to South Africa.
Monty Panesar
Lay. A selectoral cock-up. Team England had asked Mushtaq Ahmed to add some variety to Monty's vanilla bowling, but then called him up mid-experiment, with predictably disappointing results. Time for Adil Rashid.
Graham Onions
Okay. Perhaps unfairly jettisoned after Headingley, he finished second in the bowling averages and deserves another chance. The suspicion remains that he is a little pedestrian at international level but it is too early to write him off.
Steve Harmison
Lay. Lumbered around at Headingley and The Oval, taking a couple of easy wickets when the Ashes were already won. Enough is enough and there can surely be no more believers in the myth of Harmy.