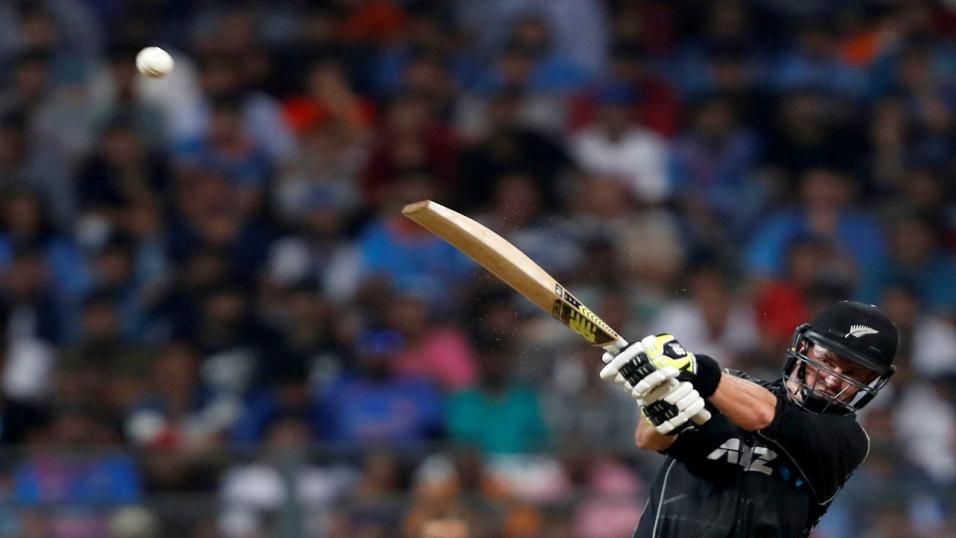 Munro's effort was wasted against England
Ed Hawkins previews the Trans Tasman Final from Eden Park, Auckland early on Wednesday and - grudgingly - sides with the hosts...
"We'd feel like right mugs if the Kiwis got dicked again, having surmised that they don't seem capable of winning from any position. Maybe if we keep stakes low we'd find it easier"
New Zealand v Australia
Wednesday, 06:00
TV; live on Sky Sports
New Zealand
It is easy to forget that New Zealand lost their last outing. Sure, they qualified for the final but they were still beaten by England by two runs in another example of them snatching defeat from the jaws of victory.
Prior to that match we had written they were no longer the great underrated outfit of the age, considering they failed to defend a world record 243 against Australia. We thought they could sink no further.
Well, they proved they are at a ridiculously low ebb. Having conceded 194 - reassuringly profligate again, then - they looked to be cruising to victory after a rapid start by Colin Munro. They had 100 on the board at the start of the 12th over. They needed ten over off the last three with seven wickets in hand. But they lost.
Their misery was summed up by a returning Mitchell Santner, the No 1 bowler in the world. His two overs cost 32. So this is a confused Kiwi bunch who are also unsure of their batting line-up. Kane Williamson is up and down the order like a yo-yo.
Australia
Australia won all four of their league matches chasing. And they did so with ease. The margin of victories have been: seven wickets, five wickets, seven wickets and five wickets.
The latter, of course, is the extraordinary history-busting target of 244. It is even more extraordinary when you consider they did it with seven balls to spare. So New Zealand could have got another 12 runs and they would have still probably gone down.
David Warner and D'Arcy Short were the architects of that bolter with 59 from 24 and 76 from 44 respectively. Warner's return to form could not have been more timely and answers the one question mark they had about their batting.
Before, it seemed sensible that he was dropped in favour of opener Aaron Finch. But Finch blasted 36 from 14 from No 5 to get them over the line.
AJ Tye aside they are not particularly special with the ball but that probably doesn't matter when they are so strong with the willow.
First-innings runs
The last 13 first-innings scores at Eden Park read: 243-2/201-1/185-1 /171-1/142-2/189-1/214-1/165-1/159-2/143-2/155-t/184-1/115-2. That's an average of 175. It's been a batter's paradise then in the last four with the 243 chase taking the biscuit this month. Win the toss, bat first. Do Kiwis have the guts?
Match odds
New Zealand are [2.6] and Australia [1.6]. We are not surprised by those prices. That's what we expected them to be.
But are they fair? Well, probably not. By the letter of the value law we should, of course, be taking on Australia at such a prohibitive price. Especially with a toss bias.
Seven from nine matches have been won by the team batting first under lights. That's pretty hefty. One of the odd ones out, though, is that world record by the Aussies. The rational view is to treat it as an outlier.
That doesn't mean we have to, though. We'd feel like right mugs if the Kiwis got dicked again, having surmised that they don't seem capable of winning from any position. Maybe if we keep stakes low we'd find it easier.
Top New Zealand bat
Martin Guptill notched 105 from 74 balls at Eden Park. At the halfway point he must have been composing his man of the match speech. Before that innings he averaged 47 there. Guptill also top scored last time out against England so his form is top-notch. He is [3.35]. A more tasty price is Colin de Grandhomme at [7.0], given his ability to be move up the order.
Top Australia bat
There is not much to separate the top three in the order. Warner is [4.3], Short is [4.4] and Chris Lynn is [4.1]. We are quite tempted by Finch at [7.4].
Ed Hawkins P-L
2018: +8.02
2017: +12pts
2016: +18.1pts
2015: +38pts
2014: +31.5pts
2013: +25pts
Based only on available prices. Does not include back-to-lay in-running match advice or commission rate. Figures 2013-2016 on 1pt level stakes. New points system (0.5pt-5) introduced for 2017. Includes Hawk-Eye stats column p-l
Recommended bets
Back New Zealand if they bat first at [2.6] (0.5pts)