Hawk Eye on Australia v South Africa Second ODI: Little six appeal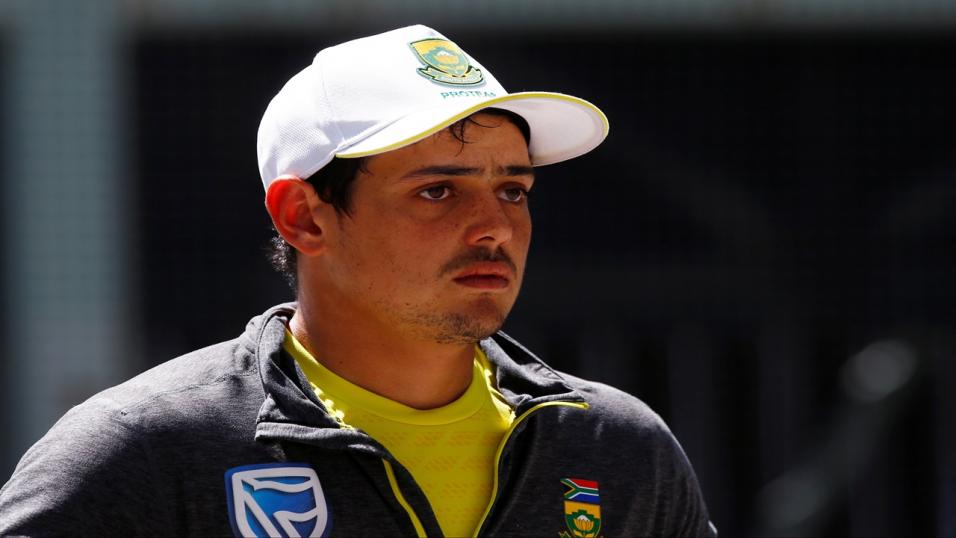 De Kock has a reputation for big hits
Ed Hawkins looks at the side markets for game two from Adelaide early on Friday and finds two strong bets
"If both teams play to their average we can expect eight sixes. Betfair Sportsbook go 5/6 under 9.5 sixes in the match"
Edge on sixes markets
It wasn't that long ago that Australia and South Africa were the two best sides in the world in ODI. They were fiercely competitive and had a knack for being ahead of the trends.
Times change, though. Australia are world champions only in name and have lost a record seven matches in a row. South Africa are desperately trying to find a combination which will make their much-trumpeted 'Vision 2019' project something more tangible than marketing gobbledegook.
They don't have much on Australia in that regard, though. Justin Langer, the Australian coach, has come up with a new mantra. It's called 'Elite Honesty' in reaction to the ball-tampering scandal. Why not call it 'don't be a cheating ****'?
As both teams have slipped so has their respective power games. This is the trend in ODI. Big totals, boundaries, maximums. England and India put Australia and South Africa in the shade.
The timid natures are revealed when we start to look for an edge on the fours and sixes markets. Australia average 4.3 sixes per match in the last 12 months. Betfair Sportsbook go 4/6 Under 5.5 for game two. In the study period they have failed to bust that mark seven times in 11. It's the same ratio for fours when the mark is under 22.5, which is available at 11/10.
Spectators are in less danger with South Africa at the crease, despite the reputation of Quinton de Kock for big hits. They average just 3.6 sixes per match in the last 12 months. Sportsbook's under 4.5 at 5/6 seems a good bet when you consider that in 12 of those games they have come in under.
If both teams play to their average we can expect eight sixes. Betfair Sportsbook go 5/6 under 9.5 sixes in the match. That figure has been busted only once in the last seven ODI at Adelaide.
Head's up
Travis Head hasn't quite established himself as an international batsman of repute. When he walks out to bat on his home ground, he is likely to feel confident of making a step towards that.
Head is a bit of a homer it would seem. He has played four internationals on his own turf and scored 256 runs. That's an average of 64 every time he goes to the crease.
Admittedly the study size is small. But given that he averages 29 (not including not outs) in his entire Australia career, then something has to be going on. The most likely explanation is that head is not in his head. He's relaxed, he feels secure and confident.
Prices of 4/1 (Betfair Sportsbook) then that he top scores for Australia will appeal, particularly as 11/4 jolly Aaron Finch has a sequence of recent scores which read: 5-1-3-0-1. By the letter of the law, though, Head is nowhere near a 4s chance so his runs quote might appeal more.
Sportsbook go 5/6 over 25.5 at 10/11. Given his record at the Adelaide Oval - and indeed his career average - it is not a risky wager.
Nice Ngidi
We will keep faith in Lungi Ngidi for top South Africa bowler, despite being outpointed by Andile Phehlukwayo in Perth. Ngidi and Dale Steyn looked like sharing honours with two apiece before Phehlukwayo mopped up.
Ngidi is 10/3 for honours but we have as favourite on recent form for winning this market. Steyn looks a threat at 3/1, though. Imran tahir gets jolly status at 11/4 as the oddsmakers nod to Australia's horrible record against spin.
Hawk-Eye P-L
2018 - points p-l: -2.29 (72 points staked)
2017 - points p-l: +5.29 (26 points staked)