Ed Hawkins: Don't be fooled by bluster about Babar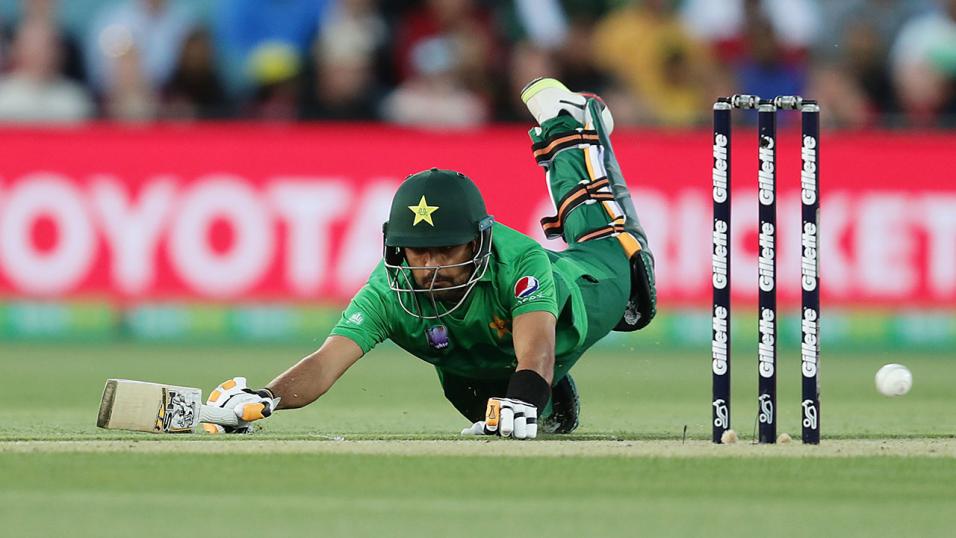 Babar has been brilliant on limited overs
Ed Hawkins urges calm as the Babar Azam hype starts to get out of control ahead of Pakistan's two-Test series against Australia, which starts on Thursday...
"There is no doubt that Babar can play. The booming off-drives played in that practice match in Perth reverberated around social media"
Before a ball has been bowled in the Australia v Pakistan two-Test series, Babar Azam has been talked up as rivalling Steve Smith and Virat Kohli for greatest batsman on the planet. Nothing quite stirs our interest like a player being ludicrously over or undervalued, so we thought it worth investigating.
Hussey gets carried away
Mike Hussey, not normally one for hyperbole or attention-seeking statements, was the man who made the call. The former Australia Test batsman was rather taken with the 157 Babar stroked against Australia A in a warm-up this week. No doubt, so were many punters. But Hussey seems to have got carried away.
"I honestly believe this guy can be in the same conversation when we start talking about the best players in the world," Hussey said. "We start talking about (Virat) Kohli, Steve Smith, Kane Williamson, Joe Root gets floated around.
"I think if he can start putting together some big hundreds like this in the Test arena, he's that good ... he's a brilliant, brilliant player."
Perhaps the real clue as to how serious we should take Hussey's view was the mention of Root, a man who would have cost you more than £1,000 to ten-pound level stakes on the top bat markets over the last couple of years and whose form has fallen off a cliff.
Comparison to Kohli and Smith is, to put it mildly, premature when it comes to Babar who is primarily a one-day player hoping to make the transition to the toughest level. Babar is a God when it comes to T20 cricket. He is the best in the world and in terms of top-bat wins, has the greatest hit rate ever seen of 55%. Yet even in ODI, where he also gets top billing, he has been put in the shade by the bespectacled Imam-ul-Haq.
The point is, as Jason Roy found out (we can do unfair comparison, too, if not slightly more relevant), one-day hitters can be found in Poundland. Test runmakers are rare curiosities which cannot just be picked off a shelf.
Babar must improve Test average before comparisons with greats
Babar, 25, has played 21 Tests and has not busted the all-important 40 mark for average yet. To make it to the top table he is going to have to add at least 15 on to the mark to make Hussey some sort of Nostradamus.
We're not saying he is not going to do it but the notion that Pakistan come into the two-Test series boasting a run machine who can bridge the gulf between his team which is rated at 6s and an opposition at 1/4 is fanciful. It not only gives a false impression to punters but might add to unnecessary pressure to a man finding his way.
Sportsbook also seem to have been swayed. They go 2/1 about Babar top scoring in Brisbane from Thursday, a price that sometimes Kohli doesn't even get as small as. And one that Smith didn't frequent that often until his glorious Ashes summer. Smith, by the way, is 6/4. There is no evidence that Babar should be rated as highly. He has four wins in his career.
There is no doubt that Babar can play. The booming off-drives played in that practice match in Perth reverberated around social media. He has the stamp of quality from the naked eye. Watch him and you will spot that every movement is effortless, fluster free. He has all the time in the world to choose his shot and pick his spot.
There will be times, in surely a lengthy and run-laden career, that Babar will toy with bowlers and betting him for runs and watching him get them could rank as one of life's more joyous past-times. This was also said of the likes of Mark Waugh, Michael Vaughan or Ian Bell. All three possessed cover drives like honey falling from a spoon.
Will Babar attain world-beating consistency?
Strokemakers, though, rarely have consistent periods of domination. They don't manage to put down daddy hundreds Test after Test, like a Smith or Kohli because they have a foible which makes them vulnerable. They like the sound of their own bat on ball, too much and play one shot too many. It was why Vaughan, before arriving in Tests, didn't have an average of more 40 or more in first-class.
Babar, who has played the majority of his career at numbers five and six, could well mature into that type of player and fingers are crossed for Pakistan that he does. They need another Younis Khan or Mohammad Yousuf, who, actually, in his fledgling career had the sort of flair that Babar shows before hiding away some strokes in the locker.
One man who could trump Babar is Azhar Ali, the captain. Those with decent memories will recall is 406-run haul in three matches in Australia in 2016-17. He goes off at 7/2 for top bat in the first innings and has six wins in 21.