Australia v India 2nd Test in-play advice: Get on the tourists at a big price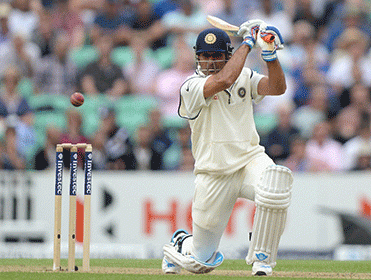 Can Dhoni lead India to an unlikely win?
Ed Hawkins gets his calculator out to reveal average run rates, numbers of overs needed to take a wicket and average third- and fourth-innings scores to reveal the value at The Gabba from day four..
"India are a value wager. All they need do is the norm. Be bog-standard. Average. Reliable. Can we trust them?"

Recommended Bet
Back India at 6.806/1
The second Test between Australia and India could be heading toward another thrilling finish on a par with game one, when the tourists spectacularly imploded. This time it could be Australia who are under the pump. So to try to decipher what could happen, and to assist in any in-play wagers as prices flip flop on a potentially mad final day with all three results possible, the numbers have been crunched. 
After day three, Australia are 1.728/11 for victory with India 6.86/1 and the draw 3.65
What is the wicket like?
The wicket at the Gabba stays firm and true if third-innings scores in the last ten years (nine Tests) are anything to go by. In that time, only four sides have been bowled out. There have been some absolutely whopping totals. 
Last year Australia made 401 for seven against England - and that after both sides had been bowled out cheaply in first dig. And, of course, England piled up 517 for one in 2010. In total, the five innings when the batting side were not bowled out produced a cumulative of only 16 wickets. That was an average of one wicket every 27 overs. Or, to put it another way, you would need 270 overs to take ten wickets.
So it could be argued that the Gabba wicket is one which gets better with age. The confusing thing, despite those numbers above, is that there have been only two draws in our study period. 
It should be noted, however, that the average total (all out or otherwise) is 201 since 2000. The average all-out total (more relevant considering India are likely to be bowled out) is just 185.
Not good for MS Dhoni's boys. . You can lay India for 350 or more at 1.991/1 and 375 or more at 2.6813/8.

How do India fare when under pressure?
India have been involved in five high-scoring first-innings Tests since 2000. We have defined 'high-scoring' by this Brisbane Tests insofar that our parameters have included India must have batted first, they must have scored 400 or more and they then must have conceded 500 or more.
It will hearten their faithful to hear that they drew all of them, and two of those came against Australia. When these two dig in, they dig not for victory but for stalemate.
Of more importance, though, is the size of first-innings lead. That is the crucial number. Australia enjoyed a first-innings lead of 97. That is scoreboard pressure. Of course it would be unwise to include massive differentials in first-innings, so by looking for between, say 70 and 150, back to 2000 we can get an idea of how India hold up.
It has happened in eight Tests in the last 14 years and they have lost four, drawn three and won one. That suggests Australia should not be as short as the 1.728/11 they are currently but that is probably too simplistic a rationale.
What will worry Indian supporters is the fact that on the last six occasions they have batted first, they have conceded a first-innings lead in each of them, losing three, winning one and drawing one. 

What about Australia?
They are ruthless. When the Aussies get on top of you they don't let you get back up. When Australia take a first-innings lead in a home Test, they do the job. And it is important to filter the results to the conditions. Really, there is so much to gain from rejecting Tests in other parts of the world when trying to uncover some value.
They make stark reading for India backers.  Only once since 2000 have Australia lost a home Test with a first-innings advantage. That was in 2003 when they were beaten by England in Sydney. The margin of lead? One run.
Overall, their record from 30 Tests where they enjoyed supremacy from the third-innings is: won 25, drawn three and lost one. They are merciless. 

What will happen in the final innings?
There have been 19 sides who have won fielding first from a possible from 42 wins at The Gabba leading one to reckon, again, there is little deterioration in the surface. Wait. No side has won chasing in the fourth innings since Australia made 74 without loss against Pakistan in 1999.
Indeed, runs are hard to come by. No side has made more than 200 to win since Australia's 219 for two against West Indies in 1975. And the highest successful chase is the hosts' 236 against the same opposition in 1951.
The average all-out score in the last eight occasions is 211. That gives an indication of how tough it is to score runs. The run rate in the fourth innings since 2000 is 3.5.
As for India, they should be taking wickets regularly if they are to win. The average, again since the Millennium, is a wicket every seven overs.
Those last two stats should prove useful in-running to frame your wagers around. You can use either to know exactly where the batting and bowling team should be respectively in the event of a tense finish.

What will happen
On average, since 2000, a wicket in third-innings falls around every ten overs. So we can guess that India will bat for another 90 overs which, rather helpfully, is the whole of day four. At their current run rate of 3.08 that will give them a total of 348. At the historic run rate (since 2000), they will score 391. 
That seems a little far fetched (remember the averages above), especially as they have already lost one wicket. So we will plump for just shy of 350. That will leave Australia a record-breaking 251 to win in 90 overs. That is 2.78 an over, well below the average. However, don't forget how regularly wickets fall and the average score in the fourth dig. India are a value wager. All they need do is the norm.  Be bog-standard. Average. Reliable. Can we trust them?
Recommended Bet
Back India at 6.806/1
Ed Hawkins P/L
2014: +350.10
2013: +250.80 (ROI 25%)
To £10 level stakes, based only on available prices
Follow Ed on Twitter @cricketbetting