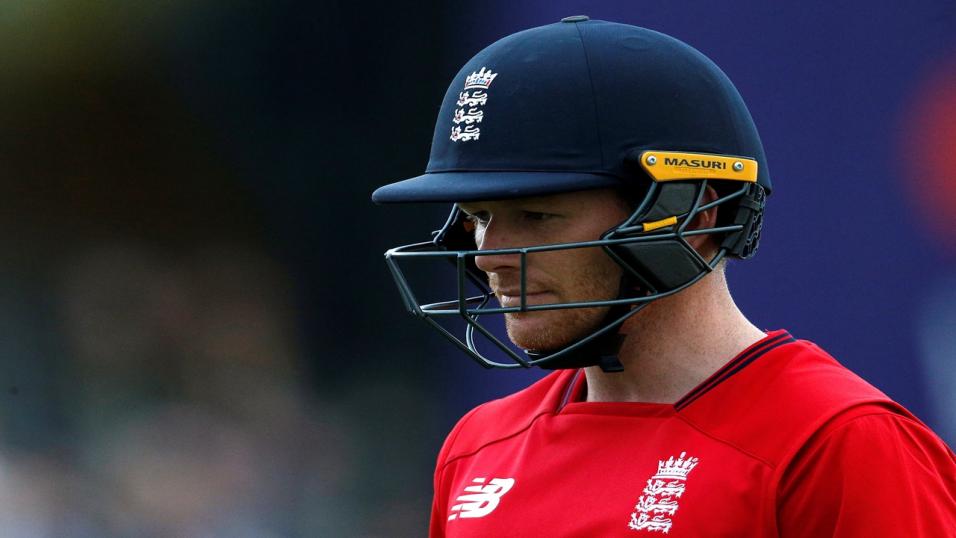 Morgan takes the pressure off Root
Ed Hawkins previews the ODI series and says the Ashes result should not have an impact on the shorter format
"In the last six dual series only Australia in 2013-14 have one both contests - the Ashes 5-0 and the ODI 4-1"
Such was the toil and torture of England's Ashes humiliation that Joe Root appeared mentally and physically broken in the fourth-innings of the Sydney hammering. His doubled-up frame and green hue personified England's malady.
So the prospect of a one-day international series to follow the 4-0 beating could be met with as much appetite as a gastroenteritis sufferer being offered a greasy full English. Pass the bucket. And that's not just the players.
Another noncompetitive outing will do little for pundits, punters and the general public who are losing faith in these two old rivals producing something worth watching. You need the punchbag to fight back occasionally.
Test series win is usually followed by ODI series loss
Thankfully, if history repeats itself the ODI leg could prove just the tonic. Game one of five begins in Melbourne on Sunday with the prospect of the roles being reversed better than the series odds suggest. Australia are [1.51] favourites - only slighter bigger than they were to win the Ashes - with England [3.65] and the draw [9.0].
It is unusual for the Ashes victor to continue its dominance in the ODIs that follow. In the last six dual series only Australia in 2013-14 have one both contests - the Ashes 5-0 and the ODI 4-1. Indeed, the rule has been: win the Ashes, lose the ODI.
It matters not a jot the size of the beating, too. In 2006 England were whitewashed but recovered to win the Commonwealth Bank Series. When the boot was on the other foot in 2010 and 2013 Australia hit back from 3-1 and 3-0 losses to win the ODI series 6-1 and 2-1.
The chief reason for this, naturally, is that the two formats are vastly different. They are not as nuanced and one, or two, players can win a game on their own. Personnel has also tended to differ considerably. These are days of different folks for different strokes.
Not much scar tissue in the ODI camp
England supporters will be relieved to hear that there are only seven Ashes members in a squad of 16, although the likes of Dawid Malan, Tom Curran and Jake Ball are unlikely to be as scarred as poor Root. It would surely make sense if the Test captain was given time off to recover instead of being put straight back into the firing line, even if Eoin Morgan's captaincy gives him a chance to withdraw slightly.
It is also true that England are a better ODI team than they are Test team. The former, for example, can win away from home. They have eight wins in 14 and since the ignominy of the 2015 World Cup their hosts have always known they have been in a fight. They lost 3-2 in South Africa and 2-1 in India while winning in Bangladesh (no mean feat) and West Indies.
Strangely for the current context it is Australia who seem to be playing catch-up with England in terms of style. The Aussies would like to replicate England's ultra-aggressive batting approach instead of appearing to play with fear.
Whereas England just keep attacking, Australia have gone in to their shell and their series defeats in India and New Zealand were characterised by a middle-order which didn't know whether to stick or twist, resulting in game-defining collapses. They have won only one of their last eight matches.
Unlike England, Australia will rely on their Ashes winners. Steve Smith and David Warner will be expected to carry the batting, Mitchell Starc, Pat Cummins and Josh Hazlewood the bowling. Their bodies and minds will feel lighter for winning but there comes a time when the number of darts between the wickets and overs in the legs becomes an issue.
Tye and Jhye the key men for Australia
It would be a major surprise, for example, if Australia picked their three pacers for each of the five matches.
So unlike the Ashes this series could actually be about Australia's strength in depth with the ball. AJ Tye, the Perth Scorchers bowler, is unrivalled in T20 and his team-mate Jhye Richardson is learning his tricks. Whether they make the step up could decide the outcome.
We should also expect runs. That's the England way. They have batted first and made 300 21 times in the last three years. But it is no guarantee of victory. Their bowlers can go round the park, having lost six.
A thrilling contest awaits then. Which is more than can be said of the Ashes. Likewise, betting each side for a 3-2 win - Australia at [2.7] and England at [4.1] - is not the folly of five-day thrashings.

Australia Ashes/ODI result
2015
L 3-2, W 3-2
2013-14
W 5-0, W 4-1
2013
L 3-0, W 2-1
2010
L 3-1, W 6-1
2009
L 2-1, W 6-1
2006
W 5-0, Eng CBS
Ed Hawkins P-L
2018: +2.09
2017: +14.5pts
2016: +18.1pts
2015: +38pts
2014: +31.5pts
2013: +25pts
Based only on available prices. Does not include back-to-lay in-running match advice or commission rate. Figures 2013-2016 on 1pt level stakes. New points system (0.5pt-5) introduced for 2017. Includes Hawk-Eye stats column p-l