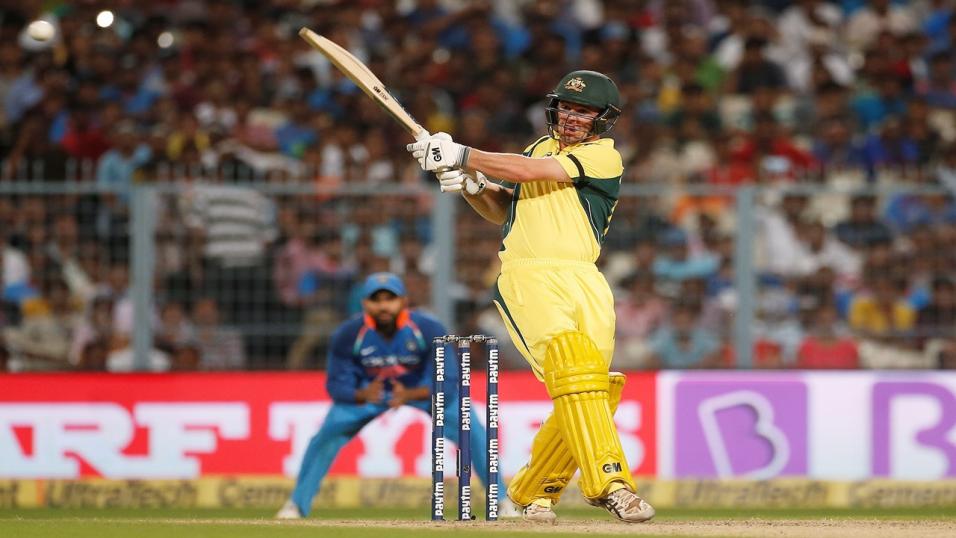 Head must keep his opening berth
Ed Hawkins previews the final game of the seires from Perth's new stadium on Sunday and says Starc's inclusion is still important...
"With Starc, Australia win 71 per cent of the time. Without him, that drops to 53 per cent. That's a major dip"
Australia v England
Sunday 28 January 03.20
TV: live on Sky Sports
Australia
Australia, clearly, have forgotten what it feels like to win. Their success in Adelaide on Friday was only their second since exactly a year ago. Since then they had played 12 lost ten.
A three-wicket win then was very welcome. Still, it should have been by a much bigger margin and Australia's inexperience when in the ascendancy showed when they allowed England to recover.
Inexplicably, Steve Smith took his foot off the throat when England were a barely believable eight for five. Eoin Morgan, Moeen Ali, Tom Curran and then an unstoppable Chris Woakes gave the tourists something to bowl at.
Only Travis Head, on his home ground, enhanced his reputation. Otherwise Australia's foibles with the bat appear to remain. David Warner is on a horror run and, if Aaron Finch is fit, they may as well rest him.
Mitchell Starc was rested for Adelaide, as predicted. It remains to be seen if he plays here. If he does, they are considerably more potent with him in the line-up.
England
One of the consequences of England's bold, attacking approach in ODI is that, when they come across a sticky wicket, they are not reliable. It happened in Cardiff in the Champions Trophy in the summer. And again in Adelaide when the ball swung and seamed.
They'll take that, though. In the past in this format England were only reliable if the wicket did something for the bowlers and they rarely troubled the latter stages of tournaments. In Perth they should be more comfortable.
Liam Plunkett remains a doubt with a hamstring injury. They could replace Tom Curran with David Willey as it gives them more pace and a left-arm variation.
Alex Hales's spot could also be in doubt. He has had a poor series, scoring only 65 runs with a strike rate of 79. He's a blaster so when returning numbers like that there doesn't seem much point in him. Dawid Malan stands by.
First-innings runs
Not much to see here. We're guessing along with everyone else. This is the first match to be played at Perth's new Optus Stadium. If you didn't know it was Perth, though, from the tv cameras looking at the wicket, it's just another concrete bowl. Could be The Gabba. Could be The 'G. It would be a surprise, though, if the wicket did not favour batters. There's more on the state of the pitch here.
Match odds
In our preview for game four we said England were due an off-day. Unfortunately we caveated an Australia wager with Starc being the man to cause it. He is still important to proceedings here, though.
With Starc, Australia win 71 per cent of the time. Without him, that drops to 53 per cent. That's a major dip. So with Australia on a bad run and the odds as they are, it wouldn't make much sense to be betting on Australia if he was watching on the telly.
England are unlikely to be as poor again. And it is true that they won the first three games even with Starc threatening their toes. We do have to be wary that they could take their foot off the gas with the whitewash chance gone. At the start of the series we talked up the 3-2 scoreline.
Still, the number we were prepared to get with Australia was [1.83]. That isn't available with no better than [1.75] chalked up. England have to be the call at [2.3].
Top Australia runscorer
Warner's run is extraordinarily bad by his standards. It's now 58 runs in four at an average of 15. Smith is doing a bit better but 90 runs at 22 hardly inspire the bettor. Odds of 10/3 and 6/5 with Betfair Sportsbook hardly inspire. Finch is 3/1. Mitchell Marsh, in his home state, is 17/2. Head, following his 96, will surely continue in the opening berth. He is 4/1. We go into more detail on this market here, suggesting Glenn Maxwell is a wager.
Top England runscorer
We expect England's hitters to be able to play through the line with more freedom so Jason Roy comes into the picture at 7/2. He is due a score having failed three times now after his 180 in the opener. Joe Root could also bed down for a score at 3/1. Jos Buttler is 7/1, which always looks big. Likewise Moeen Ali at 17/1. Woakes is 30/1.
Ed Hawkins P-L
2018: +14.28
2017: +14.5pts
2016: +18.1pts
2015: +38pts
2014: +31.5pts
2013: +25pts
Based only on available prices. Does not include back-to-lay in-running match advice or commission rate. Figures 2013-2016 on 1pt level stakes. New points system (0.5pt-5) introduced for 2017. Includes Hawk-Eye stats column p-l
Recommended bets
England @ [2.3] (2pts)