Ed Hawkins: Pietersen takes one step forward, two back in Ashes bid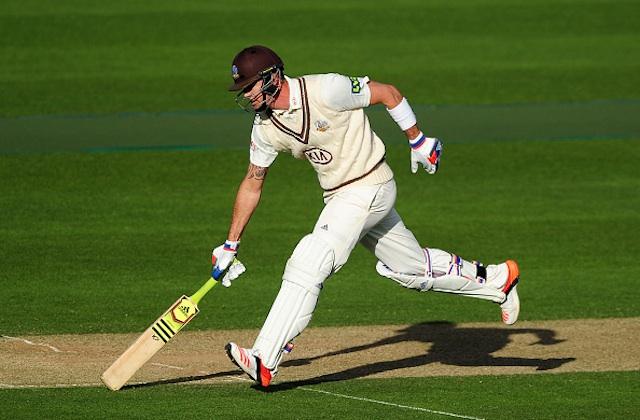 Pietersen wants to face Australia
Our cricket correspondent wonders whether England have to bring back KP to stand a chance in the Ashes and laments the lack of noise about the T20 Blast...
"Trott's demise frees up a batting slot and the probable removal of Moores is another obstacle shunted out of the way"
Kevin Pietersen will probably reckon his campaign to be returned to England's Test team has had an unexpected boost in the last few days.
First, there was the retirement of Jonathan Trott after the Warwickshire batsman discovered that, even against a weak West Indies attack, he could not cut it at the top level any more.
Then there wasPeter Moores's sacking, which was announced on Saturday having first been leaked to three national newspapers. Let's hope Moores didn't find out via those papers.
With one sweep of the brush then, Pietersen's path has been cleared to make the sort of glorious, swaggering re-entrance that he craves. Trott's demise frees up a batting slot and the removal of Moores is another obstacle shunted out of the way.
The latter has seemed inevitable for sometime. Since Colin Graves, the new ECB head honcho, removed Paul Downton from his role as managing director of the England team, Moores has been waiting for the axe to fall.
Graves' public statement that Pietersen could return to the England team was intended to unsettle Downton and Moores, who came as something of a package. Indeed, one could be forgiven for thinking that Graves is rather desperate to get Pietersen back considering he is chucking out his enemies.
Moores and Pietersen fell out in 2008 and both lost their jobs as coach and captain respectively. And Pietersen had heavily criticised Moores during England's ill-fated World Cup campaign.
Pietersen is 3.711/4 for small money to play in the first Ashes Test of the summer but before you get too excited, there are a couple more problems for him - or Graves - to overcome.
The appointment of Andrew Strauss in Downton's role is one. Now Strauss has the gig the former England captain would have to be at his most selfless to give Pietersen a call.
Don't forget that it was Pietersen who committed - what should have been - an unforgiveable sin in team sport when he criticised his leader to South Africa via text message. Strauss and Pietersen, unsurprisingly, do not get on and the former's faux pas on live television when he called him something beginning with 'c' (not clown), was a rare slip from Strauss.
Strauss, however is a team man. Unlike Pietersen he puts the interest of the collective first rather than himself. It is why he was given the role. If he thought Pietersen could win England the Ashes - and he may well do - then he would bite the bullet.
At the moment, England need to find a way of competing with Australia, let alone beating them. Pietersen could be it. After all, they could hardly do worse. The 1-1 draw with West Indies was a terrible blow to their aspirations.
Australia are as short as 1.412/5 to win the Ashes. It is the sort of price you would get about the Aussies when they had Messrs Waugh, Warne and McGrath. England are 4.3100/30 with the draw 10.519/2.
There is another problem. Pietersen would have to be shoehorned into the side even with a vacancy following Trott's departure. Trott was an opener and Pietersen is not one.
There is a possibility that England could move the limpet-like Gary Ballance from No 3 to partner Cook but would England really make such a reshuffle to bring back Pietersen. Balance is the future and his game should not be messed with to appease the past.
Either a catastrophic loss of form, or injury, for Ian Bell or Joe Root would then be required for KP's redemption. There is no other slot. Moeen Ali at No 6 is as safe as houses because he is England's only credible spin option.
It could, therefore, be a case of one step forward for Pietersen and two steps back.

Blast struggling to be heard
England's domestic T20 season begins on Thursday. You probably didn't know that. It should be a much-hyped event, attempting to grasp the public's imagination like the IPL or Big Bash.
But no. Since England invented the format in a blaze of colour and blare of music, it has forgotten, or forfeited, the ability to make a noise about a tournament which should be the jewel in its crown.
As a betting heat it is, currently, tepid. So far only a meagre £627 has been matched on the outright and the fact that just 1.6 points separate the first six in the betting suggests no-one has a clue what is likely to happen. That could change.
Let's hope it does because it should be a bonanza for the punters on a par with the IPL and Bash. After all, it will be broadcast on the same subscription television service. It's not as if the fare is more accessible in India and Australia.
Ah, but those tournaments have some of the best players in the world, you say. Well, so does the T20 Blast, as it is called. Brendon McCullum will play for the Bears, Chris Gayle and Corey Anderson for Somerset, Mahela Jayawardene and George Bailey for Sussex, Shahid Afridi for Northamptonshire.
This is not to sound like a know-it-all. It took some digging around to find out that those blokes were appearing this summer. That is the problem. We should all know the make-up of the squads by now and the comings and goings.
It brings us back to the point about publicity. If more people knew the tournament was on, and who was involved, we might actually be able to enjoy a wager on it.

Mumbai's charge
Just a word on the IPL. There is a strong sense of déjà vu with this year's tournament. Rajasthan Royals have gone off like a rocket, only to implode. Mumbai Indians had a horrible start but have suddenly found form. That is exactly what happened late year with the latter beating the former at the death to squeeze in, and the other out, of the play-offs.
Rajasthan are out to 8.88/1 from half the odds following their start to the season which saw them win five consecutive matches. They have now won only one of their last five.
Mumbai are in to 9.617/2. They lost their first four matches but have turned it around with five successes on the bounce, including a superb victory over Chennai, the leaders, last time.
It is maddening for the punter. Form is so temporary in the IPL that a case could be made for it not even existing. Brilliant one day, useless the next. And then reverse it. Best of luck.

Ed Hawkins P/L
2015: +£189.10
2014: +315.10 (ROI 27%)
2013: +250.80 (ROI 25%)
To £10 level stakes, based only on available prices. Does not include back-to-lay in-running match advice
Follow Ed on Twitter @cricketbetting
Discover the latest articles