England Ashes victory: Ponting's crass calls prove crucial
2009 Ashes

/ Ed Hawkins / 24 August 2009 / Leave a comment " class="free-bet-btn" rel="external" onclick="javascript: pageTracker._trackPageview('/G4/inline-freebet');" target="_blank">Free Bet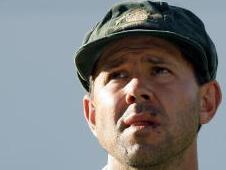 Ricky Ponting is still looking for inspirtaion as to why Australia lost the Ashes
England triumphed over Australia in a closely-fought series because in Andrew Strauss they had a leader who gave them the best chance of winning, says Ed Hawkins
"Don't misjudge the consequences poor management decisions have on both sets of players"
The margin between success and failure in sport can so often be meagre; chalk dust in tennis, a linesman's flag in football, a chink in the swing of a golfer. In the case of this summer's Ashes series it is those sort of finite calls which, once the afterglow of glory has dispersed, will be exposed in the harsh light of reality as the reason why England are nursing celebratory hangovers instead of commiserative ones.
In a contest which was billed as one between two teams who in the talent stakes could barely be separated, it is not surprising that it was decided by something so tantalisingly vague. But that is the essence of value betting. With hindsight, England, who got as big as [7.00] to win the series, have to go down as one of the corking bets in recent cricket betting history given that it was only minute incidents gave them the breathing space to exhale a victory cry.
There were two of them and both were born from the brawn of the Australia captain Ricky Ponting, who, ironically, was supposed to prove the difference between the two teams because of what he could do with the bat. In the end, it was his failings with the brain that dictate he will be remembered as only the second man to twice surrender the urn in England.
Ponting's first series-deciding decision came in game one in Cardiff. England were hanging on grimly for a draw thanks to the obduracy of Paul Collingwood at 233-8 but when Peter Siddle surprised the England batsman to put Australia on the cusp of a 1-0 lead, Ponting was guilty of a lack of clarity in his thinking.
With only one from James Anderson and Monty Panesar to remove, the skipper muddled his bowling options as the pair survived for an incredible 11.3 overs. Mitchell Johnson, Ponting's quickest, didn't bowl at all while part-time spinner Marcus North sent down innocuous overs.
Fast forward to the decider at The Oval and Ponting was again guilty of ignoring cricket's most basic rules. The decision to leave out Nathan Hauritz on a surface famous the world over for taking spin was as glaring as four years ago at Edgbaston when Ponting said "we'll have a bowl".
As it was Australia became only the third touring side to omit a twirler in Kennington since 1981, joining the 2001 West Indies side and the 1994 South Africans. All three were thrashed; Australia by 197 runs, West Indies by 10 wickets and South Africa by eight wickets.
One could argue that had Hauritz played it is unlikely that the result would have been different. But that would be to misjudge the consequences poor management decisions have on both sets of players. England would have been cock-a-hoop that there was no spinner to torment them while the dawning realisation on Australia's batsmen that they couldn't survive without one must surely have contributed to their first-innings implosion.
Australians, and those who lost money on them, will claim that England, just like 2005, were fortunate to regain. Nonsense. Test series - and arduous, back-breaking five-match ones at that - are won or lost not by the simple equation of which teams can most often put bat to ball but by those given the best chance to do so.
England, under Andrew Strauss, ultimately won the day because they had a captain who did exactly that. Australia did not. Previously when England have been beaten at home, against South Africa last summer and India the year before they came up against captains who were brilliant at doing the basics.
This has not dawned on Ponting yet, who is still finding out what it is to lead a side of mortals after being spoilt by Messrs Warne and McGrath. He continues to speak of Australia's statistical dominance, pointing to six of the top seven runscorers and three of the top five wicket-takers being Australian, rather like one exclaims "but I followed the instructions!" when eyeing the bodged shelving unit that the other half has demanded be assembled.
So Ponting will stand, scratching his head and looking puzzled until the full horror hits him: he didn't do things by the book and misplaced a crucial part. Could take a while, though.