Ashes Betting: Preparing for life after Freddie starts now
2009 Ashes

/ Editor / 21 July 2009 / Leave a comment " class="free-bet-btn" rel="external" onclick="javascript: pageTracker._trackPageview('/G4/inline-freebet');" target="_blank">Free Bet View Market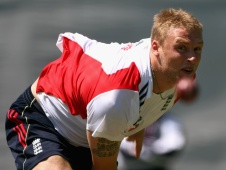 Flintoff is expected to play through the pain barrier throughout the Ashes
Andrew Flintoff may have been the hero as England clinched the second Test but with his retirement from the five-day game looming, plans need to be made for when he's gone. And replacing him is easier said than done, says Andrew Hughes.
"When fit, Flintoff's presence has brought balance to England; sharpening the bowling and bolstering the batting. He has been the fulcrum of the team."
So, farewell then, Freddie. The ankles, the knees and the brain have finally cried enough and after the final Ashes test, that mincing upright run and brawny open-chested delivery will only be seen in the pyjama game.
This is not the time or the place to assess his contribution to English cricket, whether his was an unfulfilled talent or the ramifications for Test cricket of another senior player opting for the more lucrative formats. To Andrew Strauss's relief it appears that his announcement has given him freedom to risk his physical wellbeing in one last charge at the old adversary; his Herculean efforts at Lord's having turned England from big underdogs to [2.16] favourites to win the Ashes. Australia are now the outsiders of the three at [3.75] with the drawn series trading at [3.55].
There is every sign that this will be one hell of a swansong. But it will be over soon enough and then we will have to face up to life without Andrew Flintoff. How well will England cope? Well, they have long enough to prepare for such an eventuality. Although the timing of his retirement announcement caught many by surprise, his frequent surgical sabbaticals over the last few years have given the English selectors plenty of opportunities to contemplate a team bereft of the big man from Preston.
When fit, Flintoff's presence has brought balance to England; sharpening the bowling and bolstering the batting. He has been the fulcrum of the team. His bowling has been of the highest class for five years now and though he has not perhaps always been worth his place at number six, he has been near enough. Genuine bowling all-rounders are of course a rare breed in international cricket and only a handful of players have earned that title: men such as Keith Miller, Ian Botham and Imran Khan.
It is tempting, when one such superstar retires, to cast about for a replacement. For example, long before Botham had hung up his boots, the quest for his successor had begun: a quest as futile as the search for the Holy Grail. Any bowler who could hold a bat was hailed as the chosen one and the recent history of English cricket is littered with names like Derek Pringle, David Capel, Darren Gough, Philip Defreitas and Dominic Cork, all of whom have at one time or another been labelled 'the new Botham'. How long will it be before the gentlemen of the press find some poor young cricketer and lumber him with the title, 'The New Flintoff'?
By contrast, Flintoff's career has demonstrated the benefits of patience on the part of national selectors; of not loading talented youngsters with too much expectation. He was eased into the all-rounder's role gradually; his talent nurtured, not forced. And there has been no mention, either during his regular absences or since he announced his retirement, of looking for Flintoff Mark II. After he has gone, the selectors will have to look for new ways to find the balance he brought to the England team.
Some might suggest that they could simply revert to playing six front-line batsmen and four specialist bowlers. But at a time when pitches around the world appear to be getting flatter and with England lacking any genuinely world class bowlers, it is essential that they field a five-pronged attack. In order to do that and retain sufficient batting depth, they need to employ an all-rounder of some description.
For the time being, Matt Prior is a convenient solution. A better batsman than Flintoff, his elevation to number six is probably justified, given the paucity of batting talent in the English game. But whilst his wicket keeping remains suspect, his position as the team's all-rounder remains a fragile one. A few clangers behind the stumps and the campaign for the promotion of James Foster would become irresistible. And if Prior were dropped in favour of a specialist wicket-keeper, rather than another batsman-keeper like Steven Davies, then England would be back to square one.
There is another possibility. Perhaps it is time that one of the regular batsmen was given a nudge and encouraged to develop their bowling. If, for example, Paul Collingwood could bring his medium pace trundling up to a decent standard, then that would give England their fifth bowling option and go some way towards helping them to cope in a world without Freddie.