T20 World Cup Betting: Welcome to the Super Eights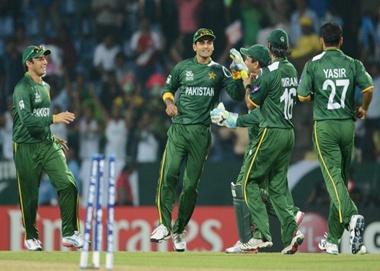 Pakistan are Richard's tournament winner fancy
After a week of action the competition reaches the second stage, with eight teams fighting it out for a place in the semi-finals. Richard O'Hagan casts an eye over the contenders.
"Pakistan were the last side to enter the tournament and the last to qualify. They are currently at [7.2] but another two batting performances like they have had this week and they will go much shorter"

After seven days of action, the 12 contenders have been whittled down to...er, eight. In true ICC fashion, it is possible to have 12 games of cricket and still only eliminate four sides.
It is fair to say that those dozen games haven't even allowed the tournament to catch the metaphorical fire, either. The two closest games, statistically, were Pakistan's 13 run win over New Zealand and Australia's rain-affected 17 run defeat of the West Indies, but even those were matches where the victor was well ahead at the end. True, both the batting and bowling world records have been broken, but whilst in no way seeking to dean Brendon McCullum's 123 or Ajantha Mendis' 6-8, they did come against Bangladesh and Zimbabwe respectively.
Those two sides, along with Afghanistan and unlucky Ireland (beaten by the rain for the second tournament running), have gone home. The remaining sides have been shuffled into two groups in a way which calls to mind this forgotten gem. The question is, who does that imbalance favour, and who does it hinder?
Group 1
England have begun this tournament pretty much as they began the last one, with a brilliant victory (albeit over Afghanistan) and a painfully inept loss. Watching them struggle to play two pretty ordinary spin bowlers against India was just a horrible sight. You might put that down to inattentiveness due to playing in a dead rubber game, but they will be thankful that they only have Mendis to contend with in this group - yes, that's right, only the world record holder! The holders are a justifiable [11.0] to regain their crown, at least on this form.
Judging Sri Lanka's progress is harder. Little can be learned from beating woeful Zimbabwe as in losing to South Africa in a rain-affected seven over thrash. Mahela Jayawardene's side look strong enough, but their reliance on all-rounders leaves them overly reliant on Mendis and the other genuine bowler in the side, Lasith Malinga. If the latter's famously dodgy body lets him down again they could be struggling for firepower. They are currently second favourites at [6.2].
The West Indies have come into the competition determined to be more than the also-rans that they have been for the past eight years. Their batting line-up, with Chris Gayle to the fore, is an IPL-owner's wet dream, but their bowling was horribly exposed in their group game against Australia. Unless they can improve that area of their game, this will be as far as they go. Look to lay them at [8.0]
New Zealand can regard themselves as somewhat fortunate to be in this group. Although they lost their second group game badly, they did so because of one dropped catch and one strange decision from the selectors. Had Ross Taylor not dropped Mohammed Hafeez before he had scored (Hafeez went on to make 43), and had they not replaced injured opening bat Martin Guptill with a bowler, Adam Milne, who only bowled one over, they would have chased a smaller target with one more batsman, probably not finished those 13 runs short and ended up in the much tougher Group 2! Now they have to capitalise on that strange good fortune, which means better fielding than they have produced to date and someone other than McCullum and Taylor stepping up to score some runs. At [17.5] they represent a very considerable gamble.
Group 2

Australia's reward for two fairly comfortable wins is to be landed in the much tougher group for the Super Eights. Shane Watson has been in marvellous form and is the frontrunner for the player of the tournament, with 92 runs and five wickets already to his name. The unknown factor is just how this team will perform when they are actually put under pressure by another team and their batting, in particular, looks like it could be vulnerable once three wickets are down. At [7.8] to win they still look a steal.
South Africa, too, must be cursing the curious seeding system that landed them in this group. As with Sri Lanka, not much can be gleaned from their two matches just gone and for them it may be more of a case of maintaining form and fitness after, for most, two months away from home in England before coming here. The market makes them favourites but they have had two 'nothing' games so far, which is scant evidence to base such optimism upon and you should look to lay a Protea win at odds of [6.0].
The comprehensive win over England has given India a problem. They will now need to decide how best to balance their side after leaving out Virender Sehwag and Zaheer Khan from that game. Can they afford to tinker too much with a side which looked much better than the one which beat Afghanistan in their opening game? With batsmen and bowlers all seeming to come into form at the same time it is no wonder they are favourites with most pundits, although the market still has them at a relatively distant [6.8].
Pakistan were the last side to enter the tournament and the last to qualify. Whilst their batting has looked strong, with Nasir Jamshed one of the finds of the competition so far, their quick bowling is a concern with veteran Umar Gul having been particularly easy to get away so far and they drop too many chances. They are currently at [7.2] but another two batting performances like they have had this week and they will go much shorter, which is why they are today's Recommended Bet.