T20 World Cup: Luke to make it all Wright on the night for England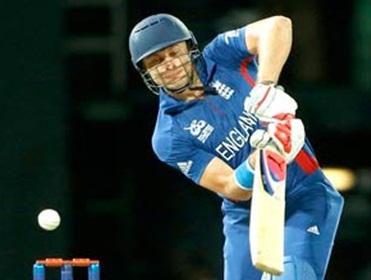 Luke Wright can bat England to glory
Ralph Ellis isn't too concerned about England's heavy defeat to India, especially with memories of 2010 still fresh in the mind and Luke Wright as KP's replacement...
"I certainly think England are value at odds against – 2.0621/20 – to beat the West Indies in their first Super Eight game tomorrow afternoon."

There's a familiar theme with England and the early stages of a World Cup. It goes along the lines of 'nobody will worry about whether we played well if we end up winning the tournament.'
In football, it always ends up with us not winning the tournament and coming home to a huge inquest. In cricket? Well as far as the Twenty20 version is concerned, two years ago it finished with Paul Collingwood's team actually holding up the trophy, and the early prognosis was quite right. Nobody did care that we started off playing badly.
In fact until I had checked this morning, I recalled we didn't make the best of starts but had completely forgotten that the T20 campaign in the West Indies two years ago began with an eight wicket defeat to the hosts. And that was followed up by a fairly miserable performance against Ireland where pouring rain meant we never got to find out if a score of just 120 would have been enough.
Now I know the first match then was also rain affected, and England had scored 191 before Messrs Duckworth and Lewis came to the West Indies' rescue, but the point remains. Winning a World Cup is about what you do as the tournament progresses rather than how you fare early on.
So while I understand the doom and gloom created by Sunday's batting collapse against India, it's too soon to write off altogether England's chances of retaining the trophy. And tomorrow's match against the West Indies is the perfect opportunity to put the show back on the road.
There seems to be an innate pessimism about how we react to England performances, and it is reflected in some of the betting. If Luke Wright was any other nationality, for instance, he wouldn't be as long as between 12.5 and 16.5 to be the tournament's top run scorer. The Sussex batsman was one of many who failed against the Indians, but his brilliant 99 not out against Afghanistan didn't come from nowhere.
Wright was picked to take over Kevin Pietersen's mantle as number three because of his T20 form. For Sussex this summer he scored 312 at a strike rate of 160 per 100 balls. That followed his winter in Australia at the Big Bash, where his performances included a 44 ball century. As KP himself said in commentary, both that experience and time in the IPL has improved Wright's batting and at 27 he's mature enough to produce more of the same when it matters.
It's easy to say that Wright's 'ice cream flake' innings was only against Afghanistan, but that's to forget the match circumstances when he came in to bat with an over gone, no runs on the board and a wicket already down. I fancy we'd give far more credit if that performance had come from a South African or an Australian batsman against the same opposition.
I certainly think England are value at odds against - 2.0621/20 - to beat the West Indies in their first Super Eight game tomorrow afternoon. There's something about a heavy defeat which always brings a new focus to the next performance for England teams.
Beyond that? Well 11.521/2 for the holders to retain the trophy looks like the only bet that gives any value in a market that can't split the chances of six other countries. And if it happens, well who will care about an indifferent start?