T20 World Cup: Captain Stuart must have Broad shoulders to handle pressure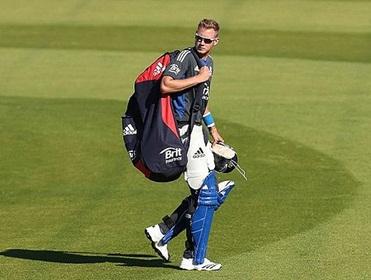 Can Stuart Broad lift himself and England for the forthcoming T20 World Cup?
A year after England sacked Paul Collingwood as T20 captain it has suddenly become an issue says Frank Gregan. How will England get on under the guidance of their 'new' young skipper?
"The last thing Stuart Broad needs is for the other players to be looking at him and thinking "you wouldn't get in the team if your weren't skipper"."

Leadership is a trait that is very hard to quantify and is equally as difficult to identify. Less than a year after having won the T20 World Cup and whilst enjoying a world record eight successive T20 international wins the English hierarchy decided that the leadership skills of Paul Collingwood were no longer needed and replaced him with Stuart Broad.
It marked the dawning of a new era for England as they embarked on their strategy of having more captains than the Royal Navy, one for each format of the game and with the T20 World Cup being way down the schedule there wasn't a lot of fuss made about the decision.
There's so much cricket played these days that a tournament a year down the track commands little public interest. It's the here and now that matters and Collingwood's departure, albeit devastating for the Durham man, was considered insignificant by the vast majority of English fans because T20 is not the most important format of the game.
Well, guess what? It's here and now and with the T20 World Cup getting underway tomorrow and England starting their defence against Afghanistan on Friday all of a sudden T20 is the most important format of the game and the title holders are entering the fray with a highly inexperienced skipper.
This is a very young England side, Michael Lumb at 32 will probably be delighted to be called young but in terms of international experience he is still a novice. Stuart Broad has had a jolly up until now as skipper, the T20 internationals are a mere bolt-on at the beginning or end of a tour, a bit of fun but this tournament is the real deal. There's an ICC trophy and a world title up for grabs with every other competing nation eager to knock the champions off their perch.
This is real heat of the battle stuff, gum-shield in and visor down being the order of the day and Broad will be under tremendous pressure, the like of which he will not have experienced before.
Ironically, the tournament probably couldn't have come at a worse time for the young England skipper. His bowling has suffered lately, he's been looking a bit flat which resulted in him being rested during the ODI series against South Africa. His own form is the first thing the Notts man must address. The last thing he needs is for the other players to be looking at him and thinking "you wouldn't get in the team if your weren't skipper."
There's nothing wrong with having a young team, there's nothing wrong with having a team full of veterans, all that matters is that you have a team of winners. The young tend to be brave, life has yet to deal the kind of blows that induces fear and self doubt but when things go wrong they look for an experienced and knowledgeable head to offer sage and wizened counsel. It was a very brave and controversial decision to give Broad that responsibility at such a young age.
Play starts tomorrow with the majority of the early fixtures looking like one-sided affairs. Things get spicy on Saturday which looks like being a great day with two evenly matched contests, Sri Lanka V South Africa and Australia against the West Indies.
The Aussies are dour and determined whilst the Windies are flamboyant and fearless. It should be a great contest and with both sides available to back at 2.01/1 it provides the closest betting contest of the week. Australia are the recommendation, their tenacity and desire will likely be too much for their laid back opponents.
As for England, no disrespect to Stuart Broad, he was offered a job which he couldn't refuse but their chances of retaining the trophy were massively reduced when Paul Collingwood was sacked. That bizarre decision was hardly questioned a year ago, it will be in the next few weeks if England don't perform.