Ed Hawkins: Take the plunge with a dip on England for Twenty20 tonic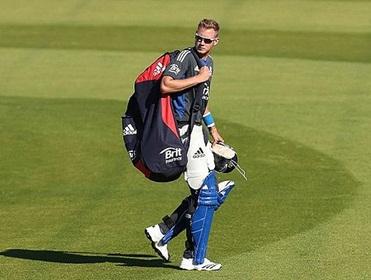 Stuart Broad has the players to hurt Australia
Our cricket correspondent has not been on the sauce. Read why he reckons the tourists are the only betting option for the Twenty20 series against Australia, which starts on Wednesday...
"It will probably surprise you to learn that of the eight Test-playing nations, Australia are ranked the worst T20 side by the ICC"

Recommended bet
England to win T20 series at 2.56/4


Just when you thought it was safe to go back into the water, eh? After the first Test in Brisbane two months ago, England backers had been once bitten eight times terrified. So after a surprise victory in the fourth ODI, there was hope.  Was it a new dawn? No. In the final match of the series any confidence poured away like blood from a particularly nasty wound.
So it is with stomach-churning difficulty that we survey the prospect of more anguish for England. More one-sided betting heats. The three-game Twenty20 series begins in Hobart on Wednesday and once again we are left scratching around for comforting words about the tourists.
They are 2.56/4 to end the tour on a high with Australia no better than 1.68/13. And those are pretty much the prices for the first T20 as well as the home side are propelled by that Ashes whitewash and the added humiliation of the old enemy on Australia Day. 
It wasn't quite a case of England saving their worst for last but Sunday's defeat in Adelaide was still x-rated, although most watched knowing exactly what was about to happen. No-one was hiding behind the sofa because there had been more grisly shows previously. This was a weary, hackneyed storyline.
England had the opportunity to restore pride in chasing a modest 218 and even after discarding a dominant position of 154 for three they held their nerve to go into the closing stages at sleight odds. But they choked, collapsing from 194 to six to lose by five runs.
So to consider backing them with the status quo so solidly confirmed could be considered foolish or brave. Unfortunately value - all seek it, few can find it - lives somewhere between the two and it is on precisely occasions like this when gamblers have to dig deep to uncover it.
In short, then, this column is advising you bet on England to win the Twenty20 series. I know, I can't believe it either. And yes I did go to the doctor beforehand and he assured me there were many issues I should be concerned with but insanity was not one of them. Thankfully, building a rational case to support the English requires only a dash of free thinking instead of a lobotomy.

Twenty20 tonic
The fact that the format is Twenty20 is the very key to this suggested mind-altering utopia. The helter-skelter style of the game is so popular because anything can happen. A match can turn on a single delivery and it is true that favourites are more often usurped in this format than any other for that reason alone.
We have often written of the unpredictable nature of Twenty20 and its wonderful healing properties for the severely beaten, match after match, series after series. It is a ploy which has stood us in good stead down the years and one which is not abandoned easily.
Indeed, as much as it might feel an anathema to back England after what has gone before, the same soggy, disappointing feeling you feel at the pit of your belly at the prospect is much the same as betting on 1.68/13 shots in this format. Australia are bad value.
We cannot even be sure that the gulf in odds is actually justified in terms of the personnel available. To take a look at the squads is to view some evenly-matched competitors with the revolving-door selection policy blowing in the demand for a fresh take.
Really, it's all about the players who aren't there. For Australia, there is no Michael Clarke (de rigeur but it's worth pointing out), David Warner, Shane Watson, Mitchell Johnson or Clint McKay (who was excellent in the ODI series). Undoubtedly this can be viewed as a negative.
England do not have Alastair Cook. Undoubtedly this can be viewed as a positive. The mentally and physically broken skipper who presided over nine defeats and one win is on his way with Stuart Broad taking over the armband.

England stronger?
So what about those who are present? Well, Australia undoubtedly have the gun top-order batsman in Aaron Finch (top runscorer in the ODI) but after that it looks like a pretty straight shoot between the middle order specialists.
George Bailey, who captains Australia, and Eoin Morgan probably cancel each other out while Jos Buttler will reckon he has the edge over Moises Henriques or Glenn Maxwell. Ravi Bopara and Cameron White ooze the same quantities of class.
And if we're being cheeky, could we say that Alex Hales might be able to rival Finch? Only three batsmen have more runs than him in this format in the last two years. He is the only batsman from either side in the current top 19. This is where Australia miss Watson and Warner who are Nos 6 and 7. In addition, Luke Wright, who has been catching the eye in the Big Bash, is No 20.
England also have a clear and present danger with the ball. They are a greater threat. Jade Dernbach and Broad are Nos 2 and 8 on the list of top wicket-takers in twenty20 in the last 24 months. Australia have no bowler available in the top 25. Mitchell Starc is their top man at No 26.
Despite all of the above it will probably surprise you to learn that of the eight Test playing nations Australia are ranked the worst T20 side by the ICC. Ireland are even chasing them down in ninth position. 
England are no great shakes coming in sixth and their recent record is hardly inspirational. But it is not as bad as Australia's. They have lost seven of their last eight. So we have to ask ourselves this: which is the side we actually have to worry about in terms of confidence? Dive in, the water's lovely.

Recommended Bet
England to win T20 series at 2.56/4
Discover the latest articles