Play Smart on Betfair: Coutinho, Leno and Bonucci help us launch new campaign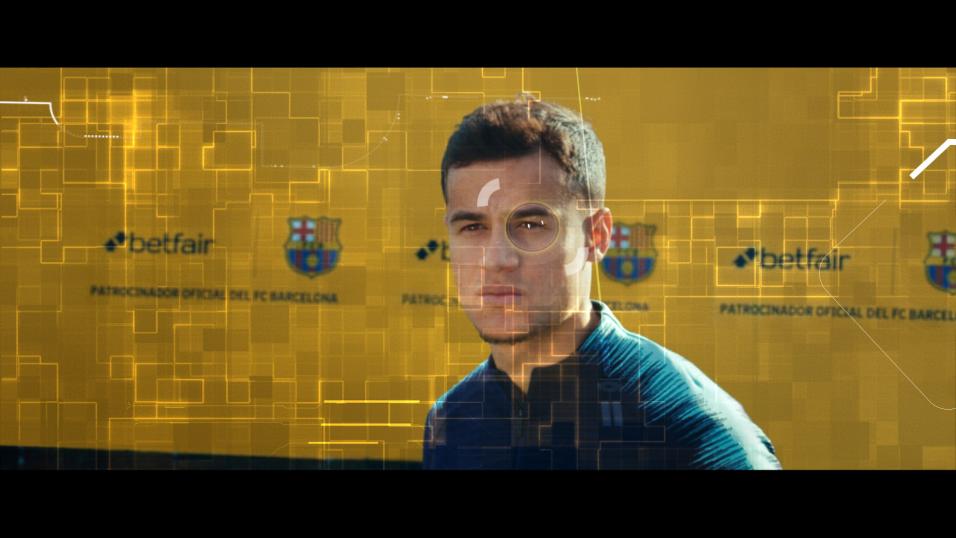 Coutinho knows how to PlaySmart
Star names show us their Smarts in Betfair's new ad campaign...
"Tiki Taka is a possession-based system in which players pass the ball short distances with pinpoint accuracy and speed, before moving position to receive it back again. A typical passage of play would involve three or four players advancing up the pitch, passing through the midfield and past opposing defenders to create goalscoring chances."
Betfair's latest campaign 'Play Smart' launched this week using world-class talent from Barcelona, Arsenal and Juventus to underline our position as the place for smart bettors to land their winners.
The Play Smart campaign, created by Leo Burnett London, is the sponsorship evolution of the Betfair campaign 'Where Gut Instinct Meets Smarts', and builds on the cognitive process of blending instincts, intelligence and competitiveness and the ability to 'Play Smart'.
And helping us do that were Philippe Coutinho, Bernd Leno and Leonardo Bonucci. Watch their videos and enjoy the campaign below!
Barcelona: Play Smart through Tiki-taka tactics
During his unveiling as the new Barcelona boss in 2008 Pep Guardiola told the world to, "fasten your seat belts, because we're going for a ride."

Following two La Liga games in charge - a 1-0 defeat to newly-promoted Numancia and a 1-1 home draw with Racing Santander - you couldn't blame some Barca fans for thinking that they weren't going for a ride but instead they were actually being taken for one.

But Pep knew differently, and it wasn't long before his Smarts ideas would pay huge dividends.

A system now universally known as Tiki-taka was born, Guardiola soon had his team playing a brand of football that simply took your breath away. It was fresh, it was innovative, it was extremely smart.

And although the implementation of Tiki-taka football can be credited in large to another former Barcelona boss, Johan Cruyff, some 20 years earlier, it never really took off in the way that it did under Guardiola. The former Barca captain had the Smarts to realise he had a team of footballers ready to showcase Tiki Taka to the world.

Tiki Taka is a possession-based system in which players pass the ball short distances with pinpoint accuracy and speed, before moving position to receive it back again. A typical passage of play would involve three or four players advancing up the pitch, passing through the midfield and past opposing defenders to create goalscoring chances.

Guardiola's Barcelona side would become the best team in the world at adopting such tactics, and with players such as Lionel Messi, Xavi, and Andres Iniesta in their line-up the Catalans would go on to win the treble (domestic league and cup plus the Champions League) in their first season under their new boss.

Guardiola would go on to win 14 of a possible 19 trophies while manager of Barcelona before enjoying further success with Bayern Munich and Manchester City. His Citizens side are currently favourites to defend their Premier League title, thanks largely to playing a Smarts brand of football called Tiki Taka that requires no belts at all to fasten you to your seat, because quite simply you're always on the edge of it.
Juventus: Play Smart though winning
They might be known as the Old Lady but down the years the Italian giants have been the picture of modernity and smart thinking in football. The evidence is there in years of dominance both at home and on the European stage.
Juventus were there at the inception of football in Italy more than 100 years and they remain at the top table to this day, the most successful side in the country by far.
An astonishing 34 league titles have been won by I Bianconeri, the first in 1905 and the last in 2018, and the Turin-based club has won at least one Scudetto every decade since the 1920s. And you can add 13 Coppa Italias to that haul.
In European competition a pair of European Cups glitter in the trophy cupboard alongside three UEFA Cups and a Cup Winners' Cup. Winning is in the DNA.
And there seems little to stop their progress to the very top of the club game.
The legendary Cristiano Ronaldo was signed in the summer for a monster sum, but one that signals a side prepared to capture the very best in the game as they put in place the blocks that will enable them to compete with the major sides in European football.
Part of Juventus' success has always been the on-pitch marriage between top foreign talent and the best homegrown players, so Ronaldo can be seen as the latest in a sequence of star names that goes back to Welsh wonder John Charles through Dino Zoff, Michel Platini, Zinedine Zidane, Alessandro Del Piero and Gianluigi Buffon. Argentine striker Pablo Dybala could be the latest to join the ranks of legends.
With the club clear at the top of Serie A, among the favourites to win this year's Champions League and enjoying a new purpose-built stadium that supplies capacity crowds and swells the coffers to fund further progression at home and on the European stage.
Arsenal: Play Smart on nutrition
When Arsene Wenger was introduced as Arsenal's manager back in September 1996, the then lesser-known name was quickly laughed off. Little did players, fans and anyone involved in football knew that he would change the game forever and turn into a household name. Without doubt one of the best managers of club football at the turn of the century. The Gunners, along with Wenger at the helm led a revolution on English football for years to come.
But how did he achieve this?
Many aspects of his management style were innovative for the time. The most discussed aspect (and the most unpopular among current players) was changing the Arsenal players' diet and overall nutrition to aid better performances both physically and in terms of their Smarts; all thanks to his stint at the Japanese club Nagoya Grampus Eight where he credits learning more about diet there than anywhere else.
It's staggering to think that around 25 years ago it was the norm for footballers to drink alcohol regularly and that was no different at the North London club. However, after the new manager came in, Arsenal became one of the first clubs to stop alcohol in the players' bar after games and on team buses home. Not long after, Wenger banned his players from drinking together (although drinking itself was not banned but discouraged).
There was also a ban on chocolate bars, with one story coming out after Wenger's first match in charge, a 2-0 win at Blackburn. Arsenal players chanted "we want our Mars bars!" on the coach home. The canteen's menu also changed; promoting a lean protein with vegetables, pasta as the pre-match carbohydrates of choice. Pretty basic knowledge in how to lead a healthy life, but these were new to at the time.
The result of this revolution was noticeable. Arsenal quickly became the fittest team in the Premier League and regarding that a good part of their team were pushing 30, it was something that the league had never seen before. Other teams also began to latch on.
Arsene Wenger totally changed our diet, stretching and travel methods. He made us feel superhuman during games https://t.co/f6tJDDoMUV

? Martin Keown (@martinkeown5) September 22, 2016
Arsenal won the double (Premier League and FA Cup) in under two years of these changes taking place. The rest was history.
Discover the latest articles
Read past articles