Introducing the New Mobile Site for Betfair Exchange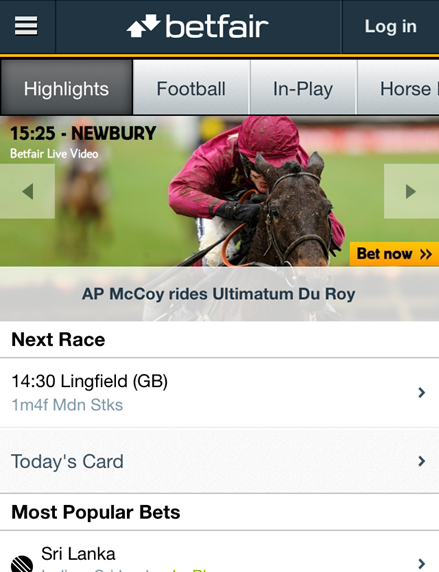 Viewing on mobile? Click on 'View Market' to see the new Mobile Exchange
Betfair has launched a new mobile website for the Exchange, with a host of new features that will give punters the edge and bring them closer to the action.
"The new homepage enables users to get their bets on the markets they want to bet on quicker, while the introduction of BSP continues to demonstrate the unique benefits the exchange can deliver to our customers."
The new enhanced mobile site for Betfair Exchange has more tools to allow punters to place bets and features an improved navigation allowing users to find relevant events more quickly.
New Features:
• Live Video bringing users closer to the action.
• BSP (Betfair Starting Price) available on horse racing delivering more value to customers.
• Timeform integration providing detailed information and insight about the race.
• Improved navigation to other markets within a race.
• Additional place markets to bet on.
• New homepage that allows users to get to the most popular areas of the site quickly.
• Betting.Betfair integration allowing you to read award winning tips and insight from ambassadors and tipsters.
Sylvie McDermott, Head of Mobile at Betfair, said the new mobile site gives customers "a complete betting experience that is engaging and user friendly".
"By integrating Live Video alongside expert content from Timeform and Betting.Betfair our customers will have the best information to place their bets and can then enjoy the thrill of the action live in the same place," she added.
"The new homepage enables users to get their bets on the markets they want to bet on quicker, while the introduction of BSP continues to demonstrate the unique benefits the exchange can deliver to our customers."
Customers can easily find this new mobile site by navigating to https://www.betfair.com/exchange on their mobile device.   
Betfair's new Mobile Site for Exchange: The lowdown
What events are Live Video available for?
Live video is available for all UK, Irish, US and South African racing. This can be opened directly from the market view of the relevant race, a few minutes before the race is due to start.
Do I have to place a bet to watch Live Video?
For all UK & Irish racing you need to place a minimum matched bet of 5 GBP (or currency equivalent) on the relevant market to be able to be able to watch the race. All other sports are free to view for logged in users with a funded account.
What is BSP and why would I use it?
Unlike other bookmakers' Starting Price, the Betfair Starting Price will be determined by balancing bets from customers who want to back and lay, so because it's other customers placing the bets and because there is no margin for profit built in, you are far more likely to have better odds than the bookies' SP. This allows you to get a bet on when there is little or no liquidity in the market, safe in the knowledge you will be getting a fair price.
Who are Timeform and why should I pay attention to them?
Since being formed in 1948 Timeform has become internationally renowned for delivering expert content to horse racing aficionados. Timeform ratings are now widely accepted as the definitive measure of racing merit. The Timeform 1-2-3 accompanied by the Timeform View is available for all UK & Ireland racing and gives punters an expert's opinion of the race.
How will I be able to navigate to other markets within a race?
The new racing market page will give customers the ability to quickly switch between other markets within a race (place, AvB, etc.) using the navigation at the top of the market page.
What are additional place markets?
Additional place markets give punters more flexibility with their betting. If they fancy a horse to come in the top four but not make the traditional three to be placed terms then these markets will give them the option to place this bet. 
What can I expect to find on the new homepage?
The new homepage surfaces more relevant content to customers when they first reach the site. Rotating banners give customers quick links to the top events. Racing customers can easily navigate to the market for the next race and today's card straight from the homepage. The most popular bets currently being placed by our customers are also available directly from the homepage.
What is Betting.Betfair and why would I read it?
Betting.betfair houses exclusive insight from Betfair's ambassadors as well as tips and analysis from respected tipsters across sports. Ambassadors include the likes of Paul Nicholls and Donald McCain who offer a fascinating insight into horse racing. Articles are posted daily giving punters expert betting advice and a greater knowledge of the top sporting events. In keeping with the Exchange ethos winners are encouraged so you can be sure our tipsters are giving you the best advice.
Will my bookmarks be carried over from the old site?
No, unfortunately bookmarks will not be carried over from the old site. However, you can still easily bookmark your favourite events and markets again by pressing on the relevant star symbol. These can then be accessed from the left hand menu.